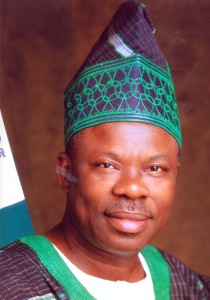 In the bid to ensure effective land administration process, easy access to land and to meet acceptable global standards, the Ogun State Government has acquired the Continuously Operation Reference System (CORS) station network through the Bureau of Lands and Survey. The station will also monitor land transactions in the state and address the activities of land speculators popularly called omo onile.
Special Adviser/Director-General of the Bureau, Adewale Oshinowo, made the disclosure recently in Abeokuta, adding that state has successfully acquired Very High Resolution Satellite Imagery which has been installed on high development areas of the state.
Oshinowo, in a statement signed by the Bureau's Information Officer, Ademola Orunbon, added that equipment like 3D Stereo and 50 Cm Imagery have been installed along Lagos-Ogun border areas, adding that settlements such Abeokuta, Ifo, Ijebu-Ode, Ilaro-Ofada and Sagamu are benefitting from the scheme.
He pointed out that this would allow surveyors in the state, government agencies and the general public to have access to data through Radio Satellites, Direct Global Positioning System (DGPS) and the internet system at their comfort as well.
"This would produce high accuracy maps of the state and Global Positioning System (GPS) navigation projects, stating that the development of the CORS Station network was a proceeding process and it would be commissioned by November this year," he added.
The DG said the CORS stations project were already built in Abeokuta, Sagamu, Ijebu-Ode and Agbara while other CORS stations would be completed during the second phase of the project so as to ensure 100 percent coverage of the entire state.
He said that the ultra-high resolution ortho-rectified satellite imagery in towns would boost the economic interest of investors who intends to acquire land for businesses, pointing out that regular acquisitions of satellite imagery of aerial photo using Unattended Aerial Vehicles (UAVs) to update the Ogun State base map would be guaranteed.
He said that database backup and disaster recovery systems to ensure that business processes are not severely impacted and resume in the minimum time possible in the event of any disaster, adding that establishment of controls for surveys and identify the state borders was also established.
He stated that the network of three CORS stations for higher precision and faster surveys was first of its kind in the Country, assuring the investors not to panic of their investment in the state and the lands being acquired through the present government that it's saved.