The need to provide universal access to reproductive health and uphold the fundamental rights of women has been stressed as key in the prevention of obstetrics fistula among girls and women.
This year's International Day to End Obstetrics Fistula aims at restoring women's dignity through actions targeted at ending obstetrics fistula. Obstetric fistula, which is a hole in the birth canal, accounts for up to 6% of all maternal deaths. And more than two million young women live with untreated obstetric fistula in Asia and sub-Saharan Africa with 50,000 to 100,000 women developing obstetric fistula worldwide every year.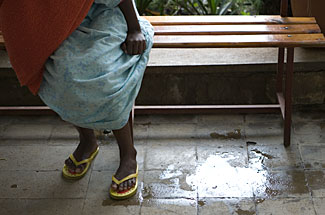 The World Health Organisation (WHO) says it is one of the most serious and tragic injuries that can occur during childbirth where there is prolonged and obstructed labour without treatment.
The NOTAGAIN Campaign shares a global view that obstetric fistula as well as maternal deaths and morbidity still exists because the health care systems have failed to provide adequate and accessible quality maternal health care, including family planning, skilled care at birth, basic and comprehensive emergency obstetric care, and affordable treatment and delivery.
Message to Countries
In his message on this year's International Day to End Obstetrics Fistula, the Secretary General of the United Nations, Ban Ki-Moon, urged global leaders to fulfill commitments to improve maternal health and women rights.
"We have a moral obligation, as a global community, to complete the unfinished agenda of eradicating fistula. Together, let us keep our promises to support universal human rights and ensure the health and dignity of women and girls everywhere," he said.
Prevention
Generally, the WHO recommends three approaches including: delaying the age of first pregnancy, elimination of harmful traditional practices, and timely access to obstetric care.
In addition, the National Coordinator, Accountability for Maternal and Child Health in Nigeria (AMHIN), Dr. Aminu Magashi, expressed the need for access to antenatal and basic quality health care for adolescent girls and women as a way of preventing obstetric fistula.
He said, "All women that are at risk, like those with small age, small height and those diabetic women should be fully monitored throughout the pregnancy so that if there is any potential complication, it's going to be averted by a competent skilled medical personnel."
Way Forward
Executive Director, United Nations Population Fund, Dr. Babatunde Osotimehin, in a message for the International Day to End Obstetrics Fistula 2015, expressed optimism that obstetric fistula could be ended with increased political and financial commitments to maternal health care.
"With the right combination of political will and leadership, financial commitment and scaling up of evidence-based, cost-effective, quality interventions, ending forced marriage and ensuring girls education as well as voluntary family planning, we can end the needless suffering of millions of women and girls," he said.
Furthermore, the NOTAGAIN Campaign team urge improved commitment of relevant stakeholders to improve quality of maternal health care services by investing in antenatal care coverage, family planning, essential life-saving commodities, and emergency obstetrics care. This is expected to contribute to improving the fifth Millennium Development Goal (MDG 5).