Zonal Director, National Oil Spill Detection and Remediation Agency (NOSDRA), Mr Cyrus Nkangwung, has expressed the agency's readiness to continue to combat oil spill in the Niger Delta.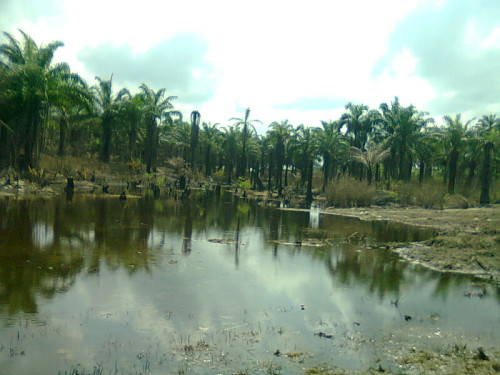 Nkangwung made the assertion at the maiden Obolo Achievers Award organised by the group on Monday, November 6, 2017 in Port Harcourt, Rivers State.
He appealed to communities to complain about oil spill to the agency rather than drag companies operating in their areas to court.
Nkangwung applauded the recent complaint by the Ataba community in Andoni Local Government Council area which was affected by the Bodo (Gokana) oil spill.
The zonal director promised that the agency would soon adopt a quick measure to clean up the Ataba community.
Also, Mr Nkpon Ijonama, President, Andoni Youth Leaders and Stakeholders said that the youth of Obolo extraction in Rivers and Akwa Ibom needed to embrace peace to attract investments to their area.
Ijonama said they should emulate the recipients and strive toward the betterment of Obolo.
Ijonama said the group resolved to honour indegines/corporate organisations that performed meritoriously in the area with the award as part of efforts to reawaken youths of Obolo to the need for peace and development.
According to him, subsequent editions of the award would be held after every five years.
Ijonama said the award, including post-humous and honorary for individuals and corporate organisations, was initiated to encourage peaceful and productive cooperation among them and youths of the area.
He, however, condemned the recent security traits which had ravaged the economy of area and urged parties involved in any form of criminality to turn a new lease of life.
The youth leader also urged youth in the area to shun war and learn to settle disputes through dialogue.
Some of the recipients are Prof. Alice Nte (a Pediatrician), the late Maj. Samuel Ogotnte, Chief Davies Ikanya, Hon. Awaji-Inombek Abiante and Mr Sampson Ngerebara an engineer.
Others are Dr Silas Eneyo, Mr Jonah Gogo, Mr Anthony Nted, Mr Ikpong Etteh Verokebi Enterprises Nigeria Ltd.
The award recipients thanked the organisers and pledged their cooperation toward the development of the area.