The Nigerian Meteorological Agency (NiMet) has, over the years, shown commitment to producing timely Seasonal Rainfall Predictions (SRP) and other climate information to the public for the purpose of guiding people against climate change's negative effects.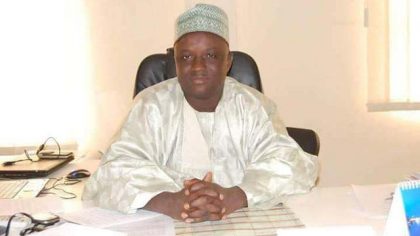 It has also confirmed that the SRP is based on strong observation and scientific study of the weather which application can be used in mitigating such impacts.
Stressing the importance of SRP recently in Abuja, NiMet Director-General, Sani Mashi, said that the country had been feeling the effects of climate change.
According to him, more frequent extreme weather events, increase in temperature, changes in annual and seasonal precipitation patterns, are prevailing across the country.
Mashi said that climatic variations caused rainfall variability which in turn affected availability of water resources with telling effects on agriculture.
"The quality, quantity, stability of food production and the natural environment, in which agriculture took place, are also affected in extreme cases.
"Also, the degradation of agricultural ecosystems could mean destruction of farm land due to flood or desertification.
"This can result in a total loss of the productive capacity of the land and consequently lead to increase in number of people at risk of malnutrition, poverty and famine.
"Other activities such water resources management, health sector, hydro-electric power generation and dam management, which depends on rainfall variability, are also affected.
"Similarly, conflicts over resources also exacerbate these impacts and contribute to the ongoing migration within countries in Africa.
"In this case, children and the elderly face physical danger even death due to diseases, floods, droughts and heat stress.
"Therefore, information is needed to understand climate change's impact on agriculture and other aspects of the economy in Nigeria,'' he said.
Mashi observed that NiMet's annual climate review bulletin was produced to provide such information, helping policymakers to understand the uncertainties surrounding climate change effects.
"The bulletin will also give national and regional level guidance with implications for a range of policy decisions, such as investments in the development of new plant and animal varieties that are resistant to drought, water management strategies and many more policy areas,'' he observed.
He added that part of NiMet had been monitoring and collecting different types of weather information such as temperature, precipitation and other weather parameter throughout the country over a long period of time.
"Analysis of these data has shown that there has been a persistent increase in the maximum temperature in the past decade over Nigeria.
"Similarly, the minimum temperature is also on the increase for the past nine consecutive years from 2009 to 2017,'' he observed.
In the same vein, he said that NiMet has predicted normal to earlier-than-normal rainfall across the country in 2018 with possibility of flashes of floods in many parts of the country.
"The implication of this prediction according to NiMet is that there will be normal agricultural activities during the year leading to good yields and pumper harvest.
"That will be if NiMet warnings and recommendations in the SRP are taken seriously by the stakeholders in the agricultural sector,'' he said.
The agency recommended that climate-smart agriculture should be encouraged, especially in the Sudano-Sahelian zone of the country through the use of economic trees like gum Arabic, date palm, shear and jetropha, among others, for fencing.
On livestock farming, NiMet warned that warmer-than-normal temperatures, predicted to occur in March and April, were expected to affect livestock production, particularly in the north-western region of the country.
It said that livestock mortality rate was expected to increase during these months due to temperature   fluctuations, advising livestock farmers to acquire necessary vaccines for their animals.
NiMet also predicted that fish production was likely to be adversely affected as a result of the warmer-than-normal conditions, especially in the northern part of the country.
It urged fish farmers and aquaculture operators to take note of those areas which were predicted to have high run-offs to avoid associated impacts.
It observed that the annual rainfall across the country would positively impact on agriculture, power generation, recreation and manufacturing activities.
The agency warned Nigerians and health officials to take adequate precautions with a view to mitigating the prevailing warmer-than-normal temperatures across the country, noting that the prevailing condition would persist until April.
It said that while the cold season dominated in January and February, heat season was predicted to dominate March and April, explaining that greater parts of the country were expected to record near average temperatures in these months, while some places would experience hotter-than-the average seasonal temperature.
The health implication of this warmer-than-normal condition during the forecast period according to NiMet is that cerebrospinal meningitis and other heat related diseases, as well as human discomfort, are likely.
It explained that diseases such as heat rashes, dehydration, measles, chicken pox, avian influenza and general human discomfort, were expected to be rampant during the period, urging health workers to make adequate preparation to contain any outbreak.
The agency added that the period also coincided with peak of the dry season when there could be shortage of drinking water leading to high chances of consuming contaminated water that might result in typhoid fever.
It, therefore, and advised state and local governments to sensitise their communities on the need to drink from clean and hygienic sources during the period.
"Health workers are advised to improve surveillance to detect cases of disease outbreak early while the populace should improve their drainage system to avoid breeding of mosquitoes and ensure that they sleep under long lasting insecticide nets,'' NiMet advised.
By Sumaila Ogbaje, News Agency Nigeria (NAN)