Nigeria's oil and gas revenues plunged from $54.5 billion in 2014 to $24.8 billion in 2015, while the country's oil production fell from 798 million barrels in 2014 to 776 million barrels in 2015, the Nigeria Extractive Industries Transparency Initiative (NEITI) has disclosed.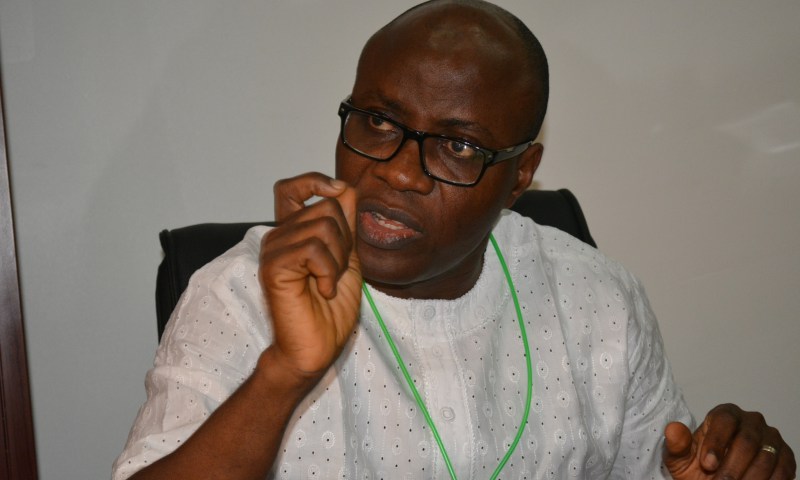 According to the NEITI 2015 Oil and Gas Industry Audit Report, the total outstanding revenue from the sector as at 2015 was $3.7 billion and N80 billion, while losses incurred stood at $2.2 billion and N60 billion, and unreconciled revenues amounted to N317 billion.
"Beyond providing a snapshot of what transpired in 2015, this report reveals money to be recovered, leakages to be blocked, and urgent reforms to be undertaken," said Waziri Adio, the Executive Secretary of NEITI, at the release of the report on Friday, December 29, 2017. "The most critical take-away is the need to expedite, expand and sustain reforms in this still critical sector of national life."
The report shows that Nigeria suffered a 54.6% decline in oil revenues but only a slight 2.7% fall in oil production. "This was due to drastic reduction in the unit price of crude oil in the global market," states the report. It will be recalled that the yearly average price of crude oil per barrel tumbled from $101.91 in 2014 to $52.16 in 2015.
Oil and gas revenues have been declining since 2011 when total revenues peaked at $68.4b. A five-year analysis in the report reveals that revenues declined by 8%, 7.7% and 6% in 2012, 2013 and 2014 respectively. However, the decline leapt to double digits in 2015 when total revenue dwindled by more than half.
Total oil production also dropped but not by much: from 798 million barrels in 2014 to 776 million barrels in 2015. The report attributed the decline to oil theft and militancy. However, total gas production went up by 20.23% from 2, 593,090 mmscf in 2014 to 3, 250, 667 mmscf in 2015. The jump by a fifth was on account of the combined effect of increase in gas utilisation and decline in gas flaring.
According to the report, the total oil lifted in 2015 was 780 million barrels, about four million barrels higher than the amount produced with the balance drawn from previous years. Of the 780 million barrels, the companies lifted 467 million barrels while NNPC lifted 313 million barrels. NNPC's liftings were split almost evenly between Federation Export and Domestic Crude Allocation, which accounted for 159.4 million barrels and 153.9 million barrels respectively. However, only 8.7 million barrels or 5.6% of crude oil allocated for domestic consumption went to the refineries in 2015 on account of the state of the refineries.
Other major highlights of the report include the following:
NLNG Dividends
In 2015, the Nigeria Liquefied Natural Gas Limited (NLNG) paid $1.07 billion as dividend, interest and loan repayment to NNPC, broken down as follows: $1.04 billion as dividends, $3.1 million as interests, and $29.1 million as loan repayment. This brings to a total of $16.8 billion NLNG's payments to NNPC for the period 2000 to 2015. The payments are for the loan grant to NLNG and for the 49% stake that the government holds in the company.
While NNPC has always confirmed receipt of the payments, it has never shown evidence of remittance to either the Federal Government or to the Federation Account. NNPC maintains that it has authorisation from the presidency to hold the dividends in trust and utilise as directed by the government. NEITI recommends that NNPC should provide documentary evidence of the authorisation to hold the money in trust and to give account of the expenditure from and the status of the $16.8 billion collected in 16 years.
Crude Theft and Product Losses
The volume of crude oil declared lost to theft by 13 operators in 2015 was 27.1 million barrels. Though this amounted to only 3.5% of total oil production, the loss was valued at $1.4 billion. PPMC also declared loss of crude worth $25 million, bringing the total declared losses to $1.45 billion. This brings the established loss to theft from 2011 to 2015 to a total of 113.1 million barrels valued at $11billion. Also, PPMC declared losing products worth N56.4 billion, broken down as follows: N52 billion for losses on petrol, N3.8 billion for losses on diesel, and N123 million for losses on kerosene. Deferred production on account of sabotage or repairs came to 57 million barrels. NEITI reiterates its call for effective and adequate metering infrastructure and enhanced security of our oil and gas assets.
Deductions from Domestic Crude Allocation (DCA)
The 153.92 million barrels of crude allocated for domestic consumption (at 445, 000 barrels per day) was utilised as follows: 56.11 million barrels or 37% to PPMC for export; 89 million barrels or 57% for Offshore Processing Arrangement (OPA) and 8.74 million barrels or 5.6% for local refineries. The total value of the domestic allocation came to $7.77 billion or N1.5 trillion.
When combined with the closing balance for the previous year and with allowance made for liability acknowledged and upfront deductions by NNPC, there was an un-reconciled sum of N317 billion from the value of crude allocated for domestic consumption. NNPC acknowledges having a liability of N418 billion as at 31st December 2015. Also, NNPC deducted the following upfront from domestic crude account: N60.9 billion for losses; N316.7 billion for subsidy; and N112 billion for repairs and maintenance.
A breakdown of the repairs and maintenance expenses shows that N24.2 billion was spent on crude movements; N22.1 billion on fund releases for salaries; N15.6 billion on demurrage; N13.2 billion on share of upfront; N11.37 billion on product distribution; N10.5 billion on through/marine; N4.12 billion on facility repairs; N3.27 billion on operations; N1.9 billion on security; and N1.3 billion on projects, among others.
NEITI recommends that upfront deductions should be discontinued and that NNPC should settle its liabilities and reconcile the unreconciled amount. NEITI also recommends that detailed records of losses and repairs be kept to ensure transparency and accountability.
Non-Cash Call Items
The total cash calls paid to joint venture operators in 2015 was $4.37 billion. Out of this, $597.8 million was paid on what the report considers non-cash call items. This included $307.83 million paid to the National Intelligence Agency (NIA) and Navy for security; $238 million collected by NAPIMS as administrative charges; $7.2 million for travelling and accommodation; and $4.8 million for consultancy, among others. NEITI recommends that non-cash call expenses should be paid from NNPC overhead budget, and payment to NIA and others from cash call account should be discontinued.
OPA and Other Losses
The report shows that in 2015 the country recorded a net loss of $723 million from getting refined products through Offshore Processing Arrangement (OPA). This means that the value of refined products that the country received through OPA was less than the value of the crude given by $723 million, even after allowances had been made for costs and margins. The President Muhammadu Buhari administration cancelled the OPA in November 2015 for being uneconomical. However, there was an outstanding liability of $498 million by companies contracted under OPA from under-delivery of imported products.
The report shows that $90 million was lost through a practice where NNPC used a revised/lower pricing option at the point of payment instead of the higher price at the point of purchase. The report states that NNPC has stopped the practice of double valuation with the coming of the present administration.
NEITI recommends close monitoring of the Direct Sale Direct Purchase (DSDP) arrangement that replaced the OPA to ensure the country is not being shortchanged. It also calls for government to recover the $498 million OPA liabilities from the affected companies.
NPDC's Liabilities
From the report, NPDC (the upstream arm of NNPC) reduced its legacy liabilities from $1.45 billion and N80 billion in 2014 to $757 million and N68 billion in 2015. However, NPDC incurred liabilities of $822 million and N9.6 billion in 2015, bringing its total liabilities at the end of 2015 to $1.5 billion and N78 billion.
The report also showed that NPDC promised that by 31st December 2017 it will pay the balance of $1.7 billion that it owes the Federation from the eight OMLs divested to it from the Shell JV between 2010 and 2011. It will be recalled that the OMLs were valued at $1.8 billion, which is believed to be discounted and that NPDC paid only $100 million. The report also showed that the valuation for the four OMLs divested to NPDC from the NAOC JV in 2012 was revised down from $2.25 billion to $1.55 billion by DPR. NPDC claims that the Federation owes it $95 million, having lifted oil from the divested assets and received payments from gas proceeds between 2012 and 2015. NEITI recommends that NPDC should pay its outstanding liabilities and that the basis of the revaluation and mode of payment of the divested assets be examined to ensure that the Federation is not shortchanged.
The NEITI 2015 Oil and Gas Audit Report is the eighth to be produced since the extractive sector transparency regulator came into being in 2004.  The report was released on Friday, December 29, 2017, after approval by the National Stakeholders Working Group (NSWG), which is the governing board of NEITI headed by Dr. Kayode Fayemi, the Minister for Mines and Steel Development. The audit was conducted by Haruna Yahaya & Co., a Nigerian accounting and audit firm selected through an international competitive process.
The 2016 audits will commence early next year while the procurement process for the 2017 audits has commenced. "Our goal is to clear the backlog as quickly as possible," Adio said. "We are embracing mainstreaming and automation to ensure we speed up our reports to make them as close to real time as possible and to enhance their reform and accountability utility. Resources and process permitting, we will release the 2016 and 2017 reports next year."