Ahead of the United Nations climate change conference,  COP26, religious leaders in Lagos  have called on  the Lagos State Government to take swift actions against climate change to protect creations.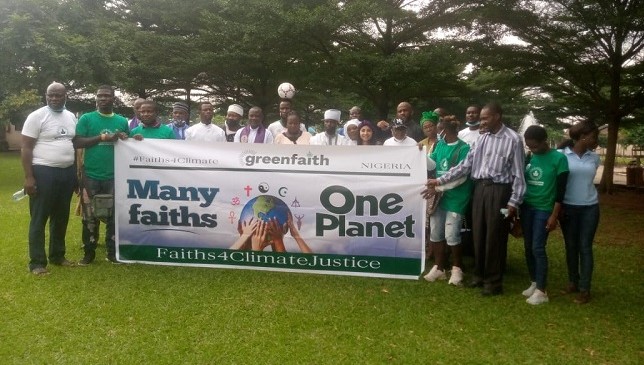 The call was made by Pastors, Imams and other religious leaders at the Faiths 4 Climate Justice advocacy programme organised by GreenFaith International Network and held at the Ndubisi Kanu Park in Ikeja, Lagos on Monday, October 18, 2021.
Members of the inter-religious group said they were tired of waiting for actions to be taken against climate change.
The event, which started with an awareness and advocacy march, saw participants demanding for a divestment from carbon extraction, and greater investments in green jobs, and more education about climate change, ahead of the 26th United Nations climate change conference that begins in Glasgow on October 31.
The group demanded that pressure be mounted on the Muhammadu Buhari led administration to intensify the cleanup of Ogoni land. The multi-faith group also asked the Buhari administration to put an end to gas flaring and criminalise the industrial scale of deforestation.
The religious leader also asked the government to mandate an annual tree planting project as a matter of climate emergency.
Speaking at the event, an environmentalist, Desmond Majekodunmi, said the role of the gathering was to raise awareness on issues surrounding climate change. He said the get-together was important as it brought religious leaders from different faiths together.
"We have been waiting a very long time for a meaningful and just climate action," Mr Majekodunmi said.
He encouraged the religious leaders to use their scriptures to push for climate justice.
On his part, Pastor Iyiola Olayori said that government, financial institutions and private organisations were destroying the planet by their actions and inactions.
"No religious tradition says that we should destroy the planet, yet this is what governments, financial institutions and major corporations are either doing or allowing," he said.
By Emeka Ayo Joseph