To rally funding to implement the prevention and cure of tuberculosis (TB), President Muhammadu Buhari has joined other Heads of State and Government attending the ongoing and first-ever UN High-level meeting on TB to mobilise $13 billion a year by 2022 to implement TB prevention and cure, and $2 billion for research.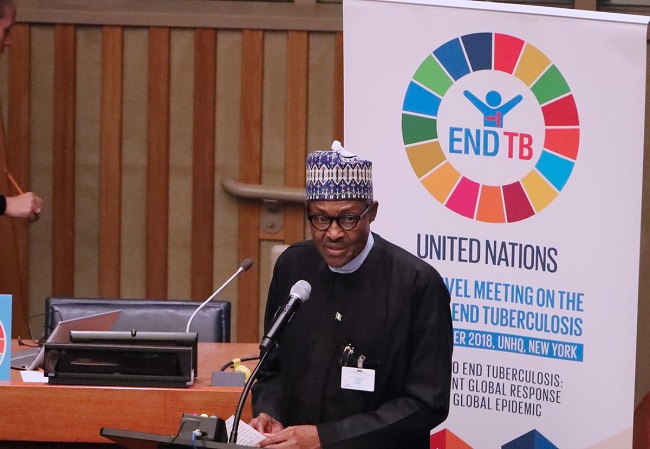 The leaders also committed to take firm action against drug-resistant forms of the disease, build accountability, and to prioritise human rights issues such as the stigma that still prevails around TB in many parts of the world.
The world leaders agreed to implement urgent actions towards ensuring that 40 million people with TB receive the care they need by the end of 2022. They also agreed to provide 30 million people with preventive treatment to protect them from developing TB.
President Buhari asserted that Nigeria's national TB eradication strategy had, over the years, been structured to provide tailored quality services in terms of diagnosis, treatment and prevention.
"Since assuming office in May 2015, we consistently increased budget appropriation for the health sector," he said, adding that with "a view to ensuring that we promote the well-being of our people through access to qualitative health care services. We are investing in research and development in our various public and specialised institutions."
An estimated three Nigerians die of tuberculosis every 10 minutes, accumulating to 18 every hour and 432 every day.  Every hour, 47 Nigerians develop active TB, seven of whom are children. Despite progress made in the last two decades, the incidence of TB is not declining fast enough to end the disease as envisaged under the Sustainable Development Goals 2.
According to the Stop TB Partnership, "although TB is curable and preventable all people developing TB, including drug-resistant TB, needs to be diagnosed and treated, and those at highest risk of developing TB (contacts of patients, people living with HIV, etc.) need to receive preventive therapy. Currently, only about 60% of TB and about 25% of drug-resistant TB are notified as receiving treatment; the remaining are the millions of people who are 'missing' from care. Coverage levels are lower for children, and preventive therapy coverage is minimal."
To address the burden in the country, President Buhari stated that the National Action Plan on TB Eradication 2015-2020,  is being pursued with renewed vigour, and structured on five priorities: detection of TB in adults and children; improving treatment in specific geographic areas that are under-performing; integrating TB and HIV services; building capacity for diagnosing and treating drug resistant TB; and creating strong and sustainable systems to support these achievements.
The world leaders acknowledged that the current rate of progress on TB was endangering prospects of meeting global targets to end TB. The 2017 Global Report on TB shows that TB remains the world's deadliest infectious disease as it killed 1.6 million people in 2017, including 300,000 people with HIV. In the same year, 10 million people fell ill with TB.
"Today is a landmark in the long war on TB," said Dr Tedros Adhanom Ghebreyesus, Director-General of the World Health Organisation (WHO). "These are bold promises – to keep them partnership is vital. WHO is committed to working with every country, every partner and every community to get the job done."
"The political declaration proposed for this meeting sets a roadmap for accelerated action to end TB in line with the vision and targets for 2030," said Ms Maria Fernanda Espinosa Garcés, President of the 73rd Session of the UN General Assembly. "We have before us the opportunity for a clear win – a chance to save the lives of millions, to preserve billions in resources, to demonstrate the success of the Sustainable Development Goals, and to reaffirm the utility, efficacy and necessity of multilateralism and the UN System. Let us not miss this opportunity."
The political declaration in the hallowed chambers of the United Nations in New York, was the emergence of a new resolve and commitment of leaders across the world to stop the deaths and infirmities from TB across the world.
By Akin Jimoh, New York City