Nigeria's Ambassador/Deputy Permanent Representative to the UN, Amb. Samson Itegboje, has said that the country is making tremendous efforts to eradicate poor sanitation and excessive use of water.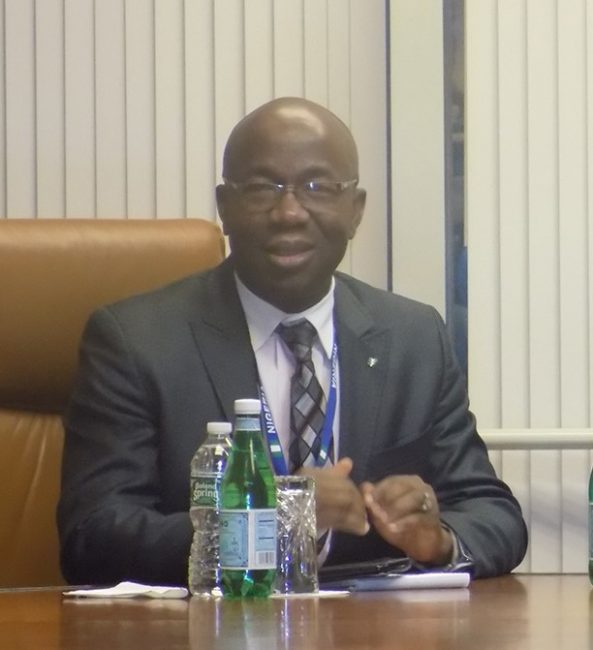 Itegboje made this known at the International Decade for Action tagged: "Water for Sustainable Development 21018-2028" held at the UN Headquarters, New York.
He added that concerted efforts were being made to address water scarcity.
He explained that the role of water in ensuring the country's sustainable development could not be overemphasised.
Itegboje said: "The present administration has increased momentum for meeting this goal through the inauguration of the Partnership for Extended water.
"The Federal Ministry of Water Resources is working tirelessly to scale up access to water and sanitation by repositioning the relevant department/agencies for efficient service delivery."
The envoy, however, regretted that, currently, 65 million Nigerians were without clean drinkable water.
He noted that an estimated 100 million Nigerians still lacked basic sanitation facilities and 63 million did not have access to improved source of drinking water.
Open defecation is still practised by about a third of the rural population, while some 12 per cent of the urban population also practices open defecation, he said.
He expressed confidence that the "International Decade for Action: water for sustainable development: 2018-2028″ would provide Nigeria with the opportunity to put its acts together to change the scenario.
"Nigeria follows the national standards and targets as stated in the Water Sector Road Map of 2010, the Vision 20:2030, the Sustainable Development Goals (SDGs) and the African Water Vision.
"Nigeria is of the view that water is the driving force of all nature and that it is linked with every aspect of human existence to equip and sustain a people," he said.
According to him, the Federal Ministry of Water Resources is constructing dams mostly in the northern part of Nigeria where we have desert encroachment as a result of climate change.
"In the spirit of not leaving anyone behind, Nigeria is striving to ensure that these vulnerable Nigerians are catered for while meeting target for the Agenda 2028.
"This is to ensure the availability of clean water to every Nigerian," he said.
Nigeria reiterated its position to continuously support the implementation of SDG 6 knowing its importance to the development of our people.
By Prudence Arobani