Potential impacts of climate change on water consumers and service providers in Lagos State were underlined recently, even as global warming-induced water pressure continues to dominate international discourse.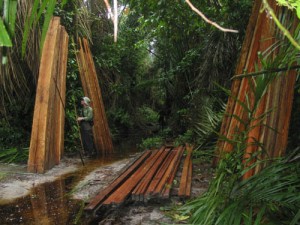 There are fears that access to water in urban and rural areas in Nigeria are being constrained, no thanks to variability in climatic conditions. In coastal areas of Nigeria for instance, scientists say rising sea levels may have negative effects on storm-water drainage and sewage disposal and increase the potential for the intrusion of saline water into fresh groundwater in coastal aquifers, thus adversely affecting groundwater resources.
In an apparent reaction, the Africa Adaptation Programme (AAP), through the Bread of Life Development Foundation (BLDF), has embarked on a survey to, apart from establishing the impact of climate variation on water supply and sanitation services in urban and rural areas, determine the available mitigation and adaptation strategies open to water-related institutions and individuals to ensure sustainable access to safe drinking water and sanitation services in a changing climate.
Titled: "Assessment study on the Impact of Climate change on the Water Supply and Sanitation (WSS) sector in Nigeria", the survey officially commenced in May and will span two months. Besides Lagos, Osun and Anambra states as well as the Federal Capital Territory (FCT) have been earmarked as case study cities. Via a random sampling process, additional cases in study will be conducted, disclosed BLDF officials.
At a flagship forum held penultimate week in Lagos, participants examined the adaptive capacity of service providers and consumers to climate change in the state. Ultimately, attempted to fashion out a set of recommendations for mitigation and adaptation strategies for the service providers and consumers.
The event was conducted by the BLDF with the support of Department of Climate Change of the Federal Ministry of Environment, United Nations Development Programme (UNDP) and Government of Japan, sponsor of the AAP.
The 21 participants at the daylong event underlined the need to increase stakeholders' education and create awareness on the potential impacts of climate change on service providers and users in the water supply and sanitation sector in the state. They also underscored the need to conduct baseline studies to generate data and information on status of water supply and sanitation sector, which they agreed should be updated regularly.
Similarly, they recommended, households and commercial offices should be encouraged to promote environmental greening and reduce pavement of the neighbourhood in order to encourage natural groundwater recharge.
Besides promoting onsite wastewater treatment, encouraging communal boreholes in estates and ensuring an increase in synergy between the government agencies, CSO and consumers to tackle climate change, participants called on the state government to develop a technology for treating/desalinisation  of the abundant sea water for domestic consumption in the future.
According to the participants, an action plan and a timetable for the implementation of mitigation and adaptation measures in the water supply and sanitation sector in the state should be drawn and strictly followed.
The event was attended by dignitaries such as Professor Lekan Oyebande (Chair, Technical Committee West Africa Water Partnership), Jones Awolowo (Lagos Water Corporation), Adeyemo Adegoke (Lagos Wastewater Management Office), Nornah  Awoh (Lagos State Ministry of Environment),  Sanni Anibire ( Department of Rural Ware Supply and Sanitation -Lagos state Ministry of Rural Development), Abiola Awe (Federal Ministry of Environment), Prince  Lekan Fadina (Centre for Investment, Sustainable Management and Environment – CISME) and Babatope Bablobi (BLDF).
The study was informed by the AAP's resolve to conduct studies to achieve a better understanding on the potential impacts of climate change as well as vulnerability assessment on key thematic areas/sectors.
The AAP is being implemented in 20 African countries including Nigeria. AAP in Nigeria seeks to promote an integrated approach to adaptation to climate change through building the governance system, empowering children as change agents and demonstrating adaptation benefits in the agricultural sector. AAP activities in Nigeria also entail developing the enabling environment by supporting a coherent policy and strategy development process, led by the UNDP.
The AAP was established under the Japan-UNDP Joint Framework for Building Partnership to Address Climate Change in Africa, and it benefits from a $92.1 million support from the Government of Japan.