Queen Maxima of the Netherlands has urged Nigerian government to leverage on technology to provide useful and affordable financial products and services to people living in remote areas of the country.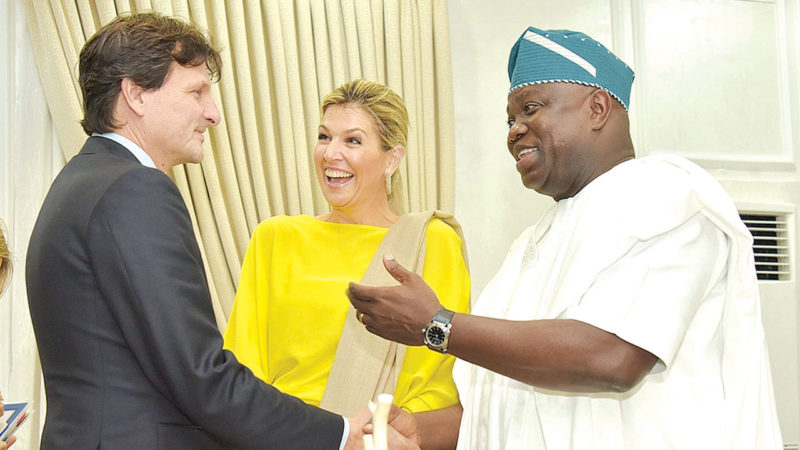 Maxima, who is the UN Secretary-General's advocate for financial inclusion for development, said this on Wednesday, November 1, 2017 during her working visit to the Federal Ministry of Finance, Abuja.
The queen, who also visited the Central Bank Governor, Mr Godwin Emefiele, she said she was in Nigeria to see how far the country had gone in achieving the Sustainable Development Goals (SDGs).
The UN advocate said her visit was also in connection to see how far Nigeria had achieved financial inclusion.
She advised the government to leverage on the current mobile phone penetration put about 63 per cent to deliver key banking services to the people.
She said that the potentialities in achieving financial inclusion were enormous, adding that it was possible for Nigeria to address perceived issues that would help its citizens reap the benefits of financial inclusion.
"From 2008 to 2016, there has been very decent progress in raising the bar of financial included people from 28 per cent to 58.6 per cent in Nigeria.
"Since 2014, a couple of things have changed from financial literacy policy, regulations for agent banking and other reforms to strengthen this issue even more.
"However, in the last years, growth has flattened up and in some cases, we have seen reductions. But it is still possible to achieve the target of 80 per cent financial inclusion by 2020.
"I think now is time to sit down again and review your objectives and review your National Financial Inclusion strategy to see what needs to be done.
"There is huge potential now. Maybe 15 years ago, trying to reach that target would have been impossible, but now technology really offers us a fantastic window of opportunity,'' she said.
Maxima identified some of the issues in the way of achieving financial inclusion to include: consumer protection, infrastructure as well as connectivity.
She stressed need for cooperation between the Central Bank of Nigeria, Ministry of Finance and other relevant agencies to militate against perceived risks to achieving financial inclusion.
"A lot of countries have addressed these issues, it is not impossible.
"We will keep working toward that. We are prepared to help Nigeria to this journey of addressing the risks, identifying them and see the best ways to approach them with the help of regulators."
Receiving the queen, Adeosun, said access to banking services remained a problem, particularly for the rural women in the country.
She said that looking at the geography of Nigeria; it wouldn't be viable to have bank branches everywhere, thus the need to take innovative actions.
"We have a lot of young people who are underutilised and underemployed but are technology savvy.
"We started with our social intervention programmes, the concepts of keeping people within their communities and paying them to work in those communities under the N-Power scheme, the N-Teach.
"We also have the Community Tax Officers who are going round to sensitise people about the tax system.
"We will see how we can piggyback some of that work around financial inclusion, how we can marry some of these opportunities, "she said.
Adeosun said that looking at the Social Intervention Programmes of the Federal Government; it might create an opportunity to introduce banking services to the people in the remote areas of the country.
Also, the CBN Governor, Mr Godwin Emefiele, pledged Nigeria's commitment to achieving 80 per cent financial inclusion rate by 2020.
"The bank have introduced a lot of initiatives prominent among are: the Agent Banking Framework, the Know your Customer framework, the Micro Small and Medium Entreprise framework and the National Collateral Registry.
"We have also introduced the Credit Bureau and Credit Scoring System and released Financial Literacy and Consumer Protection Framework.
"On the back of these reforms, I'm pleased to tell you that, we have moved from 46 per cent exclusion rate in 2010 to 41.6 per cent in 2016.
"To achieve the exclusion rate of 20 per cent by 2020 across the country, we are priotising interventions and creating awareness to ensure patronage, incorporating non-financial services into the CBN's intervention programmes," he said.
Emefiele said that CBN had also increased sensitisation campaign to encourage citizens to adopt digital financial services and other simple alternative channels.
By Rachael Ishaya