The Federal Ministry of Environment on Saturday, July 8, 2023, in Abuja said that it would segregate wastes for wealth in Kuchingoro community, a suburb in the federal capital city.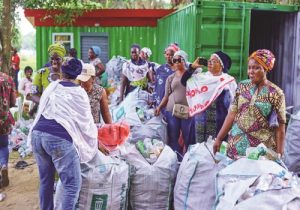 Mr Usman Abdullahi Director, Pollution Control and Environmental Health in the Ministry, made the promise during a community sensitisation on cleaning in the area.
The sensitisation is part of the programmes to mark the 2023 National Environmental Sanitation Day (NESD).
Abdullahi promised that the ministry would enlighten the community on wastes segregation.
"You can convert that waste to wealth where you separate your plastics and biodegradables.
"These biodegradables can be converted to compost and these plastics can also be converted for use," he said.
Responding, Malam Umar Dogo, the District Head of Kuchingoro community, commended the partnership with different stakeholders on environmental sanitation in the community.
Dogo assured that everyone in the community would support the initiative.
He thanked the stakeholders for the supply of tools to carry out the exercise in the area.
Mr Ian Tweedie, the Country Director of Breakthrough Action Nigeria, a non–governmental organisation, said that Kuchingoro community stands out in the area of environmental sanitation.
Tweedie, who was represented by Mrs Olayinka Faruk, a deputy project director in the NGO, assured the community of support.
"Our support is in the area of social and behavioural change, for any disease to transmit our hands play major roles, so we can all do better by starting with a personal hygiene.
"We have a lot of wastes management programme, we can convert waste to wealth, we can also support our community better in ensuring that waste is properly managed," he assured.
Mr Christopher Maikalangu, the Chairman of Abuja Municipal Area Council, said that Kuchingoro community is usually organised when it comes to the issue of environmental sanitation.
Maikalangu, who was represented by Mr Bako Kaindu, urged Kuchingoro community to have a data base of people living within their community.
He advised stakeholders to take the sensitisation on sanitation to other communities.
Stakeholders in the environmental sector distributed sanitation tools to the community for cleanup programme.
The tools are cartons of soaps, rakes, shovels, dustbin bags, nose masks, hand gloves and brooms.
The theme for 2023 National Environmental Sanitation Day is "Promoting Sustainable Waste Management for a Healthy Environment: Stop Open Dumping".
By Abigael Joshua