Nigeria's National Climate Change Bill will be a subject of international discussion at the 23rd Session of the Conference of the Parties (COP23) to the United Nations Framework Convention on Climate Change (UNFCCC) scheduled to hold from November 6 to 17, 2017 in Bonn, Germany.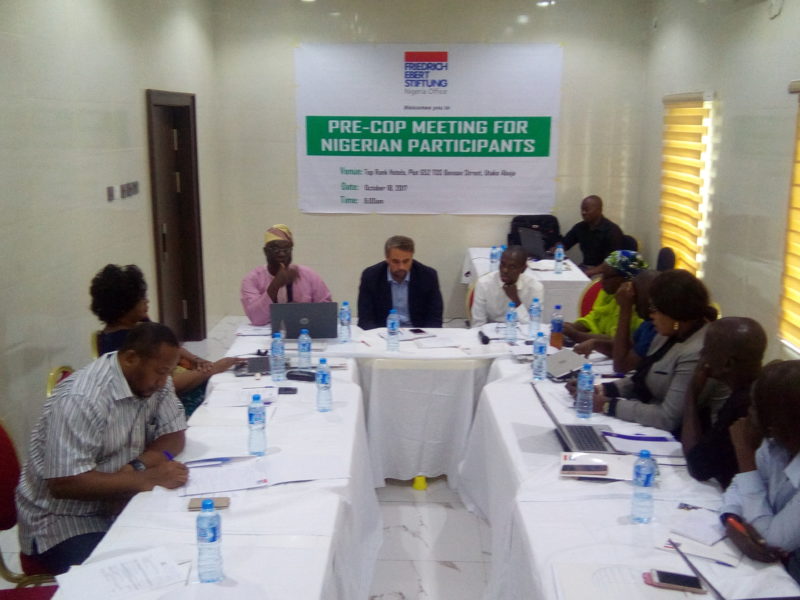 Chairman, House of Representatives Committee on Climate Change, Samuel Onuigbo, made the disclosure in Abuja on Wednesday, October 18, 2017 at a pre-COP23 meeting organised by the Friedrich-Ebert-Stiftung (FES).
Onuigbo, who was represented at the daylong forum by his Special Legislative Assistant (SLA), Stanley Nwabuisi, stated that this would come by via a special side-event – one of severally being planned by Nigeria at the two-week global confab.
The legislator stated that the side-event was informed by the need to share experiences and best practices with the international community on a similar topic, and sure that the bill emerges a better and more engaging document.
At a National Stakeholders Meeting Preparatory to COP23 in Abuja recently, Director, Department of Climate Change, Dr. Yerima Peter Tarfa, said Nigeria would host side-events on the Sovereign Green Bond (which is at the threshold of being launched) and implementation of the country's Nationally Determined Contributions (NDCs).
At the FES gathering, FES Resident Representative in Nigeria, Ulrich Thum, and Project Manager, Henry Okotie, introduced the organisation as a private, non-profit organisation committed to the values of Social Democracy. According to them, FES Nigeria cooperates with and supports the Nigerian Labour Congress (NLC) and the Trade Union Congress (TUC) on labour rights issues as well as how climate change affects labour and employment.
Prof Emmanuel Oladipo of the University of Lagos, Akoka, who chaired the meeting, stated that COP23 represents a platform to drive the implementation of the Paris Agreement that was committed to by a considerable number of Parties to the UNFCCC. He urged civil society organisations at the meeting to come up with issues they can put up before the government before, during and after the COP.
Hauwa Mustapha of the Nigeria Labour Congress (NLC) shared Labour's stand with participants, underlining the need for: social justices and a decent work environment for all, and reduction of emissions to zero.
According to Ovie Ainenehi, who represented the Federal Ministry of environment at the meeting, Nigeria negotiators will be aligning with the Africa Group's stand, which includes operationalisation of adaptation as provided under the Convention through elaborating the global goal for adaptation of the agreement.
He listed government priority areas to include: NDCs implementation, agriculture (climate smart agriculture), renewable energy/energy efficiency, transportation, and green economy.
Participants eventually agreed of shared responsibilities and strategies towards the COP. Some are listed to include:
Identifying and aligning with government activities at COP23
Ensuring a proper access to information
Building interrelationships between different environment-related ministries
Proper coordination for the media, for effective information dissemination
Translating NDCs into different languages to help locals understand the process
Ministry of Environment should share information on its Pre-COP23 meeting
Civil society should be notified about all Nigerian side events at the COP
Need to effectively showcase Nigeria's image at the conference
Need for more grassroots awareness
Need to appreciate the politics of climate change
Need to create a network of participants
Need to Itemise the working groups in Bonn and be organised to attend the sessions
Need to liaise with the Ministry for thematic area to work with during the COP
Need to help track Nigeria meetings, and build civil society strategies
Need to know how to make an input in Nigeria/African position
Need to identify where and how civil society interventions can be impacted
Need to identify and be familiar with Nigerian negotiators going for the COP
Need to respond to communication and strategic document
Need to review policies to be able to effectively engage with policy makers.