Following the recent launch of the Nigeria Mortgage Refinancing Company (NMRC), Ministers for Land and Urban Development in Africa will address the issue of housing finance on the continent as they gather from Tuesday February 25 to Friday 28, 2014 in N'djamena, the Chadian capital, at the fifth session of the African Ministerial Council on Housing and Urban Development (AMCHUD).
The meeting, which has "Case Studies in Financing Human Settlements in Africa: Appropriate Legislative Frameworks and Innovations in Implementation" as its theme, will essentially:
Develop an enhanced operational compendium for legislative framework and innovative practices for human settlements financing;
Define 'Africa Urban Agenda 2063' that will also serve as an input into the African Union's 'Agenda 2063 as well as to the Post-2015 Agenda and to Habitat III; and,
Adopt the N'Djamena Declaration on Financing Human Settlements in Africa.
Similarly, the seventh session of the World Urban Form will hold in Medellin, Columbia from 5th to 11th April. Both forums are coming in the wake of mounting efforts towards the articulation and adoption of a New African Urban Agenda, which is required to tackle the growing challenge of urbanisation on the continent. These processes, it was gathered, will lead up to the landmark third United Nations Conference on Housing and Sustainable Urban Development, billed to take place in 2016.
Nigeria, which is leading preparations under this initiative in Africa, had last year demonstrated its commitment to the process with a pledge of $3million spread over three years, to drive participation by African countries.
Deputy Executive Director and Assistant Secretary-General for UN-Habitat, Ms. Aisa Kirabo Kacyira, last week undertook a five-day mission to strengthen growing ties between the United Nations city agency and sub-Saharan Africa's most populous nation.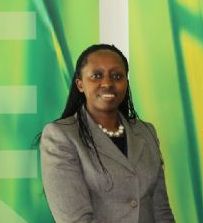 Kaycira is a former Mayor of Kigali, capital of the Republic of Rwanda, where she had also previously served as Governor of Eastern Province, the largest in Rwanda, and as an elected Member of Parliament prior to assuming office as Assistant Secretary-General for UN-Habitat.
During the visit, the UN-Habitat Deputy Executive Director held several high-level meetings with top government functionaries including the Supervising Minister for Lands, Housing and Urban Development, Musa M. Sada; and the Minister of Finance and Coordinating Minister for the Economy, Dr. Ngozi Okonjo-Iweala. She also addressed the inaugural ceremony of Nigeria's National Habitat Committee in Abuja.
The establishment of National Habitat Committees was recommended by the UN General Assembly to serve as a vehicle for ensuring a broad-based, gender balanced and inclusive participation process leading up to the Habitat III summit, and will include representation from government, civil society, the private sector, academic and research institutions and the media.
The Committee will, among several other tasks, ensure the effective and efficient participation of all stakeholder groups in the Habitat III preparatory process and oversee the preparation of national reports. The deadline for conclusion of National Habitat reports is June, this year.