Migration has been identified as an inevitable phenomenon with far-reaching advantages when done within the context of available conventions.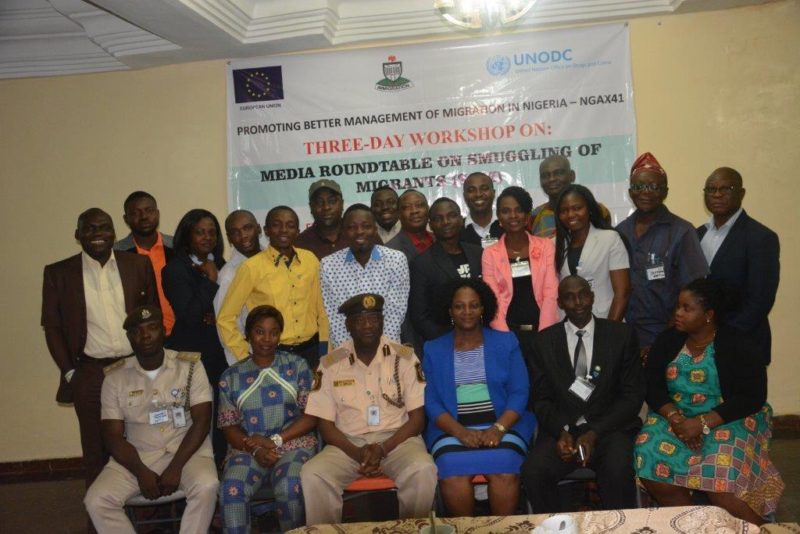 This was made known in a communique by participants at the three-day European Union (EU) funded Media Roundtable on Smuggling of Migrants (SOM), organised by the United Nations Office on Drugs and Crime (UNODC) in partnership with the Nigeria Immigration Service (NIS). It held from October 30 to November 1, 2017 in Kaduna, Kaduna State.
However, they observed that these advantages and opportunities are being lost to irregular migration, which is being perpetrated by smugglers of migrants.
They also observed that Smuggling of Migrants (SOM) is not abating in Nigeria and is constituting threat to national security, economy and socio-political sanity and well-being of the country.
Stating that the rise of SOM is a consequence of improper and ineffectual information dissemination and citizen education on the phenomenon, the participants observed that there is lack of synergy between the agencies coordinating Migration Management in Nigeria (such as NIS and NAPTIP) and the media.
To this end, they recommended that government at all levels and its relevant agencies must wake up to the urgent need to tackle SOM, adding that there is an urgent need for agencies managing migration in the country to synergise with the media for effective campaign against SOM.
Stressing further, the participants, who maintained that there is need for NIS to develop a proactive information management system on migrants-related issues as well as develop a robust social media engagement strategy to counter the narratives on SOM, emphasised the need for media organisations to establish Migration Desks for effective reportage of migration and related issues.
Earlier, while declaring the meeting open, the Deputy Comptroller Immigration, Kaduna Command, DCI Jerry Adah, who noted that there is always a pull and push factor in migrants being smuggled, said SOM is a current topic and the media need to properly sensitise and disseminate information on migrants smuggling, with a view to addressing the ills inherent in the practice.
Also speaking, National Project Officer of UNODC, Mr Sylvester Atere, in his goodwill message, said the Media Roundtable was designed to ensure that Nigeria maximises the potentials of migration to deter people from irregular migration.
According to Mr Atere, migration is a timeless issue, hence, it is very important to build the capacity of media practitioners to be on first hand understanding of the issues of migration, in order to promote its better management.
By Damian Daga, Kaduna