Fifty-year-old Martha Mwalabu travels eight kilometers to have her maize grounded so she has food for her husband, six children and grandchildren.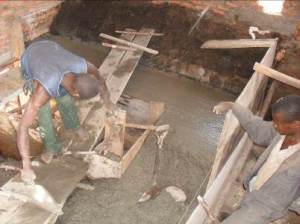 Mwalabu also spends most of her time fetching firewood in the prohibitive Mulanje Mountain, Southern part of Malawi, due to conservation rules.
She is occasionally being forced to source money to buy paraffin and candles so her children can study 24/7.
"I occasionally have no money for firewood to meet cooking needs or even buy paraffin and candles so my children can study. The situation is unbearable," she says.
Mwalabu further says that, for a woman in Bondo, sewing and other activities by candlelight or kerosene lamps is the common reality after daylight hours.
World Bank's Take on Power in Malawi
Continued use of candles and kerosene is contrary to the World Bank 2008 report, which says kerosene lamps not only offer poor light but are also known to be the cause of a host of health problems in us as women and our children.
The report further says kerosene is a highly flammable dangerous fossil fuel that emits vapors.
"If kerosene is accidentally ingested, the vapors can cause coughing, dizziness, headaches, sore throat, unconsciousness and respiratory problems," the report says.
Christina Msungeni, a mother of five, also says women face problems each time health workers at Bondo health centre refer them to Mulanje District Hospital because either the equipment need electricity or there is no medical expert.
Msungeni states: "The nearby health centre is also affected because most of the medical equipment needs electricity.
"Even preserving guava, pineapples, and oranges for business purposes to sustain our daily life cannot work."
The area of Bondo is rich in pineapple and banana and other perishable crops which if well preserved could boost one's lifestyle and become self-reliant.
Many people grow fruits which should have been processed right there only if commercial farmers and communities were connected.
"We are losing a lot in terms of gaining cash from what we grow such as bananas, sugarcanes, avocado pears pineapples, tomatoes and citrus fruits," Msungeni says.
Mwalabu and Msungeni are among thousands of people who are not yet connected to the national power grid by the Electricity Supply Corporation of Malawi (Escom) or the Rural Electrification Programme currently in its sixth phase, according to the authorities.
Lack of power in Bondo and many other villages in senior chief Mabuka translates into complete darkness at night or limited light generated by candles or kerosene lamps.
Problems that communities face vindicates that only eight percent of the country's 13 million people are connected to the national power grid, a source of power that has become increasingly unreliable due to power blackouts.
Role of Organisations
However, such power related hiccups would be history following works meant to construct a micro-hydro power project by Mulanje Renewable Energy Agency (MuREA) as an implementing institution on behalf of Mulanje Mountain Conservation Trust (MMCT).
Most people feel this would bring a sigh of relief because the project is likely to generate 88 megawatts for use by 400 families in the area where communities did not even dream of being connected to the national grid any time sooner.
The project will generate 75 kilowatts of power using Lichenya River whose source is Mulanje Mountain.
MuREA said recently in a project document that the amount caters for salaries and buying of power generation equipment and construction.
Almost 400 households and business enterprises are to be connected in the first phase. Community assets such as Kabichi Primary, Malowa CDSS and Bondo Health Centre should have power during the first phase," officials interviewed at random said.
Project Challenges
While some canals were completed by last year including the power house of electricity, a visit to the area showed that they have been washed away.
The Malawi Government on the other hand is yet to issue a licence for operations of the project.
This is despite that the MurEA officials and communities are working together with the Department of Forestry in Mulanje to provide poles as metal poles were costly.
Poor Friendly Project Once Completed
The steering committee says that those with no cash, but have agricultural produce, will do the barter system to ensure more communities are connected.
At the same time the project shall encourage households to use stoves that consume less firewood and charcoal.
Initially, research has shown that there is a small provision of money for business centres to buy electrical appliances such as refrigerators and entertainment sets for their business to improve.
Although, not all will benefit from the small provision of money, some of them are well to do due to the growth of bananas, tea and other agricultural products.
Two years ago, MuREA Project officer, Horace Lumbe was quoted by The Nation saying the power project seeks to restrain people from cutting down trees in the tourist destination district in the name of searching for firewood.
People will have to use electricity in their homes, business premises and public facilities such as schools and health centres. Previously, tree conservation in Mulanje mountain was a problem hence the idea by MMCT to have the project," Lumbe said at that time.
"We are busy with excavation of pits in all the seven villages where poles will be erected. So far poles have been treated so as to increase their lifespan," he stated.
Once construction ends, communities and public officials would be asked to contract recognised electrical companies to wire their houses, offices and business premises before any connection.
Project Reference in Sadc
The micro-hydro power project is one of the 16 schemes that will be implemented in Malawi, Mozambique and Zimbabwe.
Malawi will have another scheme once the pilot phase of connecting 400 families in senior chief Mabuka is finished.
The construction committee team in 2012 visited Zimbabwe just to exchange ideas on the project.
The micro-hydro power project is just in line with the continued Presidential directive for generation of electricity in rural areas to counter issues of climate change, land and environmental degradation.
Most communities in the area have spoken in praise of the micro-hydro power project, saying besides improved business opportunities, women will not have difficulties when attending to maternal services at a Bondo Health Centre in the area.
Nearly 95% of the country's electricity supply is provided by hydropower from a cascading group of interconnected hydroelectric power plants located on the middle part of the Shire River, which flows through the Mwabvi Wildlife reserve in the south, and a mini-hydro in the northern region on the Wovwe River.
By George Mhango (Blantyre, Malawi) – WaterSan Perspective/Water Journalists – Africa
This story was produced with support from the CSE Media Fellowships Programme for the Global South.