The Chairman of Bwari Area Council, Mr Musa Dikko, has urged committee members of the 2017/18 Measles Vaccination campaign to ensure that every child in the area is vaccinated to promote healthy living.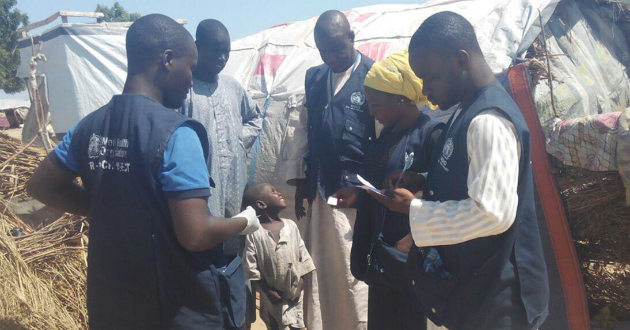 Dikko said this while inaugurating the committee and sub-committees on Thursday, December 7, 2017 at the council secretariat in Bwari, Abuja.
The committee and sub-committees are: Area Council Measles Technical committee, Social Mobilisation Sub-Committee, Cold Chain and Logistics Sub-Committee and Waste Management Sub-Committee.
Others are: Monitoring and Evaluation Sub-Committee, Adverse Events Following Immunisation Sub-Committee and Training Sub- Committee.
The chairman also urged the committee members to be dedicated to the task given to them in order to save the lives of children, instead of focusing on the stipends they would get.
According to him, the privilege of being part of the working committee comes with a higher responsibility than selfish interests.
"Let us not forget that we are privileged to be picked among thousands to be part of saving lives and only the healthy is able to serve in a committee to save the unhealthy.
"The purpose of setting this committee is to save lives and it can only be done with resources, yet, we sometimes put these resources first before the main purpose.
"I hereby urge you to check very well and decide as individuals, which should come first. To save lives or our selfish interests, don't allow people to die because of your personal interests.
"Put it at the back of your mind that someday, someone would tell you thank you for a job well done.''
He urged the committee to put in their best in order to make positive difference in the council.
According to him, the council has set the pace in all its programmes which have direct bearing on the lives of people for others to follow.
Earlier, Mr Sunday Goji, Head of Department of Health in the council, said that the campaign which was scheduled for Feb. 2018 would require "close supervision''.
This, he said was due to the need for intense collaborative efforts by stakeholders to enable the campaign achieve its goal.
The News Agency of Nigeria (NAN) reports that the campaign is being done with support from the Public Health Department of Federal Capital Development Authority (FCDA), and the World Health Organisation (WHO).
By Veronica Dariya