Against the backdrop of the devastating floods that have turned large parts of Nigeria into disaster areas, Community Conservation and Development Initiatives (CCDI), in partnership with Heinrich Boll Stiftung, has engaged local councils on "Local Governments and Disaster Management". The idea is to prompt local governments over their obligation to form Local Emergency Management Committees (LEMCs), as directed by the National Emergency Management Authority (NEMA), and to explain the roles and responsibilities of those committees.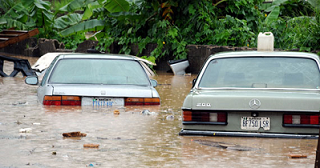 The engagement comes under CCDIs "Mobilising Local Governments for Climate Action" project and the three local governments involved, Eti-Osa, Lekki and Yaba,  sent members of their LEMCs to participate. Lagos State Emergency Management Agency (LASEMA) was represented by Olusegun Magnus-Davies Magnus and Ganiyu Wewe, the Fire Brigade was represented by George Nwanorim and the Red Cross by Ijeoma Nweke. Dr Olusegun Ojo, an urban planning and disaster risk reduction consultant and former Director of Relief and Rehabilitation at NEMA, was a resource person. Unfortunately, owing to bureaucratic intransigence, the Police were invited but did not attend.
A major role for each LEMC is to develop and update periodically risk maps for its local government and provide the information to LASEMA, the general public and the communities at risk.
LEMCs should have the ability to kick start emergency response and recovery with back up from LASEMA, participants agreed, adding that the LEMCs must work closely with agencies such as the Fire Brigade, Red Cross and the Police, who should be represented on those committees. Local governments are afforded some degree of flexibility in the composition of the LEMCs, which should ideally reflect wards within the local government.
According to Kofo Adeleke of CCDI, other recommendations from the workshop include greater emphasis on disaster risk reduction as well as management, as the level of disaster risks and vulnerability in any community is determined by the members' capacity to anticipate, resist, cope with and recover from the impact of hazards.
LEMCs, she noted, require more assistance from LASEMA to develop plans of action which integrate disaster risk reduction into the local development planning process. Through the development of action plans, training and sensitization needs will be identified for the local governments and communities. Local governments must make budgetary allocations for the LEMCs and funds can also be drawn from revenue mobilization and the private sector.
Above all, for the successful operation of LEMCs, good governance and political will must be ensured, stressed Adeleke.