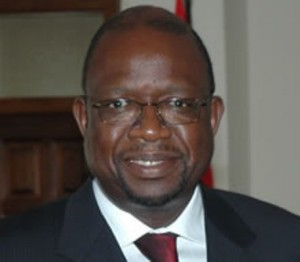 With the widespread challenges arising from last year's floods still very vivid, and even as the government institutions at the federal, state, and local levels collaborate to sharpen action on how to best tackle disasters management, Nigerians have been urged to come to terms with the fact that plight of persons living with disabilities is magnified when a disaster strikes.
According to Daouda Toure, Resident Coordinator of the United Nations (UN) Systems in Nigeria, they are less likely to receive the support they need during a humanitarian crisis and they are also less likely to recover in the long-term.
"As such it is imperative that they must be included in our disaster risk reduction (DRR) policy planning processes," he said.
Toure, who is also Resident Representative of the United Nations Development Programme (UNDP), spoke last week in Abuja at a forum to observe this year's International Day for Disaster Reduction tagged 'Living with Disability and Disasters'.
He described the theme as a sober realisation that persons with disabilities often remain marginalised and excluded from DRR plans and policies and that more needs to be done in promoting their inclusion.
"Today's event highlights the urgent need for the enlargement of spaces for a robust post-2015 development framework that is all encompassing through inclusive future DRR policies that give persons living with disabilities opportunities to make contribution to the process of identifying disaster reduction solutions," he submitted, adding that, over the years, the UNDP collaborated with National Emergency Management Authority (NEMA) to produce interventions such as: an Institutional Mapping of DRR efforts in Nigeria; Disaster Risk Reduction Capacity Assessment for the country; and the Development of a National Action Plan for Disaster Risk Reduction.
Toure added: "More recently, in the aftermath of the 2012 flood, we also led the United Nations Development Systems in Nigeria to provide critical support into the development of Post Disasters Needs Assessment (PDNA) that was conducted with support of World Bank/Global Facility for Disaster Reduction and Reconstruction (GFDRR), European Union (EU) and other Development Partners. To this end, UNDP also supported the preliminary humanitarian assessment, undertook a community consultation and validation surveys in partnership with the six Nigerian universities centres for disaster management as a critical part of the human recovery needs assessment (HRNA).
"Throughout these endeavours, our research, analytical base, and consultations with government stakeholders and civil society have consistently highlighted the policy gaps around the exclusion of people with disabilities in DRR, as well as the opportunities that would derive from their inclusion.
"This points to the need for inclusive policy response framework of a broader nature.  In this respect, more recently our partnership with NEMA has also resulted in the development of a number of strategic policy support documents. Among them is the National Disaster Recovery Strategy and Framework – which specifically highlights the unique challenges faced by persons with disabilities in disaster situations.  I am told that UNDP, as part of the validation process of the policy framework in question, specifically consulted with representative groups of people living with disabilities, thus giving them an opportunity to voice their interests, needs, and concerns and to see these reflected in the final strategy document.
"We are now in the process of consolidating this support through the finalisation a two year DRR intervention that will focus on providing NEMA with additional policy implementation capacity support. This project will be implemented with NEMA at both federal and state levels to predict, monitor, respond and recover from disasters through effective coordination mechanisms."
The UN boss commended Sani Sidi, Director-General of NEMA, "for his leadership and the giant strides that NEMA and indeed the broader disaster risk reduction agenda are making in the country on his watch."
Toure assured that the UNDP and the entire UN Systems in Nigeria would remain committed to working with him and all stakeholders in the strengthening capacity, resilience and inclusion at all levels for effective management of disasters as a critical safeguard for the ongoing economic transformation agenda.
UN Secretary-General, Ban Ki-Moon, in a message to mark the global event, lamented that more than one billion persons in the world live with a disability, and described the commemoration as an opportunity to recognise their role in fostering resilience.
Ki-Moon's words: "Unfortunately, most persons with disabilities have never participated in disaster risk management or related planning and decision making processes. They suffer disproportionately high levels of disaster-related mortality and injuries.
"Early warning systems, public awareness campaigns and other responses often fail to consider the needs of persons with disabilities, putting them at an unnecessarily elevated risk and sending a harmful message of inequality.
"We can change this situation by including persons with disabilities in disaster resilience initiatives and policy planning. The recent General Assembly High-level Meeting on Disability and Development recognised the urgent need for action on this issue, which is also addressed in the Convention on the Rights of Persons with Disabilities.
"Inclusion saves lives. And it empowers persons with disabilities to take ownership of their own safety – and that of their community.
"We can already see their potential contribution in the many persons with visible and invisible disabilities around the world who already serve as volunteers and workers helping communities when disaster hits to cope and bounce back.
"On the International Day for Disaster Reduction, let us resolve to do everything possible to ensure that all persons with disabilities have the highest possible levels of safety and the greatest possible chance to contribute to the overall wellbeing of society.
"Let us build an inclusive world where persons with disabilities can play an even greater role as resourceful agents of change."