It clear to us that COP 21 is not a tea party and it is expected that all parties will put on the table national and group interests – in the case of Nigeria, the country position and the Africa position in collaboration with G77+China.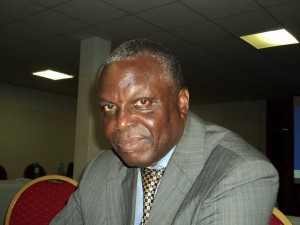 We are aware that a lot of issues that can be termed as lightweights and heavyweights are already in the horizon. It will therefore be fair to say that, beyond reaching the agreement in Paris on the emission reduction, the future of the world will depend on a number of issues – political, environmental, financial, social and religious, among others, that have an impact on the energy and sustainable livelihood.
The Lord gave us the earth's resources to manage and from various reports it appears that humanity has not managed them in a most efficient manner. We can see what has happened and still happens in different parts of the world including Nigeria with the oil, environmental degradation and others. The IPCC report talked extensively on the human element towards climate change and the resultant effect of this that has social, economic and political consequences. The world appears to be locked into a context for vital resources which has potential to become a conflict with increasing limited resources. Some "developing countries" have grown far beyond some of the developed countries and this raises the issue of increase in emission as a result of environmental consequences of global warming. The dwindling global resources and emission are issues that may influence the course of negotiation. There is need to manage the process because some countries may need to go back to the drawing table after COP 21 for a well-planned process that will produce structures that will reduce reliance on non-renewable energy. In short, there is need for a paradigm shift.
In a presentation l made three years ago at a United Nations organised conference, "Beyond Economic Growth", I envisioned a sustainable future. It is evident that we are on the way in the world towards a "Sustainability Revolution". I cannot agree more with Paul Middleton when he said in his book "The End of Oil" that, like other revolutions, a sustainability revolution will result in great pains, losses, gains and change the face of our land, institutions and culture."
It appears that we are on the way and COP 21 may be more than a challenge for all of us. We need to take urgent steps and pull resources together because we must understand that the society especially developing countries that we have to adapt to the realities of the day. We must address "after oil" and how do we move to a low carbon economy. l am an optimist but l can see that our life is about to change, our homes, workplace, sources of energy, how we go round, our transportation – what about non-renewable plane.
In short, our sustainable livelihood, our common future and everything about our way of life depend on the choices we make now and the commitment with which we act on the decision we make. It is clear that these are some issues that will influence how the shape of negotiation may likely take. It will require understanding of the issues at stake, hard work, and how do we play the ball to ensure that we put our interest properly across to be able to get the best for our constituency – Nigeria, Africa and G77+China.
I strongly believe that after the election we need to address the energy crisis, oil, alternatives, the environmental meltdown and where do we fit in the global climate change programme.
Nigeria must be part of the global leadership of climate discussion and matters and we must have at the back of our mind that we are "fighting" for our survival against the tide of environmental challenges and opportunities. We need to put many things in place including investment in appropriate technology, developing human capital with skills and knowledge in seeking climate finance, sustainable investment, mobilisation, and awareness creation, among other things.
We are in this process and we must learn the ropes and what it takes to make the best out of it. We have what is required to move the process and l humbly suggest that we must endeavour to seek the support of the private sector – in fact, they must see it as partners in the development process as we are all affected.
By Prince Lekan Fadina (Executive Director, Centre for Investment, Sustainable Development, Management and Environment (CISME). (He is a member of the Nigeria Negotiation Team, Africa Group of Negotiators and member, AGN Finance Co-ordination Committee). Website: www.cismenigeria.com. Email: cismevision@gmail.com. Twitter: @cismevision