The Niger Delta region in Nigeria has a vast area of its land mass covered by water but the inhabitants barely have access to drinking water. Pollution as a result of oil exploration, curious toileting attitude and indiscriminate waste disposal has made it pretty difficult for this vital resource to come by. In this report prepared courtesy of the International Centre for Journalists (ICFJ) under the "Hala Nigeria" programme by a group of Citizen Journalists, the writers (Jack Jackson, Dandy Mgbenwa, Akhihiero Ojeisemi, Dorcas Isabor, Damian Gbogbara and Lekara Martins) explore the intricacies of the situation
"Water Water everywhere
And all the board did shrink
Water Water everywhere
Nor any drop to drink"
-Samuel Taylor Coleridge, The Rime of the Ancient Mariner (1797)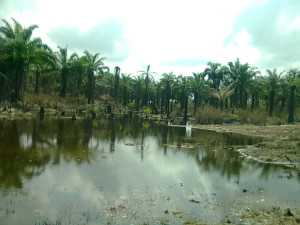 This extract from an internationally-renowned poem, which depicts the essence of water to life amid a sea voyage tragedy that occurred over 200 years ago, is still apt, even in present day Nigeria.
In the country's Niger Delta region, water pollution caused by oil spill, flared gas, open defecation and solid waste has made this vital resource rather challenging to come by. In most of the communities in the region, streams, wells, boreholes, and rain serve as the major sources of drinking water.
"Right from the time dem born our mama and papa dem sef, na this river water we dey use baff (bathe), wash cloth and even cook food sef," says septuagenarian Ajuwa Ere, a native of Amassoma Community in Southern Ijaw Local Government Area (LGA) of Bayelsa State, referring to the Amassoma River that meanders past the neighbourhood.
A vividly worried Ere adds: "Before, I dey use the river water well well, but as the town dey big because of students and business, shit (human waste) don too plenty for the water and people dey throway dirtey (solid waste) anyhow. Some sef dey born throway dead pickin (baby corpses) put inside the river, so me I don dey fear to use the river water now as e don too dey dirty."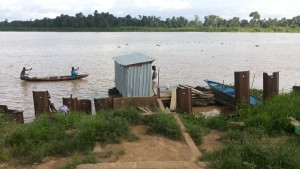 This gory state of water and sanitation is pervasive in almost all the communities in the state, as well as the entire oil-rich, restive region, where decades of oil extraction has led to wide-scale contamination of the environment.
Indeed, the sanitation and waste management practice in these communities is equally worrisome as investigations reveal that the same river water which serves as drinking water equally serves as the only waste repository in the communities, as domestic wastes are dumped in the river and floating public toilets are built on the river bank.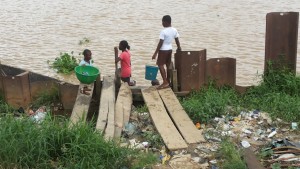 "I have never tasted pipe-borne water in my life," discloses a rather healthy-looking Comfort Teedu, who is a 19-year-old high school student, and resident of Zor-Sogho Community in Khana LGA of River State, while revealing the extent of non-accessibility to potable water in her neighbourhood.
Corroborating this notion, Helen Piginee, a 45-year-old farmer and mother of four from the same community, narrates, "We do not have access to safe drinking water as the basic source of drinking water is the well."
Fifty-five-year-old farmer and father of six children, John Banadam, laments, "Some of the villagers even dump their waste inside the water which is the source of drinking water to the community."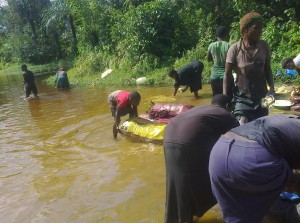 A woman leader in Gelegele Community in Ovia North-East LGA of Edo State, Caro Donyha, decries the poor fishing condition in the area. "The contamination from oil activities has caused fish depletion and the hitherto popular fish species like Akele and Orsika, crayfish and others can no longer be found. Also, the contaminated surface water leads to poor yield of crops like cassava, plantain and yam. This makes us to trek long distances for fresh, uncontaminated farmlands."
Chief of Kolgba Village, Bodo City in Gokana LGA of Rivers State, Michael Berenu, frowns at the non-existence of potable water in the community, saying that dysentery and typhoid fever cases have been confirmed at the Bodo General Hospital.
Narrating his experience, he recalls, "I have been frequently diagonised of typhoid and, despite boiling my water as advised by the doctor, my health deteriorated such that I was forced to retire before my retirement age due to the severity of the situation."
A local chief at Ebocha Community in Ogba/Egbema/Ndoni LGA of Rivers State, Augustus Tom, discloses, "Rainwater was one of our major sources of water supply but that was before the gas flaring era. With the coming on stream of oil production at Ebocha everything changed. I remember how people used to come to my father's house to harvest rainwater from my father's zinc (corrugated iron sheets) roofed house. Then, zinc houses were still very few in Egbema kingdom as a whole."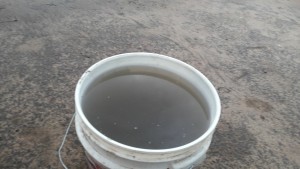 Octogenarian mother, Onyekere Tom, who also resides in Ebocha, stresses that the people depend largely on water from a nearby swamp for drinking and other domestic uses. "This water you see so sometimes dey get crude oil inside o," she warns.
When asked if she knows the source of the crude oil that pollutes the water, she replies in the affirmative, pointing to a oil well a few yards away from her thatched hut which she shares with her son, her son's wife and their three children.
Tom and her family represent the typical Niger Delta family who lives at the banks of the Orashi River, River Niger, Nkisa River and several other rivers and creeks. While others live in settlements in swamps and several of the Niger tributaries, most of these settlements depend on the rivers that are heavily polluted for their drinking water.
Mother of four, Emem Bassey, who has lived in the camp for about nine years, points out, "Oil spill here is a normal thing. It occurs here at regular interval, so we have learnt to live with it. I do not know the implication of drinking and cooking with oil-polluted water on our health."
Leader of the non-indigenes association in the Amassoma Community, Ishmael Alais Dan Baba, reveals, "At times we buy water from mei-ruwa (private water vendors) at about N30-50 for a 20-litre jerry can but most times we get water from the river since buying water is too expensive."
Aside the cost implication, there seem to be a socio-cultural angle to the use of the river water despite its contaminated state. Residents claim that the river water, its state of pollution nonetheless, does not cause any threat to them as it is believed to be their ancestral resource.
A youth leader in Amassoma, Julius Saniya, explains, "This practice of defecation in the river is age-long and has been passed down to us from our forefathers. We enjoy the river water; it is natural to defecate in the river as the cool breeze gives one a natural feel while doing it."
According to another resident, Ere Okilo, the people believe the river water is sweeter to drink and they believe in the popular saying that "dirty no they kill African man".
A popular Ijaw musician, Barrister Smooth, depicts the appalling situation in a hit song titled "Freedom," made popular with proud and captivating lyrics that says: "…na the same water we dey shit, dey baff, na him we dey drink…" (It's the same water that we defecate in, bathe and drink…)
Indeed, residents of most of the communities under survey seem to see nothing wrong in the practice as, to them, it is cultural. However, a majority of them affirm that, are they to be able to have access to alternative source of water, toileting and waste management system, they will desist from the practice.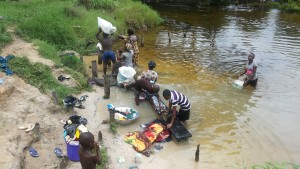 But an environmental health officer in Bodo, Sabastine Lema, says, "Poor toileting and waste management practice in the rural communities remain one of the most daunting environmental sanitation challenges facing government, especially at the local government level. Such practices debase and decrease environmental aesthetics and quality."
A medical doctor at Effurun-Uvwie Community, Warri in Warri South LGA of Delta State, Deborah Ojanikele, believes that refuse dumps are the major sources of pollution to water bodies.
"Solid waste materials disposed of indiscriminately are often carried away by rain into rivers, which are also a source of water especially for domestic purposes. Victims usually contact cholera after drinking such water untreated," she adds.
While the Chief Nursing Officer at Bori General Hospital, Mkpola Agbozi, underscores the community's poor access to potable water, Medical Consultant in the hospital, one Dr. Ben, fears that indiscriminate disposal of waste can lead to the outbreak of diseases such as cholera and Diarrhoea.
Medical Director, at the Benin City Council Hospital, Dr. Timi Joe, speaks in a similar vein, describing improper waste management disposal and water sanitation as dangerous to human health.
"Its impact is slow as it gradually shortens the human lifespan. Everyone should be responsible, and take good measures to safe and healthy," he says.
A medical practitioner in Mmahu Community in Ohaji/Egbema LGA of Imo State, Dr. James Igwebuike, stresses, "The absence of safe drinking water portends grave danger to the people. There is a correlation between the health of the people and water supply, and it is a well-known fact that people in rural areas always suffer from disease related to poor hygiene as a result of inadequate supply of safe drinking water."
A community health worker, at the Comprehensive Health Centre in Amassoma, Opus Gogo, fears that the health implications are numerous, saying, "We have experienced some cases of diarrhea and dysentery, although cholera outbreak hasn't occurred yet."
Similarly, a health practitioner at the Federal Medical Centre, Dr Able Sinivie India, laments that the practice of open defecation in rivers that serve as domestic water source is prevalent in Bayelsa. His words: "The water in the river is contaminated by domestic waste and defecation and the health implications include vulnerability to epidemics like cholera, typhoid, food poisoning of varying degrees, running stomachs, rashes and skin diseases."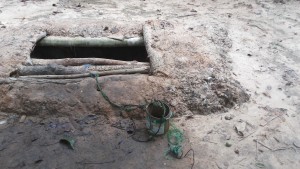 Zonal Manager, Urban Water Board in Warri, Franklin Awala, discloses in an interview that there accessibility to potable water in the community but that process is threatened. "There is accessibility but no sustainability unless the government turns it to solar," he declares.
Awala warns residents to be wary of digging boreholes indiscriminately. "Sanitary landfill and improperly dumped refuse contaminate underground water. Boreholes dug by the Water Board are properly sited where there are no landfills. When digging a borehole or well, a clean environment is vital. Today, many people dig boreholes and wells with close proximity to landfills."
A civil servant in Zor-Sogho, Bob Agbozi Goteh, submits, "Local authorities have been trying their best in sitting of solar powered boreholes in some communities. The Micro Projects Programme (MPP3) has for some years been abandoned in the community. We plead for non-governmental organisations (NGOs) to come to our assistance."
The MPP3 is a programme put together by the European Union and aimed at helping rural communities to breach the infrastructural gap via the provision of facilities like health centres, community halls and motorised boreholes. The project initially started in three Niger Delta states (Rivers, Bayelsa and Delta), but was later extended to include six more states (Abia, Akwa Ibom and Cross River, Edo, Imo and Ondo).
Head of Pollution Control and Environmental Impact Assessment Unit under the Department of Environment in the Ministry of Environment and Public Utility, Edo State, Sam Oluwalayemi, confirms that, apart from wells, boreholes, rain and rivers, the Ikpoba Dam (on the Ikpoba River) are sources of water for both rural and urban communities in the state.
He adds, "Water sanitation is still a problem in Edo State as private water tanker owners use chlorine to purify their water without proper certification by water analysis officers (a chemist or biochemist). This is a risky measure to water and sanitation which affect the health of the people."
He claims that the state government through the Waste Management Board controls the waste management practice in the state, while the local government council controls the rural communities headed by a health department that is responsible for monitoring waste disposals in the community. He stresses that, under the state level, the system provided is effective as government provide them with machineries such as trucks, compactors that transfer waste from houses to dump sites approved by the government. He notes that policies put in place by the government affect both the urban and rural communities and penalties are issued if laws are broken.
But the residents deny government claims that its waste management practices are workable at both levels of government. They insist that water and sanitation standards in the state have fallen short of expectation as, according to them, most of them source and purify their own water, while wastes are left on the streets for weeks before disposal.
Majority of the affected communities are calling on government, NGOs and corporate bodies to come to their aid.
For instance, the Paramount Ruler of Beleberi 2 Community in Yenagoa LGA in Bayelsa State, King Peter Okoh, wants government intervention. "Only few privilege people have soakaway and water system toilet as majority of the people are poor and can't afford it and we still use the same river water for washing and for other uses. This poses great health challenges to the community people. Also, the community neither has a primary school nor health centre. We are calling on the government and NGOs to come to our aid," he pleads.
A public health officer that works with the Gokana LGA, Paul Giadom, urges state governments in the Niger Delta region to ascertain and publicise the water quality index of their various areas, especially those of local communities so as to enable the citizenry to make informed choice about the quality (brand) of water to drink.
A water quality index provides a single number (like a grade) that expresses overall water quality at a certain location and time based on several quality parameters.
A lab technician based in Bodo, Polycarp Gbaraba, calls on the authorities to properly regulate the activities of commercial water dealers of bottle and sachet water to enhance and maintain safety standards in the industry.
In what appears to be a holistic approach, Dr India recommends that while the government should provide the basic amenities and infrastructure including provision of potable water, the communities should likewise partner government by presenting their case before the government. They need to provide an enabling and peaceful working environment for government to provide the facilities that they need.
He adds, "The NGOs have a vital role to play as initiators and mediators between the people and the government. Professional bodies like the Nigerian Medical Association (NMA) has to report cases of epidemics and reports the government can work with. The medics like the public health workers can equally do more in terms of doing campaigns to sensitise the people on the ills of unhealthy practices.''
A resident of Okwuzi Community in Ogba/Egbema/Ndoni LGA in Rivers State, Chiefson Igwelatu, while calling on government and Nigeria Agip Oil Company to increase access to safe drinking water, urges the people to improve on simple hygiene such as handwashing which he believes will go a long way in preventing water borne diseases.
"Government should legislate to control the production and sale of sachet water, popularly called 'pure water' which can pose grave health danger to users if not controlled," he says.