The Network of Incubators and Innovators in Nigeria (NINE) with the support of the British Deputy High Commission in Lagos, and in collaboration with the Kids Beach Garden (KBG) has kicked off a tree planting exercise starting with 100 trees in some schools and communities in Lagos State along the Lekki-Epe-Ajah Expressway (Lekki, Epe and Ajah communities) to reduce erosion, mitigate climate impacts and increase awareness on the importance of nature-based solutions to climate change.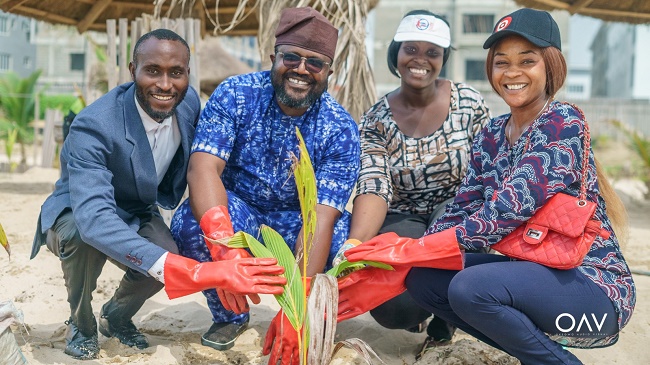 Of the 100 trees, 20 were planted on the day of the launch event, February 16, 2023, at the Kids Beach Garden, Lagos while the remaining 80 adolescent trees will be planted in four different primary schools in the said communities between February 20 and 24, 2023, and monitored over six months to ensure maturation.
Present at the launch event were the Lagos State Ministry of Education and Lagos State Coconut Development Agency, local government representatives, Staff of the UK FCDO, and other environment and climate change-focused organisations and partners.
Ben Llewellyn-Jones, British Deputy High Commissioner at the British Deputy High Commission (BDHC) Lagos, said: "Trees and forests play an important role in ensuring we have a healthy planet, prevent pollution and mitigate the impacts of climate change. And strategic tree planting is one of the most important ways we can contribute to securing a greener and cleaner world – this is in addition to protecting our existing trees and biodiversity. By re-introducing nature and ecosystems into built-up areas, we believe that this project will benefit the residents of Lagos state and the general Nigerian population."
The exercise partner, NINE, is a non-for-profit organisation that supports innovation ecosystems in building strategic connections e.g., communities of practice for Innovation Hubs, including climate and environment, collaboration, technology development and social impact towards a developed and vibrant innovation ecosystem in Nigeria.
This tree-planting exercise is a collaborative effort that will contribute to the promotion of deliberate actions towards raising climate change awareness in communities, increasing community-led climate action, strengthening collaborative efforts among stakeholders and improve partnership in climate and green economy in fulfilment of global efforts to limit global warming to 1.5 degrees Celsius and attaining the Sustainable Development Goals (SDGs).
Mr Oloruntoba, Chairperson of NINE, said: "The impact of climate change is felt everyday across the world and in in addition to the collective global effort to mitigate the effects of climate change, we have brought the innovation community to 'do and tell' when it comes to climate change."
In addition, Oloruntoba said: "We are happy to see the interest and participation from all stakeholders in the ecosystem and the efforts to share more messages about climate change."
While Bukola Akinrele, Programmes and Operations Lead, NINE, iterated that the organisation's goal towards ecosystem development includes initiatives that promote environmental sustainability and they are excited to have the FCDO joining NINE to think of ways to implement and amplify these efforts.