Countries in Latin American and the Caribbean region are among the most ambitious in terms of combating climate change and are increasingly making use of markets in order to reduce greenhouse gas emissions and to green their economies.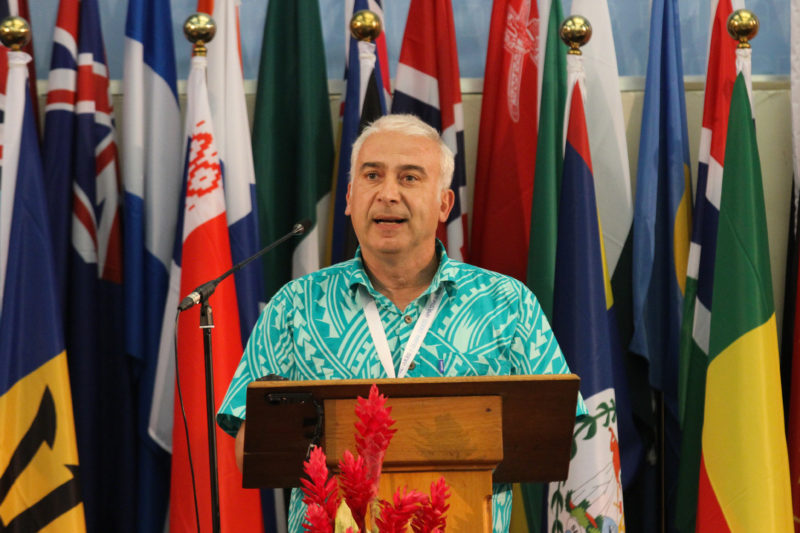 This was the key conclusion of the three-day Latin American and Caribbean Carbon Forum in Panama City, Panama which was wrapped up on Friday, attended by around 700 government delegates and private sector experts from 47 countries.
According to the World Bank, more than two thirds of all Latin American and Caribbean nations' climate action plans refer to the use of carbon pricing mechanisms in order to achieve the key objective of the historic Paris Climate Change Agreement, which is to limit the global average temperature rise to as close as possible to 1.5 degrees Celsius, thereby avoiding the worst impacts of climate change.
Daniele Violetti, chief of staff of the UN Framework Convention on Climate Change (UNFCCC) said: "As we stand on the threshold to the early entry into force and ensuing implementation of the Paris Agreement, governments and the private sector meeting here in Panama have been very clear that their future development trajectory must be low carbon and sustainable. The many examples of the shift to low carbon discussed at this meeting are hugely encouraging ahead of the UN Climate Change conference in Marrakech in November, where governments at all level, civil society and the business community will continue to accelerate the action required to green their economies."
At the carbon forum, the Vice-President of Panama Isabel St. Malo announced that Panama is preparing a national carbon market, with the aim of helping the country and the entire region to develop sustainably and to achieve the objectives of its climate action plan under the Paris Agreement.
"14 Latin American and Caribbean countries were amongst the very first to ratify the Paris Agreement. We recognize that we are both part of the climate problem and part of the climate solution, and want to be climate leaders," she said.
Ms. St. Malo said that Panama plans to become a carbon hub for the region, facilitating collaboration between public and private actors in the fight against deforestation, whilst promoting a culture of sustainable forest management and trade in international emission reductions.
Examples of Regional Progress on Markets
Some examples of regional progress on markets highlighted at the meeting were:
Mexico preparing to launch a 12-month pilot cap and trade scheme in November ahead of an expected full rollout of a national carbon market in 2018. Much of Mexico's carbon market experience to date has come from its participation in the Clean Development Mechanism (CDM), one of the market-based mechanisms included in the Kyoto Protocol.
The number of major companies in Brazil preparing for a national price on carbon rose 74% within a year, according to a study by UK-based carbon disclosure analysts CDP.
Chile reported on its implementation of carbon pricing and interest in joining other countries in a regional carbon market.
Across the Latin American and Caribbean region, there is potential for more market participation, especially with agriculture and forestry-based instruments.
Several countries, including Colombia, Brazil, Chile, Mexico and Peru have all identified significant investment opportunities in renewable energy, and are now exploring how carbon markets can be engaged to support such investments
According to the International Finance Corporation, Latin America and the Caribbean are likely to see $1 trillion of clean energy investment opportunities by 2040, of which $600 billion are expected to materialise by 2030.
As part of the Forum, government representatives from across the region also came together under the Nairobi Framework Partnership with UN organisations, development banks and other international organisations to develop joint projects to support implementation of their national climate action plans under the Paris Agreement.
Dirk Forrister, President & CEO, International Emissions Trading Association (IETA), said: "It's terrific to see the increase in business awareness of the opportunities for climate investment at this year's Forum. The Paris Agreement sets bold ambitions to curb global warming, and it offers new opportunities for business cooperation through carbon markets. That's why businesses across Panama and throughout the Latin America and Caribbean region are wise to explore the new opportunities of Paris – and also how to rise to the challenges."
In addition, there was a strong interest from regional policy makers to advance the development of cooperative approaches and a new market mechanism under the Paris Agreement's "Article 6" provisions, with many of the debates and discussions at the Forum focused on how planned and existing projects and opportunities to curb emissions can be taken forward under the Paris Agreement.
Article 6 of the Paris Agreement sets out three economic instruments: transferring mitigation outcomes, essentially emissions trading schemes; designing a new Sustainable Development Mechanism, which would incentivise the private sector to develop emissions reduction and development projects; and setting a framework for non-market approaches, such as green bonds and carbon taxes.
Niclas Svenningsen, UNFCCC Manager, said: "The Paris agreement gives major impetus to markets and to a price on carbon, and calls for a new market mechanism to help government implement their national climate action plans effectively and with increasing ambition. It is clear that new market approaches and mechanisms under the Paris Agreement can greatly benefit from the experience of the Kyoto Protocol's Clean Development Mechanism (CDM), which has given rise to more than 8,000 clean tech projects world-wide."
James Close, Director, Climate Change Group, World Bank, stated: "The Paris Agreement gives an additional boost to expectations for renewed carbon markets. Over 100 countries have indicated in their national climate action plans that they intend to, or are already using, carbon pricing to meet their climate pledges. In the Latin American and Caribbean region, two thirds of such plans include market-based carbon pricing instruments. Now is the time to accelerate action by designing and building these new instruments. The World Bank Group is committed to strengthen its support to advance well-designed carbon pricing initiatives at the domestic and international levels."
John Christensen, Director, UNEP DTU Partnership: "With the Paris Agreement moving rapidly towards ratification, the focus is increasingly on implementation of the climate action plans ("Nationally Determined contributions", or "NDCs") of governments submitted before Paris. The Forum shows that many countries in the region are moving quickly on the domestic policy front and looking at innovative ways of engaging the private sector. Market mechanisms and instruments are consistently mentioned as key success factors to further scaling up ambitions."
Matilde Mordt, Head of Sustainable Development and Resilience, Regional Hub for Latin America & Caribbean, UNDP: "Together with all the Forum's the co-organisers and the Panamanian Government, we have succeeded in giving it a comprehensive approach, covering not only carbon markets and private sector engagement, but also reaching out to new partners, providing a platform for discussion on opportunities and challenges for implementing the Paris Agreement and the national climate action plans, in the context of the Sustainable Development Agenda. We also coordinated the event with the Low Emission Development Strategies – LAC workshop, thus providing opportunities of scale and synergies between different initiatives. After this first ever Latin Climate Week, we see tremendous opportunities for the region. UNDP and the other partners in this endeavor stand ready to continue support countries as they move forward."
Amal-Lee Amin, Climate Change Division Chief, Inter-American Development Bank (IDB): "By bringing Governments together with the private sector the Forum provided a timely opportunity to deepen the dialogue around how to align effective policy, financial instruments and carbon pricing tools for mobilisation of investment needed to implement countries commitments under the Paris Agreement. At the IDBG we see the challenge now to build on this momentum to translate countries NDCs into programmes for scaled up investment, particularly for sustainable infrastructure. We will also focus greater effort to boost domestic markets that unleash the innovation of LAC small and medium-sized enterprises for low carbon business models as well as those that will be needed to provide resiliency and adaptation services."
Ligia Castro, Climate Change Director of the Banco de Desarrollo de América Latina (CAF): "In the coming years we will continue to identify the necessary resources and projects to implement activities that boost resilient and low carbon economic development. Such Forums are essential to promoting collaboration between public and private sector, financial entities, academia and civil society as well as to develop innovative and effective initiatives to help implement the Paris Agreement."
Jorge Asturias Studies and Projects Director of the Latin American Energy Organisation OLADE: "The energy sector is most responsible for the emissions that drive climate change, and at the same time one of the key sectors for economic development of countries and the welfare of their populations. The Latin American and Caribbean regiion has a clean energy matrix and is one of the fastest growing markets for hydroelectric power generation, wind and solar energy."