The Land Use Act of 1978 and the relatively young National Biosafety Management Act of 2015 may end up being repealed if recommendations put forward by a think-tank eventually see the light of the day.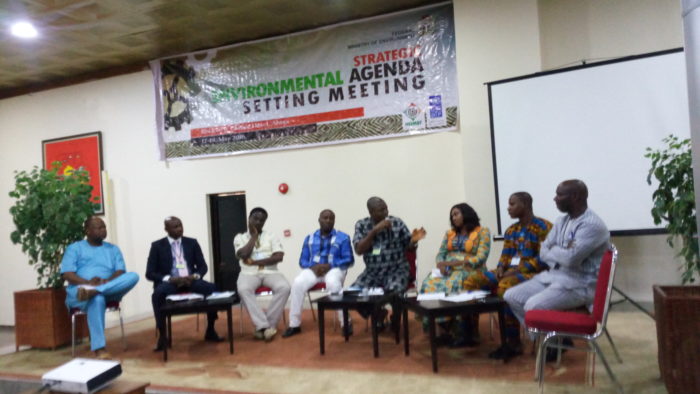 While the biosafety law was described as weak as a regulatory tool and thus open to the introduction of the controversial GMOs (genetically modified organisms), the land act is said to be stifling smooth access to land and as such curbing physical and economic development.
These formed part of the agreements arrived at recently by a 41-member team of experts who deliberated for three days in Abuja under the Environmental Strategic Agenda Setting programme organised by the Health of Mother Earth Foundation (HOMEF), Federal Ministry of Environment (FMEv) and United Nations Development Programme (UNDP).
Apart from the biosafety law and land act that were recommended for review or an outright repeal, the gathering, which featured five panel discussion groups, also listed a number of seemingly non-performing policies and laws as well as administrative/research matters for overhaul.
For instance, amid the review of national state and forestry laws, it was suggested that environmental sanitation laws should be revamped to include roles for sanitation inspectors and enforcement officers.
While extending the environmental and community provisions of the Minerals and Mining Act 2007 to cover the petroleum sector and oil field communities, the Environmental Impact Assessment (EIA), National Oil Spill Detection and Response Agency (NOSDRA) and National Environmental Standards and Regulations Enforcement Agency (NESREA) acts were likewise mentioned for urgent attention.
The review of the EIA laws will include health Impact assessments, while that of the NESREA Act should remove representation from the petroleum sector on its Board, especially since that sector is not regulated by NESREA, recommended the forum, adding that, henceforth, insurance schemes for environmental related diseases be included in environmental health laws.
Constitutional amendment, they added, should entail:
moving environment from chapter 2 to chapter 4 of the constitution;
removing petroleum from exclusive legislative list;
enacting a composite Environmental Management and Protection Act that will deal with issues of gas flaring, oil spills solid minerals mining pollution etc;
reviewing and establishing legislation in line with section 14(b) of the Constitution to empower communities to have control over their land, territories nature and cultural heritages; and,
amending Section 20 of the Constitution and create justifiable rights for environmental protection.
While the National Policy on Environment should now include specific sections on food and agriculture, the energy policy should, on the other hand, lay emphasis on renewable energy provision and including actively discouraging the use if firewood as domestic energy source.
Furthermore, in the absence of one, the establishment of a National Policy of Wetlands was recommended, even as a review of the National Policy on Water Supply was recommended to, essentially, provide the template for actions to lift water supply burdens from households, especially on women.
Review of the Climate Change Policy was also championed to, according to the participants, emphasise references to environmental degradation and gender impacts because of the disproportionate impact of climate change on women and the need to reflect these in mitigation and adaptation strategies.
Other environment/climate related policy reviews were listed to include:
reviewing policies on pesticides and dangerous chemicals, including glysophate;
developing policy on new and emerging technologies, including synthetic biology and geo-engineering;
recogniising the importance of regional environmental policies and directives (ECOWAS, AU);
reviewing waste management policies and laws to include such areas as military and warfare wastes; and,
upgrading disaster management policies.
Administrative and Research Matters include:
Having a regular National State of the Environment Report – g this would provide baseline for measuring environmental change in the country
Intentional stakeholders approach to regulation and institutional positioning.
Institutionalise an Annual National Consultation on the Environment (ANCE).
Having more CSO representatives on the technical committees on environment. Have the stakeholders on environment meet some two days before the ANCE so that their recommendations feed into the agenda of the deliberations.
Periodic review of policies with the histories of such policies from the beginning of such policies.
Creation of a National Stakeholder Committee on environment.
Promotion of agroecology and steps to include it in schools' curriculum.
Environmental policies developed to recognise and clearly identify the relationship between the sustainable management of natural systems and macro-level policy in other sectors of the economy.
Policies should clearly state how implementation would be ensured in terms of capacity and funding.
Fine for gas flaring should be the commercial cost of gas flared.
Conduct a lead contamination study for data bank.
Improved funding for regulatory agencies.
Work with the Ministry of Water Resources to review the present water policy.
Policy must be based on a collaborative production of natural resource balance sheets that account for land values, subsoil assets, livestock, forests as tangible assets to be used in the evaluation of the sustainability of economic activity and the long term conservation of natural resources.
The discussion panels at the workshop included:
Panel 1: State of the Nigerian Environment (overview, baseline, etc.), Climate, Conflicts (herders-farmers conflicts) and Deforestation/Desertification (Great Green Wall, mangroves, land use and conversions, plantations, etc.) – Mohammed Bello Tukur, Ken Henshaw, Prof Haruna Ayuba, Dr Ladipo Olajide, Prof Francis Adesina, Ms. Betty Abah, Prof M.T. Okorodudu-Fubara and Nnimmo Bassey (facilitator).
Panel 2: Pollution and clean up (Oil, industrial effluents), Water, Wastes (Solid waste, medical waste, military waste etc.) – Celestine Akpobari, Ken Henshaw, Prof Ife Ken, Kola Lawal, Emem Okon and Akinbode Oluwafemi (facilitator).
Panel 3: Agriculture, Biosafety and Environmental Health – Ms. Mariann Orovwuje, MallamNaseer Kura, Dr Celestine Aguoru, Dr Robert Onyeneke and Dr. Ako Amadi (facilitator)
Panel 4: Energy, Green Growth & Development, Urbanisation (Wetlands, reclamations, etc.) – Huzi Mshelia, Prof Chinedu Nwajuiba, Prof Yakubu Ochefu, Ewah Eleri. Prof Haruna Ayuba, Michael Simire and Faith Nwadishi (facilitator).
Panel 5: Environmental Policies, Laws and Regulations (including environmental governance and research) – Prof M. T. Okorodudu-Fubara, Chima Williams, Charles Aholu, Nurudeen Ogbara, Alade Adeleke, Dr Ako Amadi and Dr Henry Sawyer (facilitator).