The Lagos State Government and the environmental utility group contracted to implement the Cleaner Lagos Initiative (CLI), Visionscape Sanitation Solutions, have intensified evacuation of waste in black spots and illegal dump sites across the metropolis.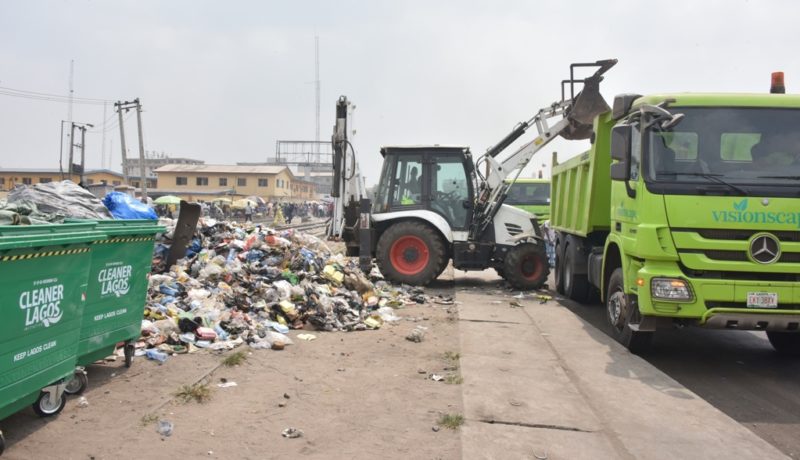 The authorities disclosed in a statement made available to EnviroNews on Friday, January 19, 2018 that evacuation of filth had been carried out and still ongoing in major areas including Falomo Bridge, Obalende, Ikoyi, Mushin, Ikeja, Ipaja, Agege, Oshodi, among others.
The clean-up exercise, which is said to be simultaneously going on across the state, is in line with "Operation Deep Clean," a stop-gap measure designed to keep the city clean pending the full transition to the new waste management policy of the state government encapsulated in the CLI.
The CLI, it was gathered, was established to address, enforce and regulate the challenges in the solid waste management systems within the state in line with global best practices.
Speaking after observing the evacuation of heaps of refuse in Ikeja Along Bus Stop on the Lagos-Abeokuta Expressway, a resident of the area, Mr Babatunde Bamidele, commended government and Visionscape for the exercise, saying it was obvious that a good job was being done.
He said: "What they have done here is very good. Everywhere is clean now. I will only appeal to them to keep up the good work by coming regularly."
Another resident, Tanwa Babarinde, who operates a public toilet in Ikeja, urged government to designate officials to monitor the area especially at night to prevent indiscriminately dumping of refuse.
She said: "I like what Governor Akinwunmi Ambode is doing to make the state clean. The Visionscape people have been here to clean up this area and they did a very good job.
"My only appeal to the state government is to designate their officials here especially at night to prevent indiscriminate dumping of waste because anytime they clean up the illegal dump site here, before the next day, you will see heaps of refuse again meaning that some people are coming here to dump waste at night," Babarinde said.
It will be recalled that the operators of Private Sector Participation (PSP) in waste management and the Lagos State Government had agreed to amicably settle a court case which delayed full implementation of CLI.
According to the statement, some people go out in the middle of the night to dump waste on a large scale on the roads. But the government says it has vowed to go all out after such elements and punish them accordingly in line with the law.
The state government has also urged residents to properly bag their waste and put in front of their houses for evacuation by officials of the Cleaner Lagos Initiative and other assigned bodies.