The Lagos State Government is targeting 20,000 housing units by the year 2020 as part of its multifaceted approach to confront the three million housing deficit in the state.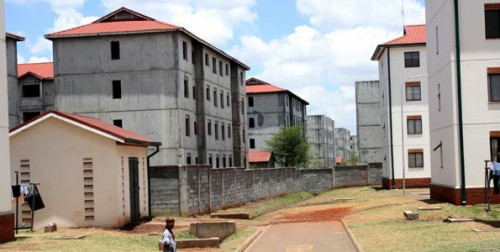 The state Commissioner for Housing, Mr Gbolahan Lawal, made this known during an inspection tour to Odo-Onosa/Odo Ayandelu Housing project in Agbowa, Ikorodu, Lagos on Sunday, March 11, 2018.
The commissioner said that a recent survey indicated that the state's  youth population was about 65 per cent, hence the need for government to expedite action on its affordable mass home ownership drive.
"Our target is to bridge the housing deficit by working with the private sector.
"We have a focus and an initiative that we call the Lagos Affordable Public Housing to achieve 20,000 housing units by the year 2020; we are working with the private sector to achieve this," he said.
Lawal said that under the scheme, government had created the enabling environment and also provided land as part of its equity contributions.
"We are presently working with 10 private developers and they have started 4,404 housing units and more developers are still coming.
"We want to see how we can close the existing three million gap, and as we are taking care of the supply side, we are also focusing on the demand side looking at the housing finance system.
"There are so many models that we are working with that can make many Lagosians to have a shelter that they can call their own," the commissioner said.
According to him, the Odo-Onosa/Odo Ayandelu Housing Scheme under the state's Rent-to-Own Scheme has 660 housing units in one, two and three bedrooms apartments and were 65 per cent completed.
He explained that more than 70 per cent of the materials used for the construction were locally sourced and 34 local contractors were engaged in the project.
"Our concern for the contractors is for them to move to sites quickly and we still have to pay some of them; We will find a way of expediting their payment.
"Percentage completion is between 60 and 65, all things being equal, we should target completion before the beginning of the fourth quarter which is between October to December 2018," he said.
He instructed the ministry officials to pay off debts owed to contractors who showed commitment and dedication to complete the project.
The News Agency of Nigeria (NAN) recalls that Lagos State Government, through the Ministry of Housing, launched the Rent-To-Own and Rental Housing Policy on Dec. 8, 2016.
The scheme targets the low and medium income earners in both the formal and informal sectors.
Under the arrangement, payment for the housing units are staggered and tenants are allowed to live on the property while paying towards ownership as a fixed rent within the period of 10 years.
By Grace Alegba and Oku Offiong