The Association of Waste Managers of Nigeria (AWAM) says conditions of operation in Lagos State have become unsuitable and undermining its members' jobs.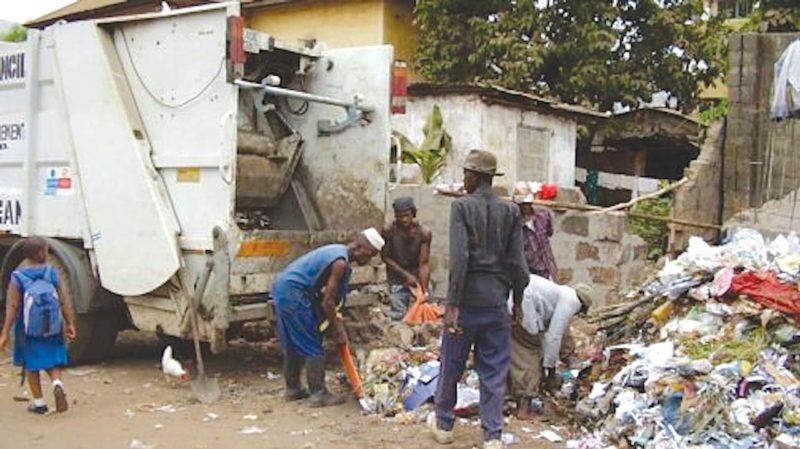 Chairman of AWAM, Mr Oladipo Egbeyemi, said on Sunday, June 24, 2018 that there was an effort to undermine AWAM members, popularly known as Private Sector Participation (PSP) operators, in waste management in the state.
Egbeyemi spoke with the News Agency of Nigeria (NAN) in Lagos.
He said that Mr Adebola Shabi, Special Adviser to the state Gov. Akinwunmi Ambode on Cleaner Lagos Initiative (CLI), instructed the residents not to pay PSP operators for refuse evacuation.
The AWAM chairman claimed that the development was meant to arm-twist PSP operators to work under Visionscape Sanitation Solutions, an environmental utility group contracted by the Lagos State Government to implement its new integrated waste management policy encapsulated in CLI.
According to Egbeyemi, the waste managers have invested much in waste management in the state, and need to recover their investment.
"A new compactor costs over N36 million and one of our members has brought five compactors to boost waste management in the state.
"If someone invested so much, how does he recover the investment?
"Engineer Adebola Shabi goes to local governments disseminating information that communities should desist from paying PSP operators.
"He said that the residents will be furnished with operators that will be handling their refuse, thereby trying to discountenance PSP operators in that environment," the AWAM chairman claimed.
Egbeyemi said that the terms and conditions given to the waste managers were not viable.
According to him, PSP business will collapse with such conditions.
He said that waste management was capital intensive.
"Unless we are able to recoup the money we invested, we cannot continue in the business.
"Diesel price has gone up from N180 to N190 and now N250 per liter, and we can't increase the price of our service.
"Nobody is ready to pay the amount given to him, let alone paying a higher rate. How will the business be profitable?" the chairman asked.
Reacting, Shabi said that there was no need for residents to continue to pay PSP operators since Visionscape was paying them.
The official said that the CLI team had been sensitising the residents on waste management.
According to him, PSP operators can have special arrangements with residents of organised estates so they can be paying them.
"But in areas where Visionscape and the operators have an agreement, Visionscape is the one that will pay PSP operators to evacuate waste free of charge.
"If the residents continue paying the operators, it means the operators are being paid double.
"We have resolved issues with the PSP operators such that some of them have been co-opted to work together with Visionscape," he said.
According to Shabi,140 PSP operators had been certified by the state government.
"It is the remaining ones who don't have compactor that don't want to get certified.
"In the past, we had 350 operators but 140 have been certified by government," he said.
By Florence Onuegbu