The Lagos State Government has urged residents to obey the guidelines and policies in place for improved air quality in the state.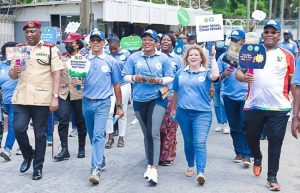 Commissioner for Health, Prof. Akin Abayomi, gave the advice on Friday, May 20, 2022, during the Air Quality Awareness Walk and Interactive Session, organised by the Lagos State Government and the U.S. Mission in Nigeria.
Abayomi said that there was the need for improved air quality, as it affected human health and well-being, since it had been indicated that seven million people died of air pollution across the world in 2019.
"What we are trying to achieve here is good health. While the initiative is being driven through the Ministry of Environment, and its agency – LASEPA will regulate air quality, water quality, noise pollution, the ultimate impact of bad air or bad water or excessive stress is poor health.
"So the end point of pollution is that it degrades your health. Either you drink water that causes you to get sick, and you end up in hospital or you breathe polluted air that affects your lungs, your heart and your brain and every aspect of your body.
"When you are breathing in polluted air, the pollutants go from your lungs into your bloodstream, and from your bloodstream to every part of your body," he said.
According to him, research has shown that the air quality in Nigeria and in Lagos is below standard.
He said that as government put guidelines in place, regulate and create awareness, it behoved on the community to obey, for a healthier society.
The commissioner urged residents to attend to their cars, generators or motorbikes, so that they do not emit pollution into the air.
"Another way to be compliant is to plant trees, because trees take the pollution that we produce and convert it into oxygen. So, trees will take carbon dioxide which is produced by our cars and turn that toxic carbon dioxide into oxygen.
"So all Lagosians should be planting trees. We are 20 million Lagosians. Imagine if every Lagosian was to plant a tree or a shrub every year, then Lagos will be a very fresh and green city. And we'll be converting some of our pollutants into fresh oxygen," he said.
Corps Commander Olusegun Ogungbemide, Sector Commander, Lagos State, Federal Road Safety Corps (FRSC), said that the Corps was in the business of cleaning up the society and the air, hence, had been impounding vehicles with dangerous emissions.
"We have been collaborating with the  Standards Organisations of Nigeria. We have been collaborating with Customs, because most of these vehicles that you see bringing out emission are products of poverty that is all over the places.
"In ideal society you are expected to have clean vehicles with less emission. But what do we see? We see vehicles that have spent their time outside the country being brought into the nation as 'Tokumbo' and they are the ones creating all these emissions we are seen everywhere," Ogungbemide said.
Mr Brandon Hudspeth, Political Economic Counselor, U.S. Consulate, said that the U.S. Government was partnering Lagos State Government to ensure better air quality.
Hudspeth said that the U.S. Government would bring in technical expertise from the United States, who would work with the expertise in Lagos, to raise awareness and monitor air quality.
He said that the data that would be collated from monitoring the air quality would be used to bolster the economy of Lagos State.
Dr Dolapo Fasawe, the General Manager, Lagos State Environmental Protection Agency (LASEPA), said that the agency had been creating awareness on the issue of air pollution.
Fasawe said that legislatively and executively, in order to achieve policies of government, enforcement was mandatory and would act as deterrent.
"We will start to get traffic offenders of the streets, no more air pollution in Lagos State, zero tolerance to smoky vehicles and heavy duty equipment, for cleaner air in Lagos State," she said.
By Florence Onuegbu