Kenya is developing a strategy on the donkey value chain to help encourage farmers keep many animals, a government official has said.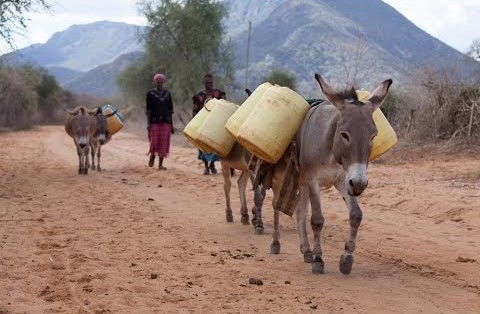 Michael Cheruiyot, a Senior Deputy Director of Veterinary Services, said that the strategy would streamline production,upkeep, welfare, movement and breeding.
"We are developing donkey's strategy since they are useful animal but their contribution to the national economy and support to humans is not well recorded," Cheruiyot said during the launch of Alliance for Donkey Welfare Organisations in Kenya (ADWOK) in Nairobi.
Cheruiyot noted that the strategy that will be officially launched in 2019 will also be used to help identify the correct number of donkeys in the country, adding that the existing number of 1.8 million may not be understated.
He said that the government is currently applying modern methods of breeding including Artificial Insemination (AI) to help improve the population of the animal.
In Kenya, donkeys are used for domestic and commercial purposes generating income for households and providing savings.
They perform chores such as ploughing, transporting commodities and transporting water and firewood.
Raphael Kinoti, chairman of ADWOK, said that donkeys are endangered as the rate of slaughter is higher than their production.
He said that, to date, 1,200 donkeys are slaughtered daily in the four licensed slaughter houses in the country.
Kinoti called on the government to declare a moratorium on trade on donkey to help increase the population of the donkeys in the country.
"We need a moratorium to be declared to help increase the number of donkeys in the country as is the case with the yearly moratorium on fishing activity on Lake Victoria," Kinoti added.
He observed that for the number of donkeys to increase there is also need for an organised system of production as is happening with the cattle, pigs, and sheep.
Kinoti said that a study conducted in the country in 2017 shows that donkeys earn users $5 to $12 and contributes $4.8 million in the country's economy.
The study further found that the loss of a donkey in a family could result in a 39 percent increase of labour for women.
The official however complained that theft of donkeys is currently the most risk that farmers are facing, adding that4,800 donkeys were stolen between the months of Jan. and Aug. 2018.
ADWOK is an open platform of registered organisations dedicated to improving the welfare of working animals in Kenya.
It was formed to help save the animal from cruelty treatment and abuse through different acts of omission and commission including, beating, kicking and negligence that denies the animal fundamental freedoms.
More than 75 percent of Kenya's 1.8 million donkeys are working animals hence constituting a great economic activity for the country.
By Duncan Mboyah