Over 100 International organisations and individuals are issuing a demand for creation of an international law against ecocide, after the horrific Russian destruction of the Kakhovka hydroelectric plant and dam in Ukraine last week.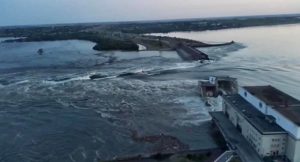 The Russian action has been described as a violation of the Geneva Convention and one of the most brutal war crimes against the environment, population and climate committed by Russians. The destruction is said to represent a massive ecological catastrophe with ramifications which will be suffered by the people and environment of Ukraine, and beyond its borders, for years to come.
Campaigners beleive that, along with other global ecological catastrophes, the time has come to create a serious international legislation that will hold those responsible for such ecocide accountable.
Razom We Stand and its Founder and Director, Svitlana Romanko, have created an Open Letter call for the creation of an International Law Against Ecocide, which currently has roughly 70 organisational and numerous individual signatures so far including from numerous high profile groups including the Centre for International Environmental Law, 350.org Elisabeth Haub School of Law, Pace University (U.S.), Institute for Sustainable Development, ARAYARA. Org  – International Institute, Fridays For Future, Kyiv School of Economics, Danube-Carpathian Programme, Professional Association of Environmentalists of the World, and Energy Transition Coalition.
Ukrainian President, Volodymyr Zelenskiy, has referred to the tragedy as an ecocide, saying: "So that our country is not left alone with this tragedy – with ecocide. I am sure: with sufficient leadership in the world, appropriate tools can be created."
Ukrainian Svitlana Romanko, Director of Ukrainian organisation Razom We Stand, stated: "This is one of the critical reasons why we must stop burning oil, gas and coal and end fossil fuelled wars. We must stop treating climate harm as a norm. The consequences will be irreversible."
Carroll Muffett, President, Centre for International Environmental Law, said: "Even against the litany of atrocities and war crimes perpetrated by Russian forces conducting Putin's illegal war, the destruction of Kakhovka dam stands out. Unleashing a massive surge of floodwaters on unsuspecting civilian populations, destroying both built and natural environments across hundreds of square miles, and risking nuclear catastrophe is a clear and egregious violation of international law. Those responsible must be found, brought to justice, and held accountable. And the full weight of the international community must be brought to bear to ensure the Russian Federation bears full responsibility for the incalculable costs of its actions."
Nicolas A. Robinson, Professor of Environmental Law at Pace University, former Legal Advisor and Chairman of the Commission on Environmental Law of the International Union for the Conservation of Nature and Natural Resources, stated: "It is a global assault on the Biosphere, and the time has passed for debating Ecocide. As jurists, we need to clarify the principles and procedures associated with this crime, beyond the ENMOD and Geneva IV Conventions. We have passed seven of the eight planetary boundaries and can no longer pretend that we have time to sort out what is a local environmental crime vs an Earth crime. The assault on the Biosphere is mounting, and war – unthinkable in itself – magnifies this."
Natalia Lytvyn, Energy Transition Coalition and NGO Ecoclub, stated: "Russia is killing the civilian population of Ukraine by all the means available to it. The explosion of the Kakhovska HPP dam is a confirmation of this known to the whole world. This ecological disaster will also have an impact on countries that are neighboring Ukraine or have economic ties with us. Ukraine is an important link in the system of the world economy, but lost and continues to lose production and energy capacities (Kakhovska HPP is 330 MW of shunting capacity). Restoration of part of energy capacities, in particular, small renewable energy facilities, in the liberated territories is possible in a relatively short time if there are funds. However, the restoration of the Kakhovska HPP is a task of years. The loss of 18 billion tons of fresh water for a water-scarce country is a disaster. It is impossible to adapt to this."
Svitlana Krakovska, Head of Applied Climatology Laboratory of UHMI and of Ukraine's delegation to the IPCC, said: "It is abundantly clear that the country instigating terror and attempting to intimidate the entire world with the specter of a nuclear catastrophe, while simultaneously perpetrating genocide and ecocide in neighboring nations, cannot be entrusted with this responsibility. The question then arises: how can we put an end to it? Considering that over half of Russia's budget relies on the sale of fossil fuels, it becomes apparent that cutting off funding to the military sector of this terrorist state must be achieved by terminating purchases of Russian oil and gas. Such action would yield positive outcomes not only in mitigating further climate change but also in preventing future military conflicts from erupting."
Valeriia Bondarieva, climate justice activist, Fridays For Future Ukraine, said: "And just when I believed that the suffering and destruction couldn't get any worse, given how already horrible it was, Russia's heinous act of blowing up the Kakhovka dam once again showcased their complete disregard for human life and the environment. Russia must be held accountable for their acts of genocide and ecocide in Ukraine."
Dominika Lasota, climate activist from Poland, organiser in the WSCHOD Initiative and the Fridays For Future movement,  stated: "Russia's bestiality has reached a new level with the destruction of the Nova Kakhovka dam. The world must finally acknowledge that russia as of now is a fascist, terrorist state that aims to destroy the people and nature of Ukraine. How can it still go unpunished by international law? How can such a state be still in the Security Council of the UN? How can it still be a business partner? None of us is safe if terrorists can still run free of repercussions."