Residents of Sankwab, a peninsula community in Zango Kataf Local Government Area of Kaduna State in Northern Nigeria who are predominantly peasants, are having sleepless night over their fast changing environment.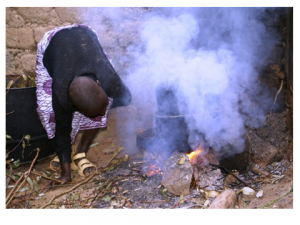 Community Leader, Mallam Yashim Sadongi, explained that the area, which is surrounded by a river running from South to East and a stream from North to East, is largely agrarian. He stated that the area was covered with plentiful natural forest tress because tradition forbids cutting down the trees in some sections of the community, and that even hunting was regulated.
But, within the past 10 years, the village has been exposed to rampant environmental hazards due to overwhelming logging and firewood procurement practices. He explained that this happened because the people violated the traditions in the search for a means of livelihood such as firewood for cooking and other uses.
Sodangi, who is about 94 years old, expressed concern that most of the exposed lands are no more arable except when large quantities of fertilizers are applied to the farms. He also lamented the outbreak of several diseases which, he added, were very rare a few years ago.
"There is too much heat everywhere with little tress to go for cover, and many of our children die just because of feverish conditions. Before now no child would die just because of these feverish conditions because when there is anything like fever we know the appropriate herbs to use to cure it and it was not rampant as we are witnessing now. We know the herbs to use for Shawara (yellow fever), we know the plant to use for Zazzabi (malaria and typhoid), and we also have the traditional herbs for Zawo da Amai (diarrhea); that is during those days".
Desertification is among many issues causing great concern in the Nigerian society. Some communities within regions of northern Nigeria specifically in Yobe, Kano, Borno, Katsina and Kebbi states are presently being ravaged by desertification. These areas are characterised by absence of grass and trees, as well as hazy and hot weather.
Inadequate research by experts has made it impossible to know the nature movement of desert into the northern areas but some have estimated the encroachment to about 2 kilometers each year. This situation is gradually being aggravated by rampant cutting down of trees for firewood and commercial purposes because the locales have no available alternatives for cooking. A United Nations report last year indicated that thousands of people are dying from smoke inhalation caused by cooking with firewood.
Solomon Guruza, a Director at the Kaduna State Ministry of Environment, described the incessant cutting down of trees as alarming, stating that something must be done urgently to address the problem.
"The situation has adverse effect on economic and agricultural activities because the lands are no more arable and the environment becomes more unbearable characterised by hazy weather and quick evaporation."
He added that seven nursery beds were established earlier this year across Local Government Areas of the state, stating that government would distribute millions of the seedlings to schools, groups and individuals to plant in their areas as part of measures to control desert encroachment.
The forest reserves in almost all the northern states of Nigeria have disappeared due to poor or no funding. Government's political will is lacking on environmental issues despite the severe disasters witnessed in the country due to climatic changes particularly flooding which last year destroyed lives and properties worth billions of Naira.
Experts have described these challenges as a wake-up call, adding that man must recreate what he has used his mental capability and technological know-how to destroy.
By Shingdon Bala