Municipal Workers in Western Japan struggled on Friday, July 13, 2018 to restore water supplies, a week after floods caused by a record downpour killed more than 200 people in the worst such disaster in 36 years.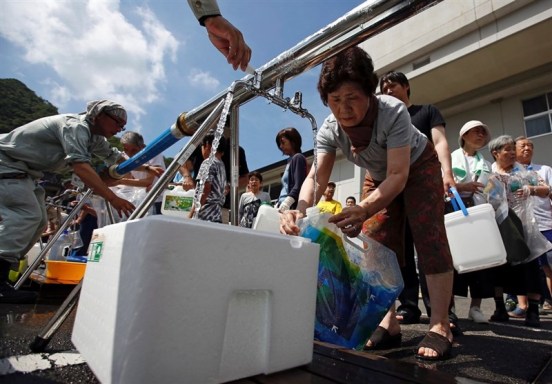 Communities that grappled with rising floodwaters now find themselves battling scorching summer temperatures, well above 30 degrees Celsius (86°F), as foul-smelling garbage piles up in mud-splattered streets.
"We need the water supply back,'' said Hiroshi Oka, 40, a resident helping to clean up the Mabi district in one of the hardest-hit areas, the city of Kurashiki, where more than 200,000 households have gone without water for a week.
"What we are getting is a thin stream of water and we can't flush toilets or wash our hands," he added, standing over a 20-litre (4.4-gallon) plastic tank that was only partly filled after almost four hours of waiting.
Water has been restored to some parts of the district, a city official told Reuters, but he did not know when normal operations would resume, as engineers were trying to locate pipeline ruptures.
More than 70,000 military, police and firefighters have fanned out to tackle the aftermath of the floods.
There have been 204 deaths, the government said, with dozens missing.
Large piles of tatami straw mats, chairs and bookcases could be seen all over Mabi.
The smell of leaded gasoline, mixed with a sour smell of mud and debris, filled the air.
The weather has fuelled concerns that residents, many still in temporary evacuation centres, may suffer heat stroke or illness as hygiene levels deteriorate.
Shizuo Yoshimoto, a doctor making the rounds at evacuation centres, said an urgent challenge was to bring necessary drugs to patients with diabetes and high blood pressure, who were forced from their homes or whose clinics are closed.
"There are quite a few cases where patients are unable to get drugs.
"So, one issue is how to maintain treatment for those with chronic illness. Another is acute illness, as heatstroke is on the rise,'' he said.
Public broadcasters, NHK, has spread advice on coping with high temperatures and maintain hygiene, such as a video tutorial on how to make a diaper from a towel and plastic shopping bag.
Chief Cabinet Secretary, Yoshihide Suga, urged people in flood-hit areas to guard against thunderstorms.
"People still need to be aware of the possibility of further landslides,'' he told reporters.
Severe weather has increasingly battered Japan in recent years, including similar floods last year that killed dozens of people, raising questions about the impact of global warming.
Prime Minister Shinzo Abe, who cancelled a scheduled overseas trip to deal with the rescue effort, visited Kurashiki on Thursday and said he aimed to visit other flood-damaged areas on Friday and over the weekend.