The Government of Japan has announced that it is providing funding amounting to $3,678,178 (Japanese Yen 377 million) through the United Nations Human Settlements Programme (UN-Habitat) for the rehabilitation of community infrastructure, livelihood improvement and women's empowerment in Sri Lanka's Northern and Eastern Provinces over the next two years.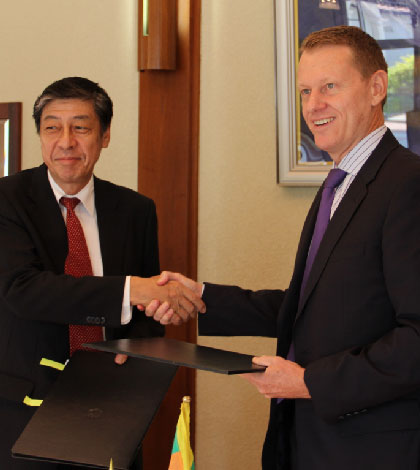 This initiative is an extension of the Japanese funded Phase I Project "Rehabilitation of Community Infrastructure and Facilities in the Conflict Affected Areas in Northern Province"currently implemented by UN-Habitat in the districts of Mullaitivu and Killinochchi in the North of Sri Lanka.
The Phase II project entitled "Rehabilitation of Community Infrastructure, Improvement of Livelihoods and Empowerment of Women in the Northern and Eastern Provinces (RCI)" will expand geographically to the Districts of Mannarand Batticaloa, while continuing to address the outstanding needs in Killinochchi and Mullaitivu, with greater emphasis on the empowerment of women.This initiative will benefit over 120,000 returnees in 90 conflict affected villages.
The signing of the Exchange of Notes between Mr. Nobuhito Hobo, Ambassador of Japan to Sri Lanka and Mr.Tim McNair, Chief Technical Advisor of UN-Habitat Sri Lanka took place at the ambassador's residence recently in the presence of Mr. Janaka Sugathadasa, Secretary for the Ministry of Resettlement.
The main outputs of the project include:
Rehabilitation and reconstruction of damaged small community infrastructure including multipurpose community centres, preschools, storm water drainage and rainwater harvesting systems;
Improvement of economic opportunities through improving access roads, storage facilities, irrigation channels and skills development in the communities;
Empowering women through vocational and leadership training and organising access to credit through the introduction of savings and credit schemes;
Assisting communities to live in harmony with elephants through education and the introduction of sustainable physical measures.
The project, which has already commenced, is being implemented by UN-Habitat in partnership with community-based organisations in the four districts.
Commenting on the project, Ambassador Hobo stated: "The Government of Japan is pleased to continue our partnership with UN-Habitat in supporting the recovery and rehabilitation efforts in the conflict affected areas, and contribute towards the overall development initiatives of the country in collaboration with the Government and people of Sri Lanka."