The third feature in the series lays emphasis on the fact that climate change poses challenges to growth and development in Africa
The emissions already in the atmosphere, together with the greenhouse gases that will be emitted in the future, mean that the climate will continue to change. These changes in climate will create new risks and will amplify existing risks for natural and human systems. The IPCC report finds that for the remainder of this century, climate change will pose further challenges to food security, livelihoods, health and wellbeing.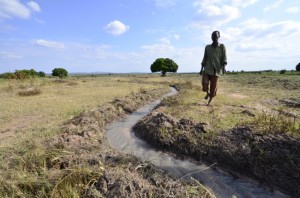 During this century, temperatures in the African continent are likely to rise more quickly than in other land areas, particularly in more arid regions. Under a high-emissions scenario, average temperatures will rise more than 2°C, the threshold set in current international agreements, over most of the continent by the middle of the 21st century.
Average temperatures will rise by more than 4°C across most areas in the late 21st century. Changes in average temperature are projected to be greater over northern and southern Africa and relatively smaller over central Africa.
Under a low-emissions scenario, average temperature rises across Africa are projected to be less than 2°C over the course of the century. Projections for rainfall are less certain than projections for temperature. Most areas of the African continent do not show changes in average yearly rainfall under low-emissions scenarios. However, projections do show a very likely decrease in average yearly rainfall over areas of southern Africa beginning in the mid-21st century, and expanding substantially by the late 21st century, under a high-emissions scenario. In contrast, likely increases in average yearly rainfall are projected over areas of central and eastern Africa beginning in the mid-21st century for the same high-emissions scenario.
As climate change impacts become more dramatic, their effect on a range of climate extremes in Africa, including heavy rainfall, heat waves and drought, will become increasingly important55 and will play a more significant role in disaster impacts. There will be a likely increase in the frequency of hot days across the Sahara and parts of west, east and southern Africa.56 Eastern and southeastern Africa will likely experience more heavy rainfall, with more extreme wet days by the mid-21st century and greater potential for intense flooding, partially driven by possible changes in landfall of cyclones originating in the Indian Ocean. Global mean sea level will continue to rise during the 21st century under all emissions scenarios, by a magnitude that poses significant risks for Africa's coastal settlements, as well as for coastal economies, cultures and ecosystems.
Sub-Saharan Africa is a rapidly developing region with a population of about 900 million, and wide ecological, climatic and cultural diversity. At present, six of the t0 fastest growing economies in the world are in Africa. Growth in these economies started from a relatively low base so the current rate of economic growth needs to be seen against a background of three decades of poor development performance, conflict and economic marginalisation. Some of these problems remain. However, there are hopeful signs that a number of countries are turning a corner – for the better.
It is critical to recognise that Africa's growth is fragile. Real economic transformation has yet to take root. Part of Africa's vulnerability lies in the fact that recent development gains have been in climate-sensitive sectors. Economically, many Africans depend for food, fibre and income on primary sectors such as agriculture and fisheries, sectors which are affected by rising temperatures, rising sea levels and erratic rainfall. Demographic and economic trends in Africa mean that climate impacts will be acute. For example, growing populations will increase the demand for water and food but prolonged droughts will put additional pressure on already scarce water resources and will reduce crop yields.
Already the region suffers from widespread, recurring risks to food production. Without adequate measures to adapt, these risks could become more intense under a changing climate. For scenarios approaching 4°C warming, the risk to food security in Africa could be very severe, and there would be limited potential for reducing risk through adaptation. The IPCC points out that some of the major crops in Africa are highly sensitive to changes in temperature. For example, climate change is very likely to have an overall negative effect on yields of major cereal crops across Africa, though with strong regional variability in the degree of loss. Estimated yield losses at mid-century range from 18% for southern Africa to 22% aggregated across sub-Saharan Africa, with yield losses for South Africa and Zimbabwe in excess of 30%.