The Intergovernmental Panel on Climate Change (IPCC), the world body for assessing the science related to climate change, will present its findings with a focus on Thailand and Southeast Asia at an outreach event in Bangkok, Thailand on 14-15 October.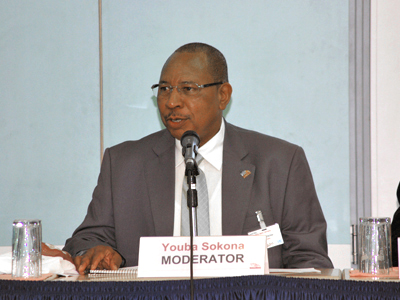 It will also present its work programme for the Sixth Assessment Report (AR6) cycle at the event hosted by Thailand's Office of Natural Resources and Environmental Policy and Planning (ONEP).
IPCC experts will address a media workshop and a press conference at 1.00 pm on Friday, 14 October, at the Hotel Novotel Bangkok on Siam Square, as part of the two-day outreach event, attended by policymakers, practitioners, scientists, civil society representatives and media from Thailand, Cambodia and Laos. The event will be opened by Dr Raweewan Bhuridej, Secretary General, ONEP, and Youba Sokona, Vice-Chair of the IPCC.
"For the new AR6 cycle we aim to enhance further the involvement of experts from developing countries and improve the range of expertise involved. This event will provide a great opportunity to reach out to the various stakeholders in Thailand and encourage them to contribute to the work of the IPCC," said Sokona.
Scientists will also present the latest IPCC report, the Fifth Assessment Report (AR5), completed in 2014, which was a crucial input to the Paris Climate Change Agreement reached in December 2015. AR5 found the world has the means to limit global warming and build a more prosperous and sustainable future, but pathways to limit warming to 2ºC relative to pre-industrial levels would require substantial emissions reductions over the next few decades.
"Continued high emissions would increase the risks for Southeast Asia, exposing the region to impacts including flooding, food shortages, and extreme weather events affecting human health, security and poverty," said Joy Pereira, Vice-Chair of Working Group II of the IPCC, which deals with impacts and adaptation to climate change. "A range of options exists to limit the adverse effects, including through adaptation to the changing climate. Local decision-makers will hear from the IPCC scientists how to tackle the challenges and create new opportunities based on the best available science," said Pereira, one of the speakers.
Other speakers include Working Group III Co-Chair Priyadarshi R. Shukla, Working Group I ViceChair Edvin Aldrian, AR5 author Shobhakar Dhakal and representatives of the Thailand Research Fund and Chulalongkorn University.
The outreach event precedes a session of the IPCC in in Bangkok on 17-20 October 2016, which among other issues will consider the outline of the Special Report on impacts of global warming of 1.5°C above pre-industrial levels and related global greenhouse gas emission pathways, and a new IPCC Methodology Report.