International Women's Day, usually celebrated on March 8, is a day set aside to celebrate the social, economic, cultural and political achievements of women all over the world. The theme for 2018 International Women's Day is "#Press for Progress" – a push for gender equality worldwide. The Nigerian Alliance for Clean Cookstoves has joined the rest of the world to press for progress in gender equality especially when it comes to the unpaid work and task associated with cooking.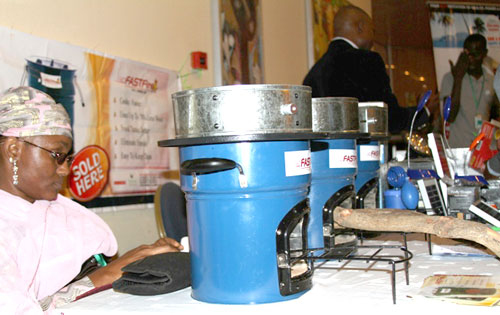 Nigeria, says the group, suffers a "silent" energy crisis – poor access to clean cooking energy. Over 20 million households and about 120 million Nigerians depend on wood primarily as a source of fuel for cooking, it adds.
"It is recognised that women disproportionately make up this number. This is despite the abundance of modern cooking energy sources including natural gas. The World Health Organisation (WHO) estimates that cooking in an open fire releases harmful toxic (especially particulate matter and carbon monoxide), which causes about 95,000 deaths annually in Nigeria. After malaria and HIV/AIDS, this is Nigeria's third highest killer of mostly women and children. Cooking in an open fire in your kitchen is also likened to burning 400 cigarettes an hour.
"Cooking inefficiently using the traditional method (open fire), causes pneumonia in children, low birth weight babies, still birth, and lung diseases. Moreover, it is expensive, burning up to 90% more wood than is necessary and costing poor families money that could be put to better use on education, health and nutrition."
According to the alliance, the use of efficient and clean cookstoves saves lives, improves livelihood, empowers community and combats climate change. Enhancing access to clean cookstoves is linked with progress on the implementation of many of the Sustainable Development Goals (SDG). The Nigerian Alliance for Clean Cookstoves, adds the organization, promotes the transition from the use of traditional three-stone stoves/open fire to higher levels of efficiency and cleaner cookstoves such as LPG, ethanol, electric, solar and efficient biomass stoves.
"The Nigerian Alliance recognises that when given the chance, women and girls, including those displaced by insurgency can do so much more with their time. A clean cookstove means new opportunities for women, within their families, their communities and the society at large. Inadequate access to clean cooking energy needs to be taken as a development priority and be tackled today.
"As we celebrate the International Women's Day, NACC recommits and reaffirms support to all women who are striving to overcome energy poverty, especially women-led community groups and organisations, and women investors to speed progress in ending energy poverty – and bring clean cooking solutions to everyone. Let us press for progress towards clean and safe cooking practices to prevent death and diseases for women and children, and accelerate the fight against cooking energy poverty."