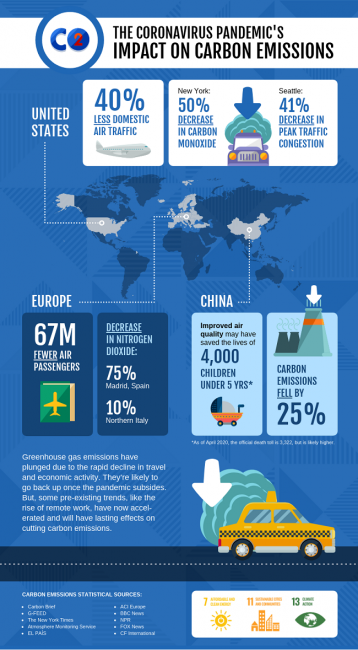 Traffic congestion
With lockdown or stay at home orders in effect in countries across the globe due to the coronavirus pandemic, there's been a steep decline in travel and economic activity worldwide.
Traffic congestion in major cities fell dramatically as a result. In New York, peak congestion went down 47 percent from the 2019 average on the morning of March 23, 2020. Los Angeles experienced a 51 percent drop, according to Fox News and the TomTom Traffic Index.
With less traffic comes less pollutants like carbon monoxide. Of course, once non-essential employees can return to their place of work, traffic congestion and pollution will rise accordingly. Will there be any lasting effect on the environment?
One clue comes from Wuhan, China where the outbreak began in late 2019. Traffic is still down 50 percent as of late March, even as restrictions have been lifted and employees have returned to their jobs.
Air travel
Air travel has also taken a major hit, thanks to order to shelter in place, and greenhouse gases will predictably decline too.
Airplane emissions of carbon dioxide reached over 900 million tons in 2018 and are projected to triple by 2050, according to the United Nations aviation body. The issue is that even as airlines are becoming more fuel efficient, the increase in demand was projected to outweigh these gains.
And yet, suddenly demand has dropped drastically. In the first three months of 2020, 67 million fewer passengers flew in Europe compared to the year before, says Airports Council International.
In the U.S., domestic air traffic fell about 40 percent, according to NPR. Though cancellations have been greater worldwide than in the US, nor have states instituted domestic air travel restrictions.
Still, while this trend will cut greenhouse gas emissions from air travel, the result has also been mass layoffs and voluntary unpaid leave.
Effect on carbon emissions
Has the drop in traffic and air travel had a significant impact on greenhouse gas emissions such as nitrogen dioxide and carbon monoxide?
It appears so. China's carbon emissions fell by around 25 percent over a four-week period after Chinese New Year.
One controversial study said that improvements in air quality recorded in China over two months this year may have saved the lives of 4,000 children under five years old and 73,000 adults over 70 years old.
Elsewhere, northern Italy reported a 10 percent reduction in the pollutant nitrogen dioxide per week over the four to five weeks before March 17. The area has been hit hard by COVID-19 and been in lockdown.
The improvement in air quality was even more apparent in Madrid, Spain due to stay at home orders for the entire country. The average level of nitrogen dioxide recorded on March 17 was almost 75 percent lower than the previous week. And in New York City, carbon monoxide, mainly from cars, had been reduced by nearly 50 percent compared with March 2019.
Short-term vs. long-term effects on climate change
Unfortunately, this dip in carbon emissions will likely only last if the virus does. Activity will ramp up once the pandemic subsides, creating a rebound effect seen in other crises, says Spanish newspaper El Pais.
The 2008 financial crisis caused a 1 percent dip in carbon dioxide but once the economy recovered, emissions crept back up–at a rate faster than before the crisis.
The bottom line? "We will not fight climate change with a virus," said UN Secretary-General Anthonio Guterres on March 13.
After all, measures to halt coronavirus's spread will not have a long-lasting effect on climate change. Structural change is needed. But the fact remains that some pre-existing trends, like the rise of remote work, have been accelerated with the pandemic and will have lasting effects on cutting carbon emissions and slowing global warming.
Courtesy Venngage (venngage.com)