Recently, some maize farmers in Ibadan and nearby communities experienced heavy flooding of their farms, causing fear of washing away of soil nutrients needed for their crops to grow optimally.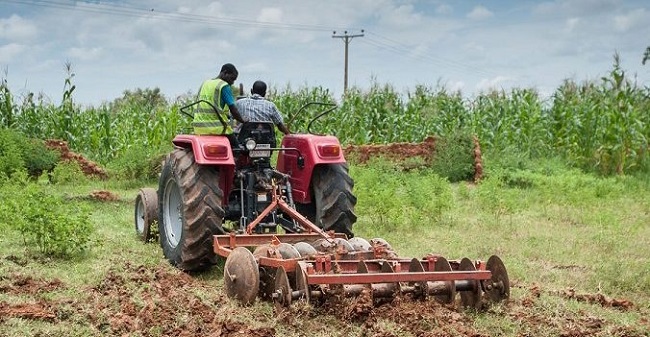 This brings to the fore, the importance of land preparation or tillage practice in farming.
Land preparation is the mechanical manipulation of the soil to bring about the best conditions for the growth of crops.
According to Prof. Lateef Taiwo, a soil scientist at the Institute of Agricultural Research and Training (IAR&T), Ibadan, farmers should do planting to favour adequate mobilisation of soil nutrients for optimal growth.
According to him, nutrient mobilisation will not be effective if soil moisture is in excess of soil water holding capacity, in which case, soil nutrients are lost to the erosive power of water.
"Farmers practising rainfed agriculture must plant immediately rainfall becomes relatively stable – in April/May; their arable crops would have become mature before the arrival of heavy rainfall – in August/September.
"Farmers are also advised to learn how to harvest and conserve rainwater.
"This water harvested is useful in two ways depending on the methodology of harvest.
"The first is that the water can be used for domestic purpose in the house; second is that it can serve as a source of irrigation for domestic vegetable production during dry season," he explains.
The expert advises farmers to prepare beds or ridges on their farm terrains across the slope and not along it.
"For crops that need much water for growth such as Soybean, it is advised that farmers plant in July, but farmers need to wait till September for Cowpea because Cowpea does not need much water as Soybean to do well," he says.
An agrometeorologist at IAR&T, Mr Wale Adetayo, is of the opinion that farmers should build breaks in-between rows and beds to prevent soil erosion while limiting tillage.
Adetayo urges farmers to avoid application of fertiliser just before rainfall to avoid leaching.
"Use small-scale water harvesting system such as ditches.
"Authorities concerned should provide early maturing, disease-resistant varieties of crops for farmers to improve productivity.
"Cropping pattern adjustment and recommended planting dates of crops will help farmers to adapt to changing climate patterns," he says.
The agrometeorologist urges farmers keeping ruminant animals to keep their houses dry by using straws, adding that they should fumigate regularly against pathogens.
Adetayo advises poultry farmers to always provide bedding so that birds do not sleep on wet ground.
According to him, housing day-old chicks should be under controlled temperature.
"Feeds should be stored on wooden structures not on bare floor; floor should be kept dry to prevent growth of harmful fungi; lighting system should be provided for additional warming to stimulate egg production.
"In areas where floods are predicted, relevant authorities are advised to strategise on water harvesting which can serve as buffer during water shortages," he adds.
Corroborating, a meteorologist at Forestry Research Institute of Nigeria, Ibadan, Dr Olatunji Ayeni, says flooding can only destroy crops planted on low land or valley areas.
Ayeni wants farmers planting on such areas to shift to hilly or plain grounds.
"Control of flood is not a short-term project, it is a long time one, whereby government at all levels should be involved," he says.
The Oyo State Chairman of Maize Association of Nigeria, Mr Olawale Ajani, notes that farmers in the state are already experiencing flooding, saying that the road to their farms at Oyo Ife-Odan Road are being flooded.
Ajani, the Chief Executive Officer of Agrolinks Consult, Ibadan, warns that flooding can lead to loss of farm produce and low yields.
"Large-scale farmers should get their farms insured, make ways for flood water; government should assist with bridges and road networks to aid farmers during harvesting.
"All these will go a long way to enhance food production this planting season," he says.
Similarly, a fish farmer, Mr Speed Ezekiel, says that flooding can lead to cracking, breaking and eventual collapse of fish ponds (especially earthen and concrete ponds), if the water volume and channelling of water, which is supposed to be an adaptive and migitative approach, is not checked in time.
Ezekiel warns that introduction of exotic species of fish into the ponds by the flood can result in increased cannibalism and competition for feeds among fishes, which can lead to the loss of good breeds of fish, among other disadvantages.
He suggests that fish farmers can increase the depth of their ponds and ensure routine maintenance of streams and waterways flowing beside their farm.
"Thickening the dikes and walls of earthen ponds, maintaining a free flow board with very good pipes and other man-made activities around it to make water discharge easily, are important.
"Then having a standard knowledge as to how flood works in that environment so that decision about adaptation and mitigation can be channelled into the safety of the enterprise will really help," he adds.
According to the South-West President, Tomato Growers Association of Nigeria, Mr Ajani Adetunji, loss of tomatoes in flood-affected fields are devastating.
He regrets that flooding causes loss of soil quality resulting in a significant drop in income and food bank, as well as environmental degradation.
"Several reports on the cost implications of flooding run to billions of Naira.
"Some of the major effects include crop damage, nutrient depletion, soil structural disintegration and land damage," he notes.
By Chidinma Ewunonu-Aluko