A group of German and Polish experts planned to present results by Sept. 30, 2022, on the cause of the massive fish kill in the Oder River.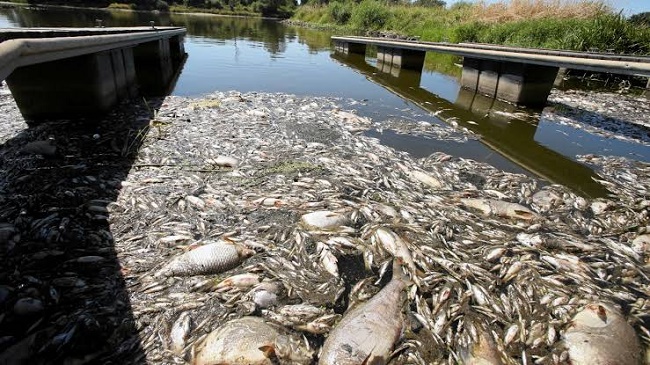 The river formed the border between their two countries.
The announcement was made by German Environment Minister, Steffi Lemke, and her Polish counterpart, Anna Moskwa, in the town of Bad Saarow, which lies between Berlin and the border in the state of Brandenburg on Monday, August 29.
At a German-Polish environmental council in the town, the fish kill was at the top of the agenda.
"Heat, low water levels and man-made discharges'' were the causes of the fish kill, according to Lemke.
Lemke did not yet give any information about the nature of the chemical discharges and referred instead to the expected expert report.
Several hundreds chemical substances could be responsible.
The combination of factors led to an algal bloom with toxic effects on fish species and mussels.
Lemke said earlier she wants to stop development along the Oder river in light of the still unexplained mass fish die-off in the waterway.
"The extent of the damage to the Oder's valuable ecosystem is not yet foreseeable,'' Lemke told dpa before the meeting.
"Further negative impacts must be avoided.
"In my view, the development of the Oder river along the border is also highly problematic and must now be stopped,'' Lemke said.
In August, tonnes of dead fish were discovered in the river, which runs south to north between Germany and Poland.
The exact cause was still unclear, although experts suspected that high salt content in the river was a major reason, combined with low water, high temperatures and a toxic algae species.
By Saturday a week ago, around 200 tonnes of fish carcasses had been collected in Poland and Germany.
"It is, of course, an exhausting discussion on such a difficult topic,'' Lemke said on the sidelines of the meeting.
The Polish side had initially been accused of a sluggish flow of information.
Moskwa said that both sides agreed that the species population in the Oder should be renewed.
"All species native to the border river should return there," she said.
Moskwa was less forthcoming on the issue of development along the river.
Poland had defended the expansion in spite of differences with Germany.
Now Lemke said that the goal must be to regenerate the Oder ecosystem.