A report on biodiversity and health launched on Friday, February 13, 2015 at the 14th World Congress on Public Health, in Kolkata, India, shows the significant contribution of biodiversity and ecosystem services to better human health.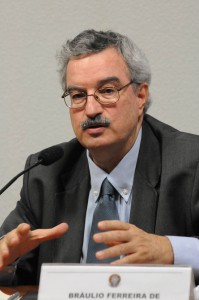 The report, titled: "Connecting Global Priorities: Biodiversity and Human Health," demonstrates that the relationship between biodiversity and human health is extensive and complex. It outlines the ways that the conservation and sustainable use of biodiversity has positive impacts on human health, including through impacts on water and air quality, nutrition, non-communicable and infectious diseases, and medicines, among others.
Prepared by the Secretariat of the Convention on Biological Diversity (SCBD) and the World Health Organisation (WHO), the report features contributions from numerous partners and over 100 experts, including Bioversity International, COHAB Initiative, EcoHealth Alliance, Harvard School of Public Health, United Nations University, Wildlife Conservation Society's Health & Ecosystems: Analysis of Linkages and many others.
"We hope this joint report will increase awareness and understanding not only of the intrinsic value of biodiversity, but also as a critical foundation for sustainable development, and for human health and well-being," said Dr. Maria Neira, WHO Director for Public Health, Environmental and Social Determinants of Health. "In particular, it should serve as a useful reference for the definition of the sustainable development goals and the post-2015 development agenda, which represent a unique opportunity to promote integrated approaches to protect human and planetary health."
Braulio Ferreira de Souza Dias, Executive Secretary of the Convention on Biological Diversity, and Assistant Secretary-General of the United Nations, said: "Despite the clear role that biodiversity plays for human health, and thus for the Sustainable Development Goals, this linkage is not being made in policy forums. Hopefully this new report will help shed some light on this critical issue."
The report provides specific examples of the relationship for a number of issue areas including: water, air quality and human health; biodiversity, food production and nutrition; microbial diversity and non-communicable disease; infectious diseases; medicines, including traditional medicine; physical, mental and cultural well-being; pharmaceuticals and biodiversity; climate change and disaster risk reduction; and sustainable consumption and production.
Highlights of the report include: Biodiversity, Food Production and Nutrition; Microbial Diversity and non-communicable diseases; and Infectious diseases.
The report concludes with recommendation for health and biodiversity strategies. It calls for the
creation of coherent cross-sectoral strategies that ensure that biodiversity and health linkages are widely recognised, valued, and reflected in national public health and biodiversity conservation policies.
They also need to be coordinated with programmes and plans of other relevant sectors. Their implementation could be a joint responsibility of ministries of health, environment and other relevant ministries responsible for environmental health programmes and national biodiversity strategies and action plans. In all cases, they should be developed and implemented with the involvement of local communities.
Given the interconnected nature of these challenges, there is a need for policy makers to coordinate their responses. The report suggests that the solution lies in uniting work in social and natural sciences through integrative and interdisciplinary approaches such as the ecosystem, ecohealth, and One Health approach, in order to develop cooperation and mutual understanding that can lead to the production of knowledge and recommendations that can be used by policy makers and practitioners