Villagers affected by three polluting coal mines in Muğla city, Turkey have joined together to demonstrate against plans to extend the mines. People had their photos taken and projected them in front of Yatağan coal power plant.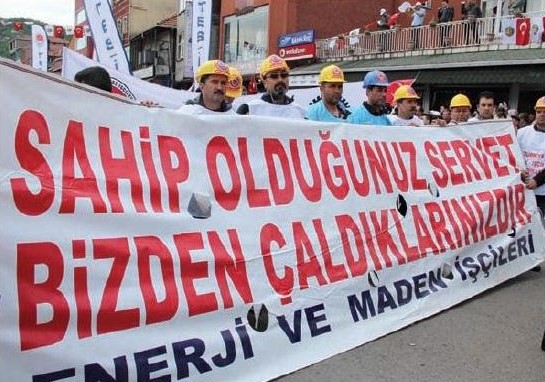 "After years of suffering from the deadly impacts of lignite mines and coal burning in their lands, the villagers of Muğla came together to remind us all that coal pollution affects everyone – no matter where it is burned, we all pay its environmental and health impacts," says Efe Baysal, Turkey Campaigner, 350.org.
A new report released on Friday, November 2, 2018 shows the "The Real Costs of Coal: Muğla" in Turkey by CAN Europe. The research places a spotlight on plans to expand three coal-fired power stations in Muğla city and demonstrates the huge price those living nearby and those in countries further afield face from air pollution.
The Real Costs of Coal: Muğla shows that since the plants became operational in 1983, the three coal plants are responsible for the release of: 9.5 million tons of sulphur dioxide, 890,000 tons of nitrogen oxides, 65,000 tons of dust, and 28,000 kg of mercury.
According to health impact modelling carried out by the study, the pollution has caused more than 45,000 premature deaths, hospitalisation of around 46,000 people due to respiratory and cardiovascular illnesses and the loss of 12 million working days, a price too high to pay. The testimonies of the villagers living in Muğla support these findings, according to 350.org.
Dr. Haluk, a resident of Karacahisar Village, said: "In the last decade, the cause of death in our village has changed significantly, it's mostly cancer. We also see more and more young children, and non-smokers with acute respiratory diseases."
The findings of the report come at a moment when health experts around the world have met in Geneva for the first WHO Global Conference on Air Pollution and Health. The Conference is expected to deliver a "Call for Urgent Action" on air pollution, an issue caused primarily by burning of coal.
Due to the transboundary nature of pollutants, Muğla's coal plants' costs to health are being felt in Europe and East and North Africa, with the largest transboundary impact taking place in Egypt, followed by Israel, Greece and Palestine.
Since coming online in 1984 the three plants have released 360 million tons of CO2, an expansion will mean spewing another 328 million tons of CO2 into the atmosphere.
"The expansion of any new coal power plant is inconceivable given the findings of the IPCC report released this October.  Every ton of coal burned makes an immediate contribution to the quantity of CO2 in the atmosphere causing long term and irreversible climate change. We need to keep fossil fuels in the ground now to ensure that we stay below 1.5 degrees to avoid catastrophic climate change," says Hoda Baraka, Global Communications Director, 350.org