A non-governmental organisation (NGO), the Lagos State Accountability for Maternal and Newborn Health (LASAM), appears to have gone beyond its call of duty to rescuing and bringing hope to a physically-challenged woman, abandoned by her husband on the last week of pregnancy.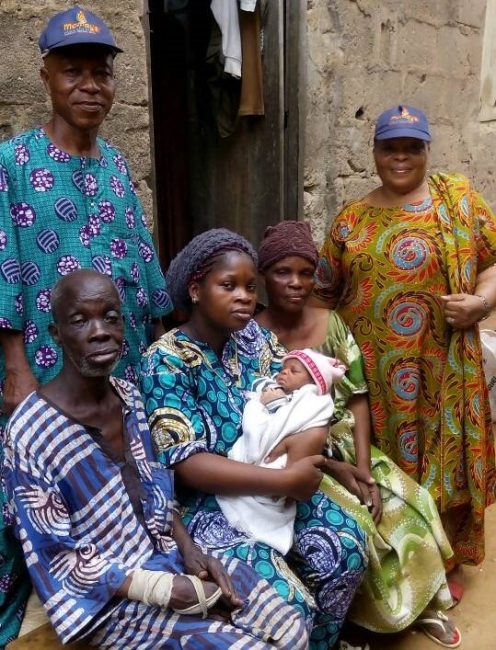 LASAM, which is visibly known for aggressively championing adequate budgetary allocation to the health sector with particularly interest in tackling high maternal mortality rate in Lagos State, put it upon itself to not only ensure that Kudirat Salami had a safe delivery, but also empowered her to earn regular income to care for her two children and old parents, among other acts of goodwill.
Kudirat Salami who was not registered for anti-natal service in hospital , nor had access to any form of healthcare due to lack fund, had luck shining on her when a Maternal and Newborn activist (MNH ) of LASAM in her area, Chief Mrs Oroja-Giwa, feeling pity for her delicate condition, brought her to the NGO's  forum in Ikeja area of Lagos.
Although, her presence was not noticed by many participants because of the high momentum of activities that marked the event which saw the launch of the hash tag, "#fundNaijaHealth", Kudirat's case and a call for her assistance were later brought to the official Whatsapp platform of LASAM by the NGO's Programme Director, Adenike Badiora, and the rest became history.
"Dear all, a heavily pregnant, physically challenged woman was brought to the venue of the Lagos Health Financing Dialogue on Thursday by Chief Mrs Oroja-Giwa, a MNH activist and MamaYe champion. Please, she is due soon, but she is in need of financial help for the registration and delivery. If you are willing to help, kindly send your contributions to these accounts details. Please, let's do this between now and Friday, 25th. Thank You," posted Adenike on May 19, 2018.
About three hours later, Adenike posted again, breaking the good news of Kudirat being delivered of a bouncing baby girl weighing 4.8kg at birth, while calling for immediate donations by LASAM members to assist the helpless mother.
"The lady brought to Ikeja on Thursday delivered a baby girl now. Dear all, I just received this message from Mes Oroja. The woman needs money to pay hospital bills," posted Adenike.
That call for help by Adenike was like the biblical seed that fell on fertile ground, as members who were strongly determined in their mandate of saving lives of pregnant women and their newborns became very much concerned and ready to contribute from their pockets.
Members did not only express interest to donate, they also made suggestions on best strategies to realise the objective in good time.
The acceptable suggestion came from Esther, the Consultant on Health Budget for MamaYe Evidence for Action, which is the parent organisation and sponsor of LASAM.
"To make fund raising easy, if we have a target say One Hundred Thousand Naira, we can ask each member to give at least, N1,000, then our target is met in no time," suggested Esther.
In a matter of hours, members had made substantial contributions, with a particular person donating fifty thousand naira to the course.
With the support of LASAM, Kudirat was able to regain her confidence and hope, up to the level of hosting the naming ceremony for her new baby on the eight day of delivery, which is a grade one traditional rite of the Yoruba tribe, in southwestern region of Nigeria.
The occasion attended by close family members, friends and neighbours, also had in attendance a LASAM delegation comprising Adenike, Chief Oroja and another MNH activist, who had made a handsome monetary donation to Kudirat on behalf of the NGO.
Interestingly, that visit by the LASAM team was an eye opener to even the greater problem that Kudirat was in, which necessitated even greater help to save her, the new baby, her first child aged 14 and jobless old parents.
Adenike narrated their findings: "Kudirat got married to her husband 10 years ago. She had a girl of 10 years old who is currently in primary 4. But the girl did not go to school for some time now because of school fees.
"She lost the second pregnancy before this new baby. According to her, her husband usually assaulted her, but few weeks ago, the man sent her packing, that he would not marry her again. She was sent out without letting her pick any of her things.
"We were told that her husband chased her out from Owode in Otta area and she came back to her parents in Egbeda area of Alimosho. So we decided to follow Kudirat Salami home to meet her parents.
"A borrowed shawl was used to carry the baby and she has no clothes.
"She said she has learnt hairdressing which is what she has been using to sustain herself and the girl she had before. She said she is ready to work as soon as she recovers from this delivery.
"So in the long term, she needs help to establish her hair business to take care of herself and her two girls and her parents."
The narration by Adenike about the difficult situation that Kudirat was into elicited streams of reactions from LASAM members, who did not only made more donations but also showed more commitments towards protecting the future of the young physically challenged mother and her dependent family members.
In that spirit, members resolved to empower her with hair dressing equipment including hair drier, mirrors and cash to procure other essential materials.
Going forward, the Co-Chair of the NGO, Ayo Adebusoye, who is a lawyer, said that Kudirat's run-away husband must be made to face the consequences of his actions, using legal provisions in Lagos State to compel him to fulfill the necessary obligations to the woman and her children.
His words: "The next is to trace the abusive husband. Lagos has zero tolerance for such domestic abuse and abandonment. There is even a recent enacted law provision in the criminal law of Lagos State section 279 against desertion of pregnant woman of girl. Any person who impregnates a woman and fails , refuses or neglects to contribute to maternity related costs , commits an offence and liable on conviction to a fine of N45,000 without prejudice to the recovery of any cost that any other person may have reasonably incurred in relation to the upkeep of the woman or girl.
"In addition section 128 desertion of children, any person who being the parent of a child under the age of 12 years, wilfully and without law or reasonable cause deserts the child, commits a misdemeanour and is liable on conviction to a fine of N100,000 without prejudice to the recovery of any cost that any other person may have reasonably incurred with respect to the upkeep of the child.
"So Kudirat and the countless other abandoned mothers in our communities should be sensitised that they have options open to them to ensure upkeep from their spouses/partners. Unfortunately we have to clear our cultural baggage of not reporting such cases to the appropriate authorities," he concluded.
By Innocent Onoh