Health of Mother Earth Foundation (HOMEF), an environmental justice organisation of Nigerian origin, has concluded arrangements to hold a conference to celebrate what its officials tag "an unrelenting 10 years of environmental justice activism and advocacy".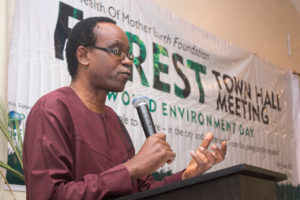 The 10-year anniversary conference, themed "Advancing Environmental Justice in Africa", holds on Monday, June 19, 2023, in Abuja, Nigeria's federal capital city. The event will be climaxed with the unveiling of a book titled: "Politics of Turbulent Waters – Reflections on Ecological, Environmental and Climate Crises in Africa", which is a compilation and selection of articles from the organisation's quarterly not-for-profit magazine, Eco Instigator.
A statement by Kome Odhomor, Media/Communications Lead, HOMEF, says the conference will "bring together rights activists, scholars, experts, writers, traditional as well as political and faith leaders to unpack the multi sectoral roots of the policrisis."
According to the statement, topics to be examined include "Environmental Governance", "Environmental Justice for a Resilient Africa" and "Our Trusteeship Duties over Creation".
The statement added that critical place of cultural tools in solving our ecological problems will also be dissected under the topic, "Arts, Culture and the Environment."
According to Odhomor in the statement, expected to speak on different topics at the conference include Ibrahim Usman Jibril, Emir of Nasarawa (former Minister of Environment), and Bubaraye Dakolo, the Ibenanaowei of Ekpetiema Kingdom.
Others are Professor Niyi Osundare, Bishop Matthew Kukah, Dr Isaac Osuoka and Dr Chido Onumah.
"With the vision for a world where humans and other beings live in harmony with nature, HOMEF has stood against exploitation without responsibility and against the expansion of sacrificial zones in vulnerable communities.
"Through her core thematic areas, the ecological think tank has continued to push for environmental justice for front line communities who bear the disproportionate burden of climate change, and from the activities of the big polluters," the statement added.
Executive Director of HOMEF, Nnimmo Bassey, was quoted as saying: "The organisation has lived up to its vision and mission as an ecological think tank but is continually open to learning and working with impacted communities and peoples in order to find solutions organically.
"As an organisation, we are concerned about socio-ecological justice for all and this means working with the people and being immersed in their realities.
"With the understanding that the environment knows no political boundaries and that our actions have intergenerational consequences, we are avowedly pan African and work globally with partner groups to achieve our aims.
"Our core beliefs include that everyone must be respected and enjoy the right conditions to live in dignity. We also believe that the cycles of Nature must not be disrupted for corporate or individual profits."