Against the backdrop of inter-professional rivalry in the health sector, which appears to have become divisive, unhealthy, and a distraction to healthcare professionals, the Nigeria Academy of Pharmacy, in partnership with the Pharmaceutical Society of Nigeria, has taken up a campaign to bridge the seemingly widening gap.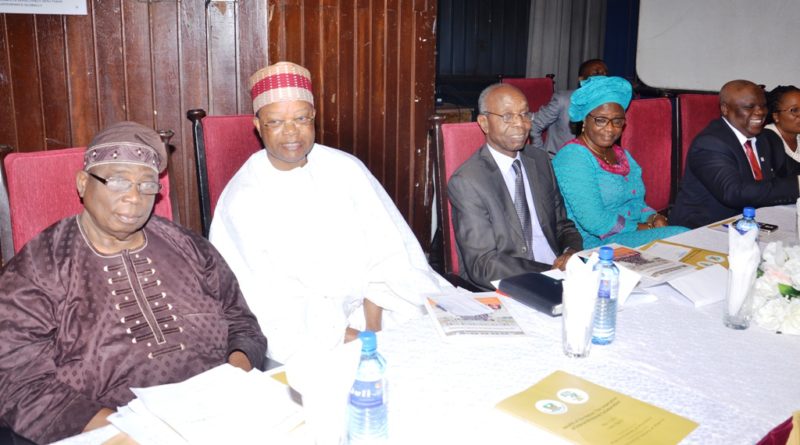 At a symposium held recently in Lagos and themed: "Health of the Nation – The Imperative of Inter-professional Collaboration", former Minister of Health, Professor Eyitayo Lambo, delivered a keynote presentation at the event, which was chaired by former President, Nigeria Academy of Engineering, Vincent Maduka.
Speaking on the symposium's rationale, President of the Nigeria Academy of Pharmacy and former Minister of Health, Prince Julius Adelusi-Adeluyi, noted that nation's health sector is home to some of the brightest minds in Nigeria. However, the efficiency and effectiveness of public health delivery has suffered a steady decline partly because of the unhealthy rivalry among various professionals in the health sector, he lamented.
"From a historical standpoint, this situation didn't start today. The Hansard of February 1961 quotes the first Minister of Health, Dr. Adekoyejo Majekodunmi, as saying that he prays that there would be funding in time and that there would be cooperation among those working in the health sector. It is time to disappoint those who have profited from the disharmony among healthcare professionals. We must all come together and negotiate with humility and with a sense of accommodation, and it is my belief that this landmark occasion would not be in vain," Adelusi-Adeluyi enthused.
Professor Lambo noted that Nigeria's health system, which was ranked 187 among 191 countries by the World Health Organisation (WHO) in 2000, has had to face sundry challenges over the years. For instance, the Constitution makes very scant provision for health while there is hardly any legislation that defines the roles and responsibilities of the three tiers of government concerning healthcare, while the National Health Act 2014 has not resolved the problem either. In addition, constant changes in the leadership of the Federal Ministry of Health have led to regular policy reversals.
"This is the time to break down the silos that create barriers to patient-centered care, contribute to inefficient and ineffective care delivery, and compromise the safety, quality and outcomes of health care. Clinical care has become more complex and specialised; with increased specialisation, no one health provider can meet all the complex needs of a patient and his/her family. Also, governments should support the culture required for collaboration by making inter-professional collaboration a priority and evaluating its impact; and provide health care organisations with the fiscal resources required to develop, implement and evaluate inter-professional collaboration (care)," Lambo urged.
President, Pharmaceutical Society of Nigeria, Ahmed Yakasai, reiterated the fact that healthcare professionals need to work together as brothers and sisters to ensure that patients get the best quality care and treatment that can be provided.
According to Yakasai, "research has shown that inter-professional collaboration improves the quality of care and patient satisfaction leading to a better work environment overall. This would require a systemic change in practice, effective and open communication, professional trust, and a system of coordinated care that allows patients to be part of the decision making in relation to their care. Adopting this team-based culture of mutual respect and understanding is possible and very necessary as we all have a moral obligation towards the welfare of the patient. I believe that together we are better and stronger."
Other health care professionals who presented papers during the panel discussions include: Asst Director of Nursing Services, Lagos State University Teaching Hospital, (LASUTH), Mrs. Shode Modupe Jokotola; Chairman, Jaykay Pharmacy Ltd, Jimi Agbaje; MD, Lahor Research Laboratories and Medical Centre, Prof. Dennis Agbonlahor; Assistant Editor, Guardian Newspapers, Chukwuma Muanya; and Group Medical Director, Reddington Hospital, Dr Olutunde Lalude who represented Dr. Ebun Sonaiya, a medical doctor and former president of the Guild of Medical Directors.
Some dignitaries present at the occasion include: Director, Food & Drug Services, Federal Ministry of Health, (Mrs) Gloria Modupe Chukwumah, who represented the Minister of Health,  President, Pharmaceutical Society of Nigeria, Ahmed Yakasai; Vice Chancellor, University of Lagos, Prof. Rahamon Ade Bello; Chief Medical Director of Lagos University Teaching Hospital, LUTH, Prof. Christopher Bode, President, Association of Professional Bodies of Nigeria (APBN), Dr. Omede Idris, President, Healthcare Providers' Association Of Nigeria (HCPAN), Dr Umar Sanda, and General Secretary, Nigeria Academy of Pharmacy, Prof. Fola Tayo.