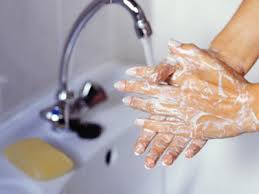 The Director, Public Health and Disease Control, Ebonyi Ministry of Health, Dr Chris Achi, said that regular hand washing reduces risk of contracting infectious diseases by more than 30 per cent.
Achi made this known to the News Agency of Nigeria (NAN) on Wednesday in Abakaliki on the occasion of 2014 World Hand Washing Day.
He said the event was to create awareness on importance of regular hand washing to personal and environmental hygiene.
According to him, regular hand washing contributed about 30 per cent in reduction of deadly infectious diseases, stressing that human hands usually became the first contact with micro organisms that cause infectious diseases.
The director said that regular use of clean running water and antiseptic soaps could reduce the dangers of contracting diseases.
"The idea behind observing Oct. 15 every year as World Hand Washing Day is simply to raise global awareness of importance of cleaning our hands regularly.
"Our hands perform a lot of activities and constitute the first contact between us, other animate and inanimate objects within the environment.
"Often times we use our hands to touch the micro organisms that cause these infectious diseases and thereby contract them.
"When we indulge in regular hand washing we will enhance our personal hygiene and cleanliness and thereby reduce the risk of contracting these infectious diseases,'' Achi said.
He advised Nigerians to cultivate the habit of regularly washing their hands before putting anything in their mouth and after using the toilets to stay healthy always.
He also called on people to ensure thorough washing of food items such as vegetables and fruits as well as their cooking utensils as a way of ensuring proper maintenance of safe hygiene.
He noted that one of the surest ways of staying healthy and keeping away from infectious diseases was observing proper personal and environmental hygiene.
"When we observe the basic rules of personal and environmental hygiene, we will stay healthy and free from diseases.
"A healthy people are a healthy nation and healthy nation is a wealthy nation,'' the expert said.
He said that the ministry had embarked on sensitisation campaigns especially to the rural communities to educate the people on importance of maintaining simple personal and environmental hygiene.
"We have intensified our sensitisation campaigns on sanitary and personal hygiene especially at our rural communities.
"The outbreak of the Ebola epidemic in some parts of West Africa including Nigeria and occurrence of other haemorrhagic fever like Lassa fever and Gastroenteritis informed our reinforcement of sensitisation campaigns programme.
"When they have more knowledge about these diseases and how to prevent and control them; the more they live healthier and disease-free live,'' Achi said.
The News Agency of Nigeria (NAN) reports that the United Nation (UN) through the World Health Organisation (WHO) has on Oct 15, 2008, declared Oct. 15 as World Hand Washing Day annually.
The aim is to raise global awareness on importance of regular hand washing and its contributions in ensuring personal hygiene of individuals.