President General (PG) of Obinofia Ndiuno in Ezeagu Local Government of Enugu State, Mr Livinus Umeh, has requested the government to assist the community as gully erosion is sacking residents from their ancestral home.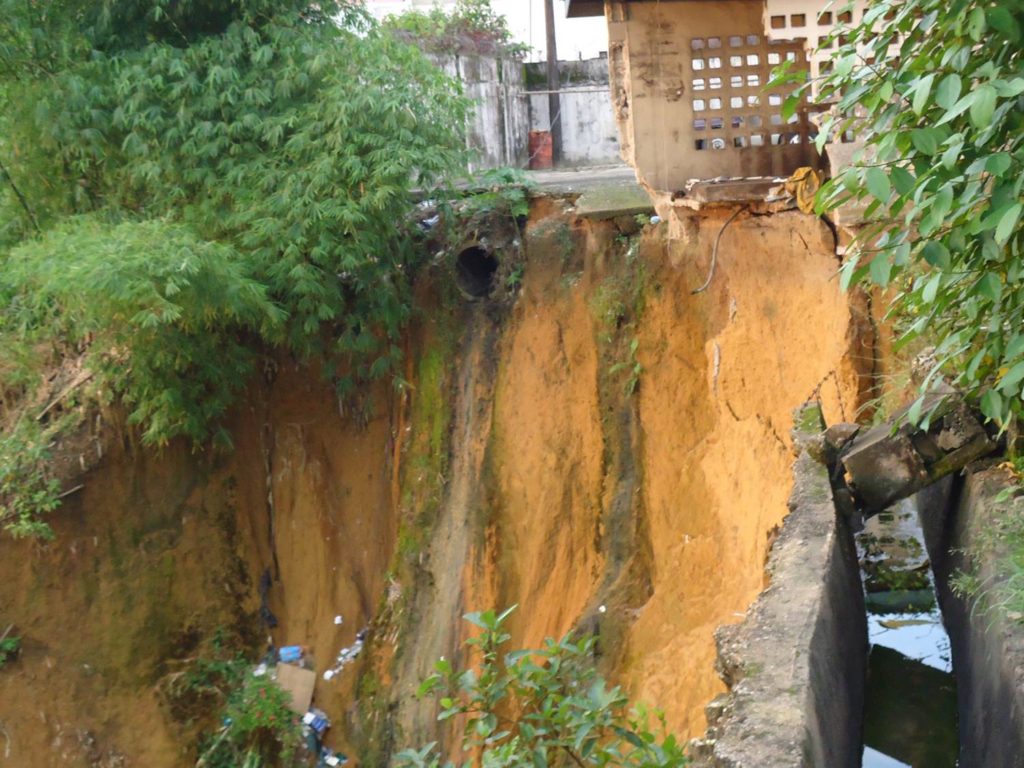 He said that the menace emanated from a road project that was to run from some communities through the town to other areas in the local government area.
Umeh while briefing newsmen after inspection of the road in Ezeagu on Tuesday, June 16, 2020, lamented that the CGC Company handling the road had failed to complete the road since the project commenced seven years ago, thereby making it easy for the flood to further damage the road.
He revealed that the community had on several occasions written to the construction company to come and complete the project but regretted that the CGC Company had not replied any of its letters.
The President General said the ugly situation had dragged the community backwards in terms of meaningful development as wealthy indigenes of Obinofia Ndiuno neither invested in the community nor come back home during festive periods.
"When it rains, the flood will go into people's houses. Our people are now sleeping with their two eyes wide open in the midnight because of erosion. It is a very bad situation.
"I want to beg the government to come and assist us do the road.
"We are not petitioning anybody. We want only this road to be done so that our people can be coming back from where there are staying.
"I still come home because I am the PG, I cannot run from my town.
"But other people, if you call them, they will tell you that they cannot come again," Umeh said.
The erosion was caused by the diversion of flood from neighbouring communities of Nachi, Umumba, Obeleagu and Amokwe.
The situation has wreacked unimaginable havoc in Obinofia Ndiuno community.
A visit to the community showed that the economic and social activities of the once-bubbling community had been crippled because of the erosion.
Residents of the area do not move freely hours after every rain to avoid being swept away by flood.
Many residential buildings, schools and electrical installations had collapsed into the gully.
Those whose houses collapsed relocated to other neighbouring communities for safety.
The road leading from Nkwo Ezeagu to the community, which is still under construction by CGC Company, is no longer motorable as major parts of the road had been caught off entirely.
Narrating her ordeal to newsmen, an 80-year-old indigene of Obinofia Ndiuno, Mrs Victoria Ozoilo, said the flood had made life really difficult and miserable for indigenes of the community.
According to her, residents live in fear and uncertainty, especially during rainy season.
She noted that the rain which ought to be a blessing had become a sorrow to them because "whenever it rains, houses are submerged with flood and it destroys their property like documents, beds and electrical appliances."
She added that she had lost all her valuable documents and those of her husband and children to the flood.
Mrs Ozoilo, in pensive mood, regretted that aside from submerging their houses, the flood also destroyed their farmlands making them not to harvest even the tiniest tuber of yam from their farms during harvest season.
"Last year, I planted cassava in my farm but I didn't harvest anything," she lamented
A commercial motorcycle rider in the community, called okada, Mr Toochukwu Obi, said the bad road is negatively affecting their business as his fellow riders "don't operate once it rains".
"Even as I am now, I don't have any other thing to do again because we don't have a road, we don't have any other thing to do again because of the bad road," he lamented.
He explained that a journey they charged N200 or N300 previously "now, if someone gives me N1000, I won't go there because of the bad road."
Obi alleged that the road became impassable after it was awarded to CGC Company for reconstruction by the Federal Government about seven years ago.
A pregnant woman in the community, Mrs Nnenna Udegbunam, regretted that the bad road caused by gully erosion had made it difficult for her to attend antenatal.
"It is not possible for us pregnant women to go to the hospital because 'okada' cannot come to carry us from our houses.
"When you trek outside to wait for okada, before you see one, it will be too late for you.
"Even when you get to the hospital, you will not meet the medical doctor again, so it is difficult for us here," she recounted.
She appealed to the government to come to their aid by putting the road in order because their children could not go to school alone to avoid being swept off by the flood.
A Trustee and Leader of the Youth Assembly in the community, Mr Kingsley Offiah, noted that the road passed through Ugwuoba, Oji River Local Government, Ninth Mile and Awka in Anambra State.
Offiah wondered if the government had forgotten about their plight or whether those representing them at federal and state governments did not present their case as it was.
He, however, expressed hope that the road would be reconstructed someday.
By Ifeoma Aka