The Ohabiri-Umuchime-Amanso Autonomous Community in Abia State of Nigeria has appealed to relevant government agencies to quickly come to its rescue from the devastating impact of gully erosion.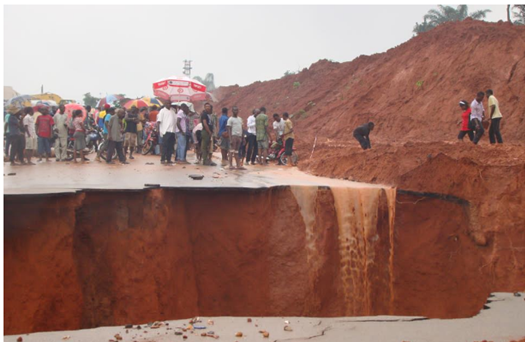 The community made the appeal on Monday, November 28, 2022, in Umuahia, while addressing newsmen on the gully and the damage it was causing in the community.
The Traditional Ruler of the community, Eze Iheanyichukwu Ezeigbo, said that they were living in fear due to the ravaging effects of the gully.
Ezeigbo said that the menace also posed serious threat to the Orieorji/Umuchime/Afara Road as well as residential buildings in the community in Umuahia North Local Government Area.
He said, "The road plays a vital role in facilitating the socio-economic development of our area."
A signpost in the area indicated that the Federal Ministry of Niger Delta had awarded the contract for the construction of the road.
However, there were no signs of construction works presently going on at the site.
Ezeigbo said: "This road is important to the community because it leads to Bishop Nwedo Secondary School and housing estates.
"It also connects the villages that make up this community. "Imagine the present state of the road. It was not like this in the past.
"The condition became worse with the activities of the contractor.
"He started work without proper analysis of how best to channel storm water to the community stream.
"This is why each time it rained, the road becomes totally impassable."
Ezeigbo further said that the flood usually threatened to pull down residential buildings in the area.
Ezeigbo, therefore, urged the State and Federal Governments to deal with the menace expeditiously before the next rainy season.
A community leader, Mr Obioma Okechukwu, said that the community had sent a Save-Our-Soul letter to the state government through the Nigeria Erosion and Watershed Management Project to no avail.
He said, "We have made several efforts as a community to get the problem solved but our efforts have not yielded the desired result."
The Youth President of Ossah Ancient Kingdom, Mr Chijioke Timothy, said that the erosion was threatening to severe the Orieorji/Umuchime/Afara Road.
"This is an agrarian community, and this road leads to our farmlands and market where we sell our farm produce.
"If it is cut off, then our economy would be crippled," Timothy said.
Also, the Youth President of Ohabiri-Umuchime-Amanso Community, Mr Ndidi Ihedigbo, further called for the quick intervention of appropriate agencies of government to prevent the situation from getting out of hand.
"We are pleading with the government at all levels to quickly come to our aid," Ihedigbo said.
By Ihechinyere Chigemeri-Uwom