Sustainable Development Manager, Guinness Nigeria, Mrs Titilola Alabi, says the organisation will provide N480 million for the provision of clean drinking water for communities in five states.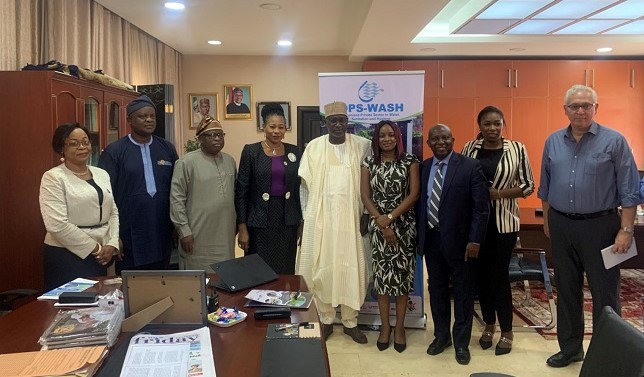 The beneficiaries of the 10-year project are: Edo, Kano, Kebbi, Nasarawa states and FCT.
Alabi made this disclosure when the Organised Private Sector on Water, Sanitation and Hygiene (OPS-WASH), met the Minister of Water Resources, Mr Suleiman Adamu, on Tuesday in Abuja.
"Currently in this financial year, we have committed to do five new water schemes in Abuja, Edo, Kano, Kebbi and Nasarawa states, we have chosen the communities in these states carefully following a Needs Assessment and for the benefit of a larger population.
"Currently, we have what we call the water of life project, and what we do is that we go to under-served communities to install solar-powered Water schemes and points for the people. We have 33 of such water schemes across 22 states.
"We realise that one of the things we needed to do was to use those schemes as a means to empower the communities, bent on setting up water communities made up of women, and those women are in charge of maintaining those facilities and charging a token so that they can earn some money to maintain such facilities," she said.
Alabi said this model had helped to promote sustainability of its schemes in which benefiting communities took complete ownership and also profit from them, saying that so far, the women had been responsible, and communities were better off.
She noted that making water available was a necessity, as many women and girls suffered most from the impact of lack of water.
"In Kebbi State, in one of our water schemes, we met an 86-year-old woman, who said this was the first time she was seeing clean water in her life, and that is the reality of a lot of people.
"Almost everyone on this table open their taps at home and get fresh clean water, but the average Nigerian, or more than 50 per cent of Nigerians lack access to clean and potable water," she further said.
On the organisation's Water Replenishment project, she said 10 years ago, there was a public commitment to putting the same amount of water used for production back into the environment.
According to her, so far, including the afforestation programme, which is ongoing, will help to replenish the environment in line with climate change issues and also in line with the goals of the OPS-WASH.
Dr Nicholas Igwe, National Coordinator, Organised Private Sector WASH, noted that the role of private sector in scaling up water and sanitation services in the country could not be over-emphasised.
He called for more commitment from all stakeholders, especially with the provisions of theme of Corporate Social Responsibility and how WASH access could promote value chain in job creation.
According to him, the private sector has commenced discussion with the Nigeria Diaspora Commission to see how one million Diasporas could adopt one toilet each for one household.
He said the organised private sector were the engine of the country, hence the possibility of harnessing their full potential for the benefit of the country.
Mr Zaid Jurji, UNICEF Chief of WASH, appreciated Nigeria's efforts and its momentum toward ending open defecation in the country, worried that current efforts must tally with increasing population.
Jurji said an average of 5.7 million dollars was needed to achieve water and sanitation services in one local government area, saying this would cover all costs and other benefits.
"We are close to 200 million people and with the increasing population, if every year, there is an increase of services for five million people, it is barely enough, we are competing with natural population increase.
"So, if we do five million people, we have done nothing, we are just breaking even, so anything to be measured toward the achievement of the Sustainable Development Goals (SDGs) must be done beyond that, this is to give you the scale of the problem.
"With our unit of intervention, we have been working for so many years now with the ministry of water resources and at the state level, every local government area requires an average of $5.7 million to achieve water and sanitation services.
"Starting from the baseline date survey, planning process and construction of water systems and triggering of communities, because they are the ones that will be constructing their latrines, providing schools and health facilities with WASH support and providing public places with WASH support. "
He added that UNICEF would continue to support organisations and communities to promote sustainable development goal such as ending open defecation practice and overall hygiene promotion in the country.
He also urged organisations to coordinate their activities to halt duplication of efforts, promotion of effective implementation and monitoring for the programme success.
Earlier, the minister, while welcoming the team, pledged government's commitment to partner with the organised private sector in financing and improving corporate social responsibilities in the fight against open defecation practice in the country.
Adamu said the role of the private sector in the revitalisation of the WASH sector cannot be overlooked, being the engine room for economic growth.
He noted that they were the key players when it came to creating innovative structures, which promoted financing of WASH services, expressing worry about lack of water and sanitation in institutions and public places.
The minister said the federal government had targeted a zero open defecation goal by 2025, saying with commitment from all stakeholders, this would be achieved.
According to him, the lack of synergy among development partners' interventions has led to groundwater depletion largely from unregulated activities.
"There is urgent need for sanity in the water resources sector.
"We need to measure all social impact of current interventions, it's not just about figures and monies, we need to synergise all efforts for the benefit of all Nigerians," Adamu said.
By Tosin Kolade