Food production in Western Africa will be hit by more frequent and more extreme heat waves and droughts if the climate continues to alter at its current pace, according to a new report released by the World Bank.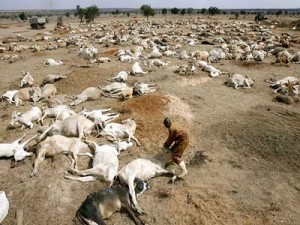 The report, titled "Turn Down the Heat – Climate Extremes, Regional Impacts and the Case for Resilience", takes an in depth look at what climate change means for sub-Saharan Africa. It compares the impacts on the region if warming continues at its current rate with impacts if governments successfully limit average global temperature rise to 20 Celsius.
While not removing the risk altogether, if temperature rise is kept under 20 Celsius, and comprehensive plans to adapt communities to climate change are put in place, many of the worst impacts can be avoided.
However, even at 20C, poverty reduction efforts and economic growth could potentially slump in the region as crop yields drop and water access problems are exacerbated, said Emmanuel Seck, Coordinator of Climate Action Network West Africa (CAN-WA).
For example, the median yield of all crops is expected to be reduced by 11 per cent at 20C. This is expected to double to over 20 per cent if warming reaches 40C. Furthermore, the length of growing period would also drop by 20 percent across the whole region.
While the livelihoods of families depending on fishing are also threatened, Senegal ranks among the most vulnerable countries to climate-change-driven impacts on fisheries. According to the World Bank, warming oceans mean there will be fewer fish and those that remain will be smaller.
Hotter weather will also mean fewer livestock can be maintained on land in northern Senegal's Ferlo region as there will be less grass and fewer trees. Specifically, at 3°C warming, sub-Saharan savannah grasslands on which many communities graze their livestock will shrink to one-seventh their current size, with huge ramifications for those who rely on that ecosystem for their survival.
"This report highlights the threat the climate change poses to the hard won gains in development we have made in this region in recent years," Seck said. "Africa needs support from the international community to adopt a low carbon approach to development that is compatible with meeting the human rights and needs of its growing population and consequently we remind developed countries to comply with their commitments in terms of mitigation and financing."
Climate change of 2°C would lead to worse health for many people across sub-Saharan Africa. An increase in undernourishment, childhood stunting, malaria and other diseases could impact the ability of children to receive an education.
The CAN-WA called on African governments to implement low-carbon development and climate-resilient strategies in order to contribute to the reduction of the impacts of climate change on their populations.
National Coordinator of Climate Change Network Nigeria (CCN-Nigeria) and Chair of the REDD+ Working Group of the CAN-WA, Surveyor Efik, expressed similar sentiments with those of Seck.
Efik stated that the World Bank Report is indeed a clarion call to action for all stakeholders at the global, regional, national and local levels. According to him, the developed countries should end their politics of playing the ostrich game over their commitment towards emission cuts and support the developing countries with finance to combat climate change.
"Members of The G8 that just from the 39th edition of their meeting in Northern Ireland should keep to commitments as contained in a communiqué, if the world temperature should be turned down below 20C."
The report warns that millions of people around the world are likely to be pushed back into poverty because climate change is undermining economic development in poor countries" and that "the case for resilience (adaptation) has never been stronger.
Efik states: "This indeed heightened our concerned for adaptation which is the priority action for ameliorating the impacts of climate change in West Africa that is known to be the poorest and most vulnerable sub-region on the African continent. We, therefore, call on the ECOWAS not to take the World Bank Report with a pinch of the salt but should redouble its efforts in terms of meaningful actions that will turn down the heat in West Africa and promote climate resilient development in the sub-region.
"At the national level, Nigeria with about 70 percent of its population being poor, there is the strong need to obey the clarion call to action that the report demanded. We call on the Federal Government to kick-start vigorously its own home-packaged actions, especially in terms of mobilising finance and not just depending solely on the UN-mustered finance or that of the developed countries.
"Regarding low carbon action, the Nigerian government should start with ending gas flaring in the country as that will encourage the developed countries to support our climate change agenda meaningfully and see us as genuinely committed to combating and responding to climate change.
"On adaptation, the National Adaptation Strategy and Plan of Action for Climate Change in Nigeria (NASPA-CCN) should be given the wings (finance) to fly so that climate resilience that will fortify Nigeria from the fierce impacts of climate change could be put in place. We commend the Minister of Environment, Hajia Hadiza Ibrahim Mailafia for developing the NASPA-CCN, which actually spelt out the roles and responsibilities of the federal, state, local, and private sectors as well as the civil society, donor agencies and individuals, regarding adaptation actions for climate-resilient Nigeria.
"The CCN-Nigeria, with a membership of 150 civil society organiszations across the country, is set with plans to promote NASPA-CCN and strengthen the capacity of stakeholders for effective implementation. This will be done through our National Advocacy Campaign for Adaptation in Nigeria (NACAN) starting from July 2013.
"We strongly believe that the impacts of climate change in Nigeria may undermine and disrupt our own home-grown development agenda – Vision 20:2020 and might further make the global one – MDGs fail in Nigeria, come 2015. It is not incorrect to state that for the development pillar of Nigeria (Vision 20:2020) to be adjudged successful in 2020, the effort of today's government in removing the cog from the wheel (climate change impacts) will count."
The CAN-WA is a global network of NGOs working to promote government and individual action to limit human-induced climate change to ecologically sustainable levels.
The CCN-Nigeria is a national coalition of over 150 civil society organizations (CSOs) from across Nigeria working to promote a climate-friendly nation though multi-sectoral approach and partnership.