Lagos State Government has been called upon to as a matter of urgency commence repair and resuscitation of the moribund Epe Mini Waterworks and Odoiragushi Waterworks at Epe Odo-Irangushi in Eredo Local Community Development Area (LCDA) of the state to ensure the provision of potable water for residents in that axis.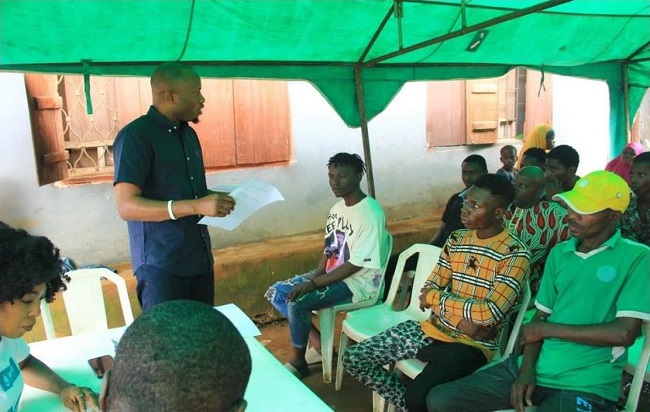 Director of Programmes, Corporate Accountability and Public Participation Africa (CAPPA), Mr. Philip Jakpor, made the call in a narrative report following a visit to the Iragushi and Poka communities in Eredo LCDA, under the implementation of the Friedrich Ebert Stiftung (FES), Just City project on Mobilising Lagos Communities for Participatory Water Governance.
The visit, which was also an opportunity for the CAPPA team to obtain first-hand information from locals on how the challenges faced by locals in accessing water for use and the status of the Epe and Odoiragunshi waterworks, revealed that the Epe Mini-waterwork is not functioning while Odoiragushi is shut down and under lock and key; the waterworks are overgrown with weeds; and that the communities are worried about lack of water.
The CAPPA team was led by Director of Programmes, Philip Jakpor; Associate Directors, Aderonke Ige and Olatunji Buhari; as well as Olalekan Fagbenro, the Digital Officer.
Jakpor said: "The lack of water adds more burden to women and girls who will have to travel long distances, experiencing risks to get water for cooking, washing, and maintaining proper healthy hygiene".
A resident of Poka Community, Adesanya Oguntimirin, said facing the herculean task of searching for water every day is frustrating to residents.
His words: "I have been in the struggle for our people to have adequate and safe water for long. I have also been part of grassroots movement against water privatisation, and we have done a lot of activities including protest to the Lagos State House of Assembly and Governor Babajide Sanwo-Olu's office. We have also written petition to our former representative, Olusegun Olulade on this matter.
"I been living in Epe in the past 20 years, and we used to get public water twice a week but now it is no more. The waterworks is no longer functioning. A gallon of water we used to buy for N200 is now N600, all because the waterworks is not working."
Another Poka resident, Arasi Funmilayo, said: "I am a farmer and I need a lot of water for my crops but there is no water. The money I make from my harvest is less than N15,000 in a month, yet I use over N9,000 to buy water. Even in my house, we depend on borehole and when there is no electricity, we can't access water. We must travel like 3 kilometres to access water. The water situation in Epe is worse than most parts of Lagos. Please we will appreciate if CAPPA can help us reach out to the government to find a solution to our water challenge. We want government to help us to fix the waterworks."
Bisi Olobe, who also resides in Poka, said: "I have been part of the Our Water Our Right struggle since 2017. And I want to appreciate you for staying on course. Our government has neglected their duty and our representatives have also forgotten us. The politicians only come here to seek for votes; they don't ask about the community needs. We don't have water; we don't have electricity. We want government to repair the waterworks so that we can have water to drink and use for other things. The money we expend on water daily is too much. In my household, I spend up to N500 daily and still it is not enough."
Abiono Ibrahim, who resides in Odoiragushi, said: "Since I have been living here there has never been government water. I had a well, but it has dried up. For many of us here, our only source of water is borehole. And the people who own the borehole need electricity to pump water. If there is no electricity, we cannot fetch water. We are 8 in my family so you can guess how much I spend on water daily. We are not even talking about the distance that my children will have to travel to get the water before heading to school. It is a very bad situation here. We want government to make public water work and lay pipes that will connect to public taps. Also, the gutters are not enough to drain wastewater."
Mustapha Kehinde of Poka said: "First, I thank you for coming to our community because we have not seen any organisation like yours to discuss with us on the issue of water.  Where I was living because I came to Epe in 2001 there was water but here I have not seen water for one day. I used to live close to Epe mini waterworks, but we use borehole, and the water is not clean we have put alum in it before we can use it. It is very bad."
Toyin Apena, Poka: "Please help us tell government to give us water. We don't have work, water and food in this community. My neighbour has a borehole but does not allow us to fetch water because of the money he spends on powering his generator to pump water. Please government should come to our aid."
Oladipupo Majek Ismail, Odoiragunshi: "As Fela Kuti said water has no enemy but we know government is our own enemy. Water is life but go around this community and check if you will see water. It has been hell. We travel far distances to fetch borehole to get water to wash, clean and drink which is too expensive. We are ready to join hands with CAPPA to fight water privatisation. Our Water Our Right."
Besides resuscitation of the dilapidated waterworks, Jakpor called on the community to reject water privatisation and commoditisation of water.
He urged the Governor Babajide Sanwo Olu administration to uphold the human right to water as obligation of the government representing the people.
He also called on the Group Managing Director of Lagos Water Corporation, Mumuni Badmus, to conduct an on-the-spot assessment of the waterworks and take steps to rehabilitate them.
By Ajibola Adedoye