According to Danielle Nierenberg, President of Food Tank, the organisation is inspired by hundreds of women, who are entrepreneurs, stewards of the land, business owners, researchers, farmers, and innovators – described as the backbone of the world's food systems.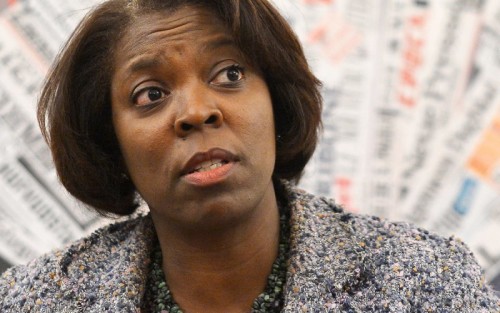 Her words: "In fact, on average, women represent 43 percent of the world's agricultural labor force and 47 percent of the global fisheries labor force, according to the U.N. Food and Agriculture Organisation (FAO) and the World Bank. These hard-working women produce more than half of the world's food despite being less than half of the labor force, and women account for 60 to 80 percent of food production in developing countries. And if the world's women farmers had the same access to resources as men, 150 million people could be lifted out of poverty, according to the FAO. A crop yield gap of about 20-30 percent between male and female farmers is largely due to differential access to resources and inputs. Women fill this gap by working up to 13 hours per week longer than men in agriculture."
"Women are the priority. The majority of smallholder farmers in Africa are women and, in urban areas, you're primarily looking at women-led households. So we can't solve hunger if we don't have gender-sensitive programming that addresses access to opportunities for women, whether it's through education or tools for cooking, like solar-powered stoves," says Ertharin Cousin, executive director of the U.N. World Food Programme.
As the impacts of climate change become more evident, the world will need to invest in more effective strategies to alleviate hunger and poverty. And that means standing with our mothers, grandmothers, and sisters who are farming and giving women farmers the resources they need to nourish both people and the planet.
Ms Nierenberg lists the 30 rising women stars in food and agriculture who, according to her, are reshaping food systems around the world to include:
1. Lauren Abda
Age: 28
As managing director of the Food Loft, a co-working and innovation space in Boston, Abda seeks to connect food entrepreneurs. Through Branchfood, her networking business, Abda is driving the city's food innovation scene and tackling issues from sustainability to financial literacy. Her work focuses on aggregating resources for entrepreneurs through events and social media.
@laurenabda
2. Karen Albuja
Age: 28
A native of Ecuador, Karen graduated from EARTH University in Costa Rica in 2009. Together with her husband, another EARTH graduate from Argentina, Albuja created Granja El Hormiguero, a farm that produces and commercialises products based on Echinacea, a medicinal plant. The couple sells eight different phytotherapeutic products in the local market. As a part of their company philosophy, Albuja has integrated community members into a cooperative, La Abundancia, in order to commercialise biodynamic products.
3. Elizabeth Alpern, the Gefilteria
Age: 30
Alpern is a co-founder of an artisanal company for sustainable gefilte fish. She manages a food truck and produces other gourmet Jewish foods. Alpern worked with cookbook author Joan Nathan for several years before founding the Gefilteria, and has also worked with Fair Food Network, for which she coordinated a book tour for Fair Food: Growing a Healthy, Sustainable Food System for All.
@gefilteria
4. Leanne Brown, Author, Good and Cheap
Age: 29
Good and Cheap is a free PDF cookbook for people with very limited incomes, particularly those using food stamps. It has been downloaded more than 500,000 times. Brown, a native of Canada, is a food scholar and avid home cook who now lives in New York. Prior to writing Good and Cheap, Brown authored another cookbook, From Scratch.
@leelb
5. Cheyenne, Camaryn, and Trae Candelario, Family Farmers
Ages: 23, 20, 18
The Candelario sisters run a flourishing family farm with their mother, Margo, and grandmother in Georgia. Officially started in 2006, the family business sells produce at the Oconee Farmers' Market. "The girls learn to market goods, work with the public, have a smile on their faces, and pay taxes…all aspects of running a business," says Margo Candelario.
@youngfemalefarm
6. Julie Carney, Country Director for Gardens for Health International
Age: 28
Carney co-founded Gardens for Health, a programme in Rwanda that integrates agricultural support with comprehensive health education to fight malnutrition. To date, the organisation has worked with over 1,700 families through a Health Centre Programme, helping to ensure that approximately 8,500 children have the healthy food they need to grow and thrive. Carney is an Echoing Green and Ashoka Fellow.
@_JulieCarney
7. Estella Cisneros, Lawyer
Age: 29
Cisneros, a graduate of Yale Law School, is the daughter of Mexican farmworkers who immigrated to the United States. At Stanford University, she realised that she "was being called to serve the very community [she] had grown up in." Cisneros now provides legal representation for immigrant farmworkers in the California dairy industry and is a Skadden Foundation Fellow at California Rural Legal Assistance.
8. Kat Cook, Chef-Owner of Farmer's Market Kitchen
Age: 26
Cook is chef-owner at Farmer's Market Kitchen in Watertown, Massachusetts. She has created a business that designs custom menus for events featuring local produce. Cook is also head chocolatier for the small-batch confectioner Maye's Chocolates, founded by her aunt.
@FMKcatering
9. Claire Cummings, Waste Specialist for Bon Appétit Management Company (BAMCO)
Age: 25
Cummings is an advocate for reducing food waste at the institutional level, and a co-author of the Food Recovery Network's downloadable Guide to Food Recovery for Chefs and Managers. Beginning as a West Coast Fellow for BAMCO in 2012, Cummings facilitated the Chefs to End Hunger programme in California. Most recently, she is working with BAMCO sites to implement kitchen-waste tracking programmes and pilot a new app to reduce food waste, called Spoiler Alert.
@WasteAce
10. Laura D'Asaro and Rose Wang, Co-Founders of Six Foods
Ages: 24 and 23
D'Asaro and Wang are on an entrepreneurial mission to convince Americans that eating insects is both delicious and sustainable. Their startup company, Six Legs Foods, currently focuses on snack foods that contain insect protein, but Wang and D'Asaro are hoping to expand their product selection. "For the same amount of feed you give a cow you get 12 times the meat from insects," says D'Asaro.
@SixFoods
11. Sasha Fisher, Co-Founder and Executive Director of Spark MicroGrants
Age: 26
Sasha Fisher has a passion for community-led development, which led her to work in South Sudan, South Africa, India, and Uganda. She moved to East Africa in 2010 to develop the Spark MicroGrants model, which runs a fellowship programme for graduates of local universities in Africa. Fellows receive leadership training to take on projects in rural communities, including communal farms and other agricultural endeavors. Spark supports communities with small grants so that they can invest in social impact, which differs from conventional microfinance.
@sashadfisher
12. Lauren Howe, National School Garden Program Manager at Slow Food USA
Age: 24
Howe, a U.S. delegate to the International Slow Food Conference and International Congress Terra Madre in 2012, is now the National School Garden Programme Manager for Slow Food USA. Howe led a campaign at Hamilton College to shift university purchasing via the Real Food Challenge, and was a 2013-2014 Thomas J. Watson Fellow, for which she completed research entitled "A Sustainable Future for Food and Farming: Modern Technology and Traditional Wisdom" in Tanzania, India, Bhutan, Bolivia, the Netherlands, and Iceland.
@lauhowe
13. Smriti Keshari, Producer, Food Chains
Age: 29
Keshari's work in the documentary Food Chains, a chronicle of the injustices faced by tomato farmworkers in Florida, earned her a James Beard Award for Special/Documentary (Television or Video Webcast). The film, featuring the Coalition of Immokalee Workers and the Fair Food Programme, created anational conversation about labor justice in food and agriculture. Keshari, born in India, has focused on issues and stories not heavily reported through other projects.
@Keshari
@FoodChainsFilm
14. Rachel Khong, Senior Editor for Lucky Peach
Age: 29
Khong is the Senior Editor of Lucky Peach, a quarterly journal of food and writing based in San Francisco, CA. Each issue of the magazine features essays, art, recipes, and photos on a single theme. Khong is also the author of a cookbook, Toro Bravo, and is currently working on a novel.
@rachelkhong
15. Kate Klein, Development Coordinator for Georgia Organics
Age: 25
As a National Campus Food Day Coordinator for Real Food Challenge, Klein mobilised students across the United States to host events for food justice on college campuses. Klein has a passion for organising young people and developing leadership skills. Now at Georgia Organics, Klein is using her skills to further develop the capacity of an organisation that connects organic farmers to consumers in Georgia.
@kateklein23
@realfoodnow
16. Annie Liang, Junior Ambassador to the Milan Protocol
Age: 25
Liang, from Vancouver, Canada, was a 2013 BCFN Young Earth Solutions finalist and initiated a Youth Food Policy Committee in Vancouver. She is a junior ambassador to the Milan Protocol, a civil society movement to support the legacy of the Expo Milan 2015. Liang is now working on a Masters of Landscape Architecture at The Harvard Graduate School of Design, in order to pursue a career in creating vibrant and productive spaces that incorporate ecological systems.
17. Lesley Silverthorn Marincola, Founder and CEO of Angaza Design
Age: 29
Marincola is the creator behind Angaza Design's pay-as-you-go clean energy products, distributed to households in East Africa. Using a system designed to match household cash flows, users pre-pay for small units of solar energy on cell phones. Angaza is also working to spread its payment model to other solar companies, in order to continue improving access to sustainable energy solutions in Africa.
@angazadesign
18. Nikiko Masumoto, Organic Farmer and Author
Age: 28
As a member of the Masumoto Family Farm, Masumoto has been growing organic peaches, nectarines, and grapes since she was a child. After receiving a Bachelor's degree in Gender and Women's Studies and a Master's degree in Arts in Performance as Public Practice, she started the Valley Storytellers Project in 2011, which creates a public space for people in the Central Valley to share their own stories.
@nmasumoto
19. Lucy McKormick, Response Analyst for the Guardian News & Media
Age: 24
McKormick, a Response Analyst for the Guardian, is also Head of Young Friends of the Earth, a nationwide network of volunteers ages 18-30 in the United Kingdom. McKormick produces regular content and articles for the site and works to engage young people in important environmental campaigns.
@LuckyMcCormick91
20. Kelly Pagliario, Young Permaculturist
Age: 18
A native of Las Vegas, Nevada, Pagliario received her permaculture design certificate from Bill Mollison and Geoff Lawton, experts in permaculture, at the age of 11 in Melbourne, Australia. Pagliario then helped her family to establish Kamiah Permaculture and FNA ranch in Kamiah, Idaho, where she leads permaculture workshops and co-manages 44 acres. The land features a kitchen garden, fruit trees, and chickens and promotes a sustainable, self-sufficient lifestyle.
21. Debbie Lohan Palacios, Business Owner
Age: 26
Palacios produces organic sauce from hot peppers in Costa Rica through her company Ricante, using online marketing strategies. Currently, Ricante is commercialising the product in the local market and is exporting the sauce to the U.S. According to Palacios, Ricante is now sold in more than 1000 supermarkets in Costa Rica. Through her company, Palacios has also created new jobs for members of her community.
22. Anauim Valerín Pérez, Youth Journalist and Agri-Environmental Activist
Age: 21
From San José, Costa Rica, Pérez was a member of the World Women's Under-17 in Costa Rica, of Ecollective, and a founding member of the Boreal Collective, which supports seed exchange, farmers, and artisans through art and cultural events. Pérez is also a journalist and a member of Young Professionals for Agricultural Development (YPARD).
@Anauim_Valerin
23. Leidy Dayana Riveras Rivas, Coordinator for Quality Certification for ASPOECAM
Age: 27
As a rural youth representative for the Association of Small Coffee Growers in Colombia (ASOPECAM), Rivas provides financially and environmentally sustainable business opportunities for small coffee farmers. Her work focuses on women and youth, using a knowledge-sharing approach to providing technical advice. She has also participated in events and advocacy activities around various rural development issues as a member of a local youth group.
24. Diana Robinson, Food Chain Workers Alliance
Age: 30
Robinson, the Campaign and Education Coordinator of the Food Chain Workers Alliance since 2012, is the daughter of Columbian and Dominican immigrants to the U.S. Robinson is a member of the Brooklyn Food Coalition governing board and contributes to the Spanish language radio show Comunidad y Trabajadores Unidos. Prior to joining the staff of Food Chain Workers Alliance, Robinson represented over 23,000 grocery store workers in New York through the United Food and Commercial Workers Local 1500. She is an advocate of workers' rights throughout the entire food supply chain.
@Ddee1985
25. Sandra Guadalupe Sandoval Orellana, Fishery Manager
Age: 25
Sandoval is the local director of a rural fishery cooperative in El Salvador, called Tepemechines, which she joined at the age of 17. Through her expertise on production, marketing, and business management, Sandoval has overcome obstacles in her community. She also serves her community as a church youth group leader and as a secretary on the board of a group that manages drinking water in the community.
26. Yasmin Belo-Osagie, Co-Founder of She Leads Africa
Age: 26
Belo-Osagie, a management consultant focused on growth strategies, is a co-founder of She Leads Africa, an organisation that provides talented female entrepreneurs in Africa with access to financing and knowledge networks to scale their businesses. In 2011, Belo-Oasagie, a graduate of Princeton University, attended culinary school and worked as a sous-chef in Hong Kong.
27. Kavita Shukla, Co-Founder of Fenugreen
Age: 30
Shukla is the inventor of FreshPaper, an affordable, compostable product that keeps fruits and vegetables fresher to prevent food waste at the household and retail levels. FreshPaper, infused with edible organic spices, is available at retailers such as Whole Foods and Wegmans, and ships to 35 countries.
@KavitaFresh
28. Trang Tran, Co-Founder and CEO of Fargreen
Age: 28
Growing up in Hanoi, Vietnam, Tran was familiar with the air quality problems caused by open straw rice burning. Tran co-founded Fargreen to create a closed cycle in which farmers are incentivised to use rice straw as a medium for mushroom production. Once the mushrooms have been harvested and sold to local restaurants and grocery stores, the straw is then returned as biofertilizer to grow rice.
@Fargreenvn
29. Emma Watson, Actor and UN Women Goodwill Ambassador
Age: 25
British celebrity Emma Watson, an internationally acclaimed actress and a graduate of Brown University, was appointed a UN Women Goodwill Ambassador in 2014. By empowering young women across the globe, Watson is contributing to gender equality and female access to education. Watson has promoted fair trade and organic clothing and has worked to educate girls in rural Africa through Camfed International.
@EmWatson
30. Koya Webb, Author
Age: 26
Webb, an internationally acclaimed health and wellness coach, is the author of Koya's Kuisine: "Foods You Love That Love You Back!" As a motivational speaker, the professional fitness model is revolutionizing holistic living, yoga, and raw/vegan cuisine.
@KoyaWebb